Glazed Salmon with Peaches
This Glazed Salmon with Peaches recipe is a delightful fusion of flavors, effortlessly combining the hearty richness of salmon with the sweet succulence of peaches. Accentuated with tangy mustard, savory soy sauce, and a touch of ginger, it's an easy-to-prepare dish that delivers a delightful dinner.
For those who adore salmon and crave simplicity in the kitchen, the Glazed Salmon with Peaches recipe is a delightful revelation.
With an ingredient as humble and easily accessible as canned peaches, this dish achieves a surprising culinary sophistication.
While there's no denying the appeal of tree-ripened, juicy peaches during their peak season, their winter scarcity makes them a prized, albeit inconsistent, ingredient. In contrast, canned peaches provide an always-available, sweet alternative that fits perfectly in this healthful main course.
So, whether you have access to fresh, summer-ripened peaches or rely on the year-round convenience of canned ones, this Glazed Salmon with Peaches recipe proves to be a versatile addition to any meal plan.
If you like robust flavored salmon dishes, try my Korean soybean paste glazed salmon recipe for another delicious salmon dinner idea.
Salmon Paired with Peaches
Salmon, with its tender, flaky consistency, naturally lends itself to be paired with a variety of flavors, and fruits are no exception. The soft, aromatic infusion of peaches into the dish introduces a mellow sweetness that beautifully complements the rich salmon, while a glaze of whole grain mustard deftly unifies these elements into a harmonious pair.
This recipe has found universal approval at the family dinner table, earning praise even from the younger connoisseurs. y 13-year-old daughter commented, "It is savory with a hint of sweetness."
Beyond its tempting flavors, the recipe's simplicity and speed only enhance its appeal. From start to finish, a healthful and delectable dinner can be ready to serve within just 25 minutes.
List of Ingredients
Salmon: Opt for a fresh fillet to ensure the most succulent, flavorful base for your dish.
Peaches: Canned or fresh, these add a sweet counterpoint to the savory salmon.
Soy sauce: This lends a savory depth to the glaze, enhancing the flavors of the other ingredients.
Whole grain mustard: The source of a delightful tanginess that adds complexity to the dish.
Olive oil: Its role is to facilitate cooking and enhance the texture of the salmon.
Ginger: Provides a zesty undertone that accentuates the flavors of both the salmon and peaches.
Salt and pepper: Essential for seasoning, they fine-tune the balance of flavors in the dish.
Cilantro: Used as a garnish, cilantro not only adds a burst of color but also a fresh, aromatic note to complete the dish.
Recipe Guidance and Suggestions
Using Fresh Peaches:
Absolutely, fresh peaches can easily substitute canned ones. It's advised to opt for yellow peaches over white for their fuller flavor. Ensure your peaches aren't overly ripe, maintaining a hint of firmness will work best in this recipe.
Alternative Fish Options:
While salmon is the primary choice, you can also experiment with any firm-fleshed white fish, such as snapper, tilapia, or sea bass, to suit your personal preference.
How to make Glazed Salmon with Canned Peaches
Get your beautiful salmon fillet ready. Transfer it into a greased baking pan.
Drain a can of yellow cling peach chunks in a strainer, reserving 1 tablespoon of its syrup.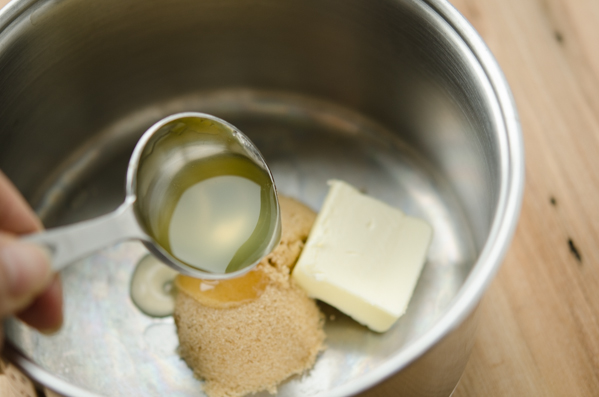 In a small sauce pan, combine brown sugar, butter and the reserved syrup.
Bring the pan over medium heat, melt the brown sugar in the butter. Remove the pan from the heat.
Add the whole grain mustard, soy sauce, olive oil,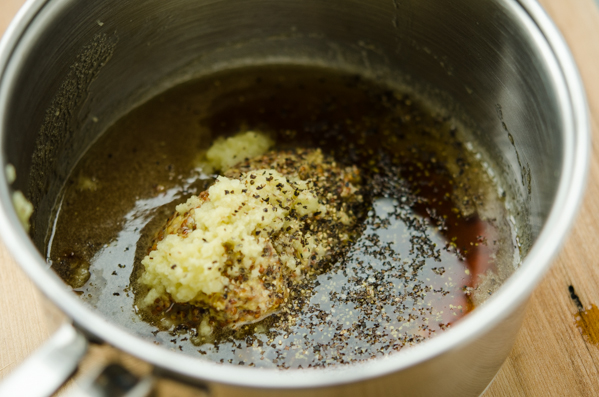 grated fresh ginger, a little salt, and some black pepper. Mix it all up to make a beautiful glaze.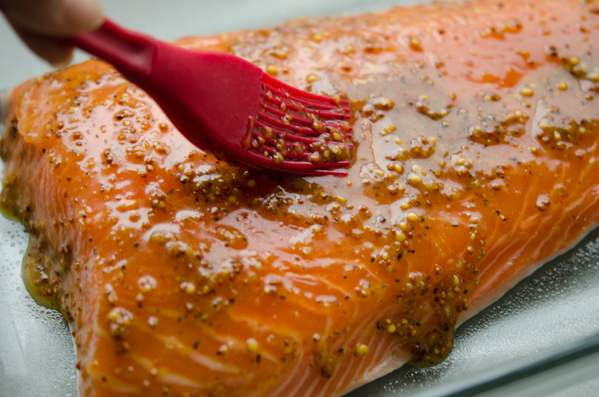 Brush half the amount of glaze on the salmon.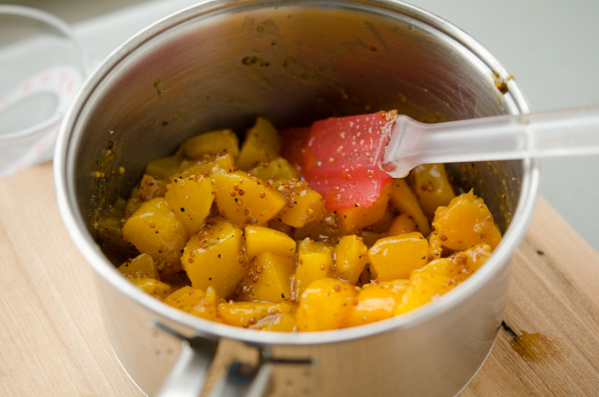 Coat the drained peaches with the remaining glaze,
and then dump them over the salmon.
Bake in the preheated 400 degree F (220 C) oven for 15-18 minutes depending on the thickness of your salmon. Then take the pan out, move the rack to the top position, turn your oven to broiler setting on high, and return the salmon to oven and continue to broil for 5-7 minutes.
Make sure you watch carefully so it doesn't burn.
Broiling the last few minutes at the end of cooking time will set the glaze nicely on the salmon. Let it sit for 5 minutes, then sprinkle a little cilantro on the top. Serve the salmon warm over rice and your meal is ready.
More Salmon Recipes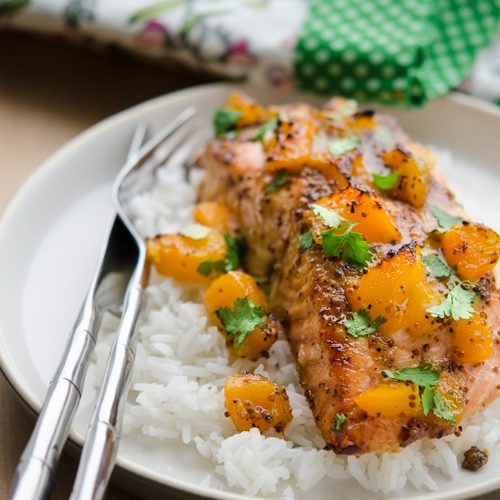 Glazed Salmon with Peaches
This Glazed Salmon with Peaches recipe offers an easy and delightful dinner option with robust favors from tangy mustard, savory soy sauce, and ginger.
Ingredients
1 1/2 lb (675 g) salmon fillet
1 (15 oz, 425 g) can canned peach chunks, drained but reserving 1 tablespoon syrup
1 tbsp butter
1 1/2 tbsp brown sugar
1 tbsp soy sauce
2 tbsp whole grain mustard
1 tbsp olive oil
1 1/2 tsp freshly grated ginger
1/4 tsp kosher salt
dashes freshly ground pepper
2 tbsp cilantro , chopped
Instructions
Preheat oven to 400 degree F. Place salmon fillet in a greased baking pan.

In a small sauce pan combine butter, brown sugar, and the reserved syrup from the can. Bring the pan to medium heat and melt brown sugar in butter and the syrup. Remove the pan from the heat.

Add soy sauce, whole grain mustard, olive oil, ginger, salt and pepper to the brown sugar mixture and mix well. Cool down for 5 minutes.

Brush salmon with half of the mustard glaze. Put drained the peaches to the other half of glaze and coat them well. Spread the peaches over the salmon.

Bake in the preheated oven for 12-15 minutes. Remove the salmon from the oven and change the oven heat setting to broil on high.

Place the rack to the top and return the salmon to the oven so that the heat source is about 4-5 inch above the salmon. Broil the salmon and the peaches for 5-6 minutes until the glaze sets and peaches gets slightly browned. Serve hot over bed of rice
Calories: 301kcal, Carbohydrates: 5g, Protein: 35g, Fat: 15g, Saturated Fat: 2g, Polyunsaturated Fat: 5g, Monounsaturated Fat: 6g, Cholesterol: 94mg, Sodium: 560mg, Potassium: 867mg, Fiber: 0.4g, Sugar: 5g, Vitamin A: 94IU, Vitamin C: 0.1mg, Calcium: 34mg, Iron: 2mg
Did you make this recipe?
Tag @beyondkimchee on Instagram. I love to see your masterpiece.