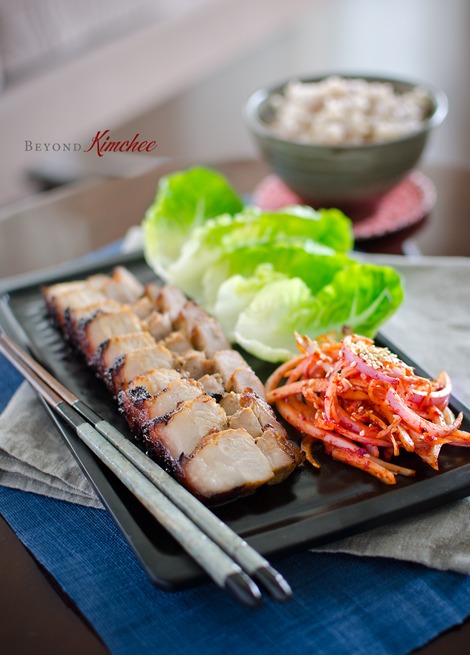 Koreans LOVE pork belly.
It is inexpensive, easy to cook with, and delicious. We call this layered belly part of pig, "Samgyupsal, 삼겹살". There are two most popular ways to enjoy this delicious pig in Korea.
One: Slice to bite size pieces and grill. Serve with lettuce and pungent topping sauce. This is the typical Samgyupsal dish.
Two: Braise the whole chunk with a bunch of herbs in water, then slice and serve with spicy salad. This particular dish is called Bossam(보쌈).
Today, I am throwing a Korean Pork Belly recipe that is easy and quick to prepare at home. But I won't grill nor braise. I am going to roast my pig in an oven. I am using the western method of cooking but flavoring the belly with Korean ingredients. I will slobber the belly with the lovely Korean soy bean paste sauce to flavor the pork. How do you like that?
The result? The succulent pig with crisp skin and it is oh, so delicious!
Try with the spicy onion salad wrapped in lettuce. You will fall in love with your pig all over again. 🙂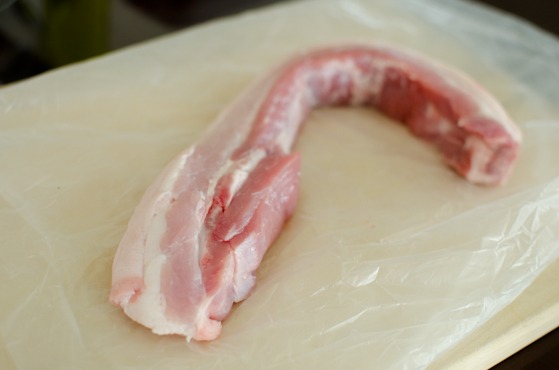 Here is a strip of pork belly. Quite slim…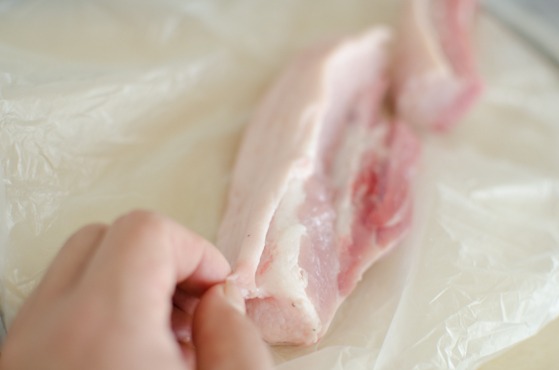 Most pork belly chunks comes with skin. I would like to keep it because it will get very crisp and keep the meat underneath moist during cooking. If you don't want it, simply, just remove it.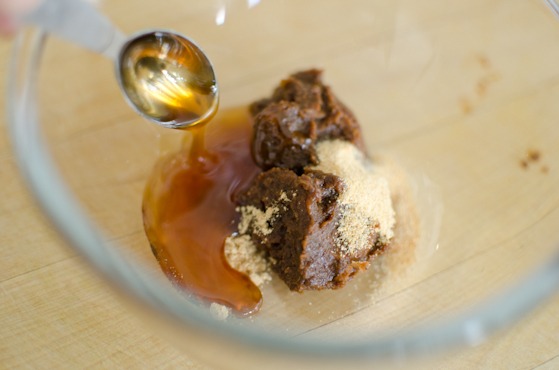 In a small mixing bowl, combine Korean soy bean paste, garlic powder, ginger powder, and honey.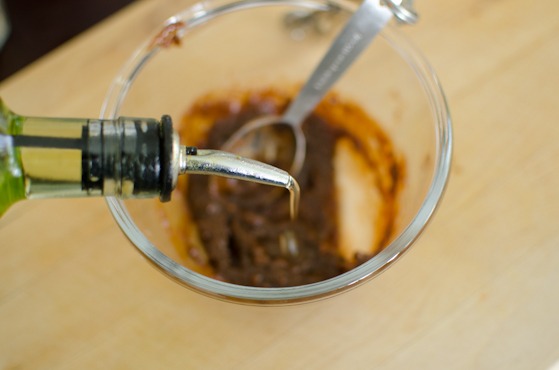 Oh, I forgot to add some oil.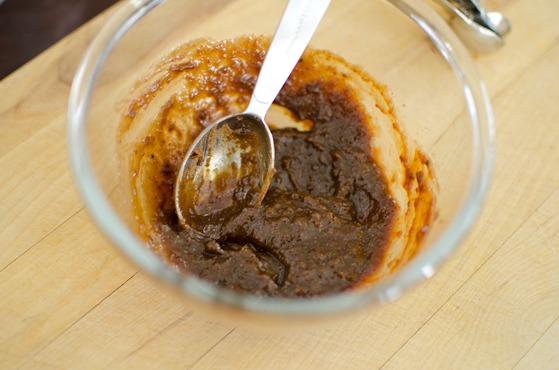 Now the sauce is ready. Bring on the belly!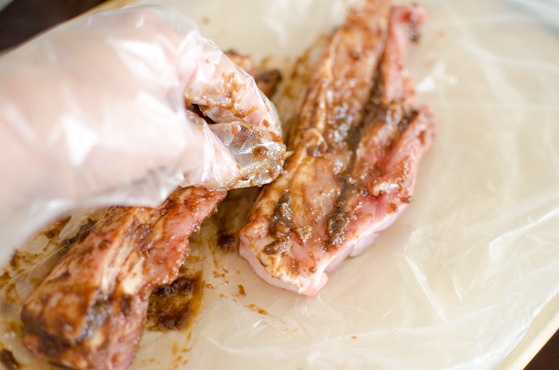 Spread the belly with the sauce all over. Let it sit for 15 minutes on the counter so that it will flavor the meat.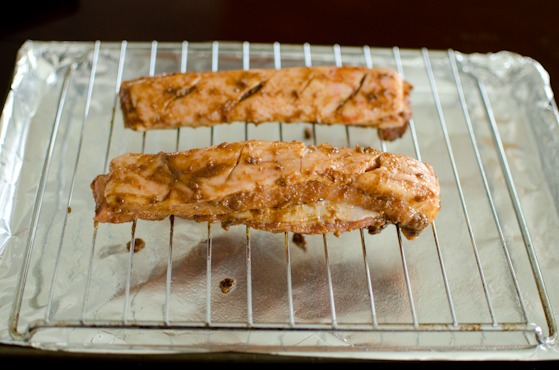 Grease a rack with oil and place it on a baking pan. Place the pork belly on top. (I cut it in half)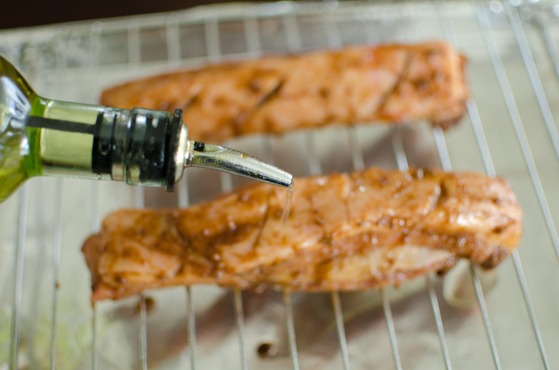 Drizzle a little more oil on top to crisp up the skin even more.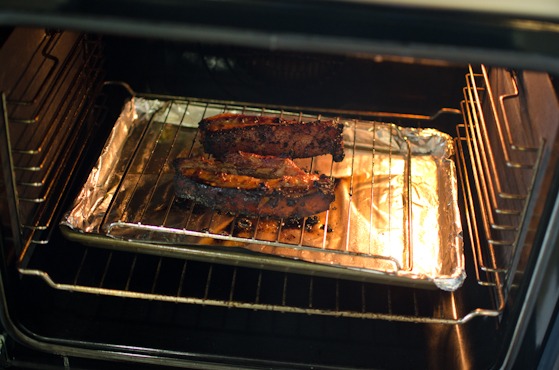 Bake in the preheated 425F oven for 10 minutes, then reduce the heat to 350F and continue to bake for 20-30 more minutes depends on the thickness of your meat. My pig was slim and he was done within 30 minutes total.
NOTE: If you are using a slab of thick pork belly, it will take whole lot longer. Adjust the baking time accordingly.
Meanwhile, let's make the onion salad. Slice red onion and yellow onion very thinly.
Soak them in cold water for 10 minutes. That will not only crisp up the onion, but also get rid of spiciness/bitterness of onion a little bit.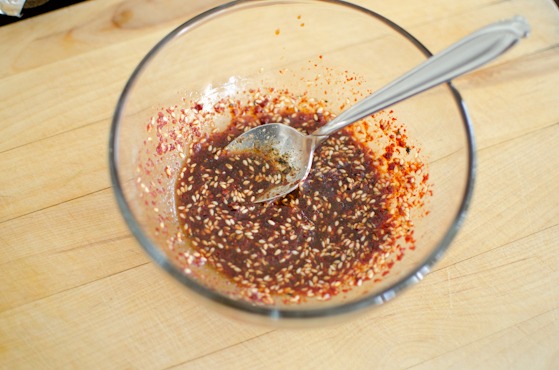 Combine all the dressing ingredients in a bowl.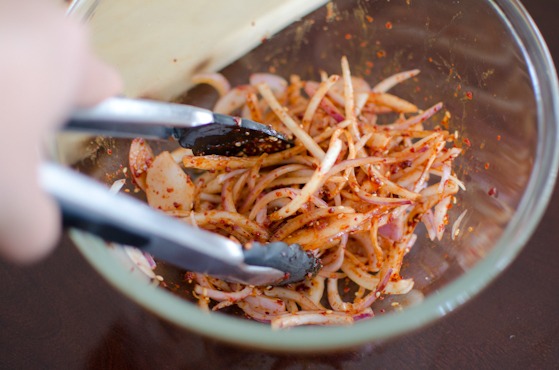 Drain water from the onions and coat with the dressing. Done!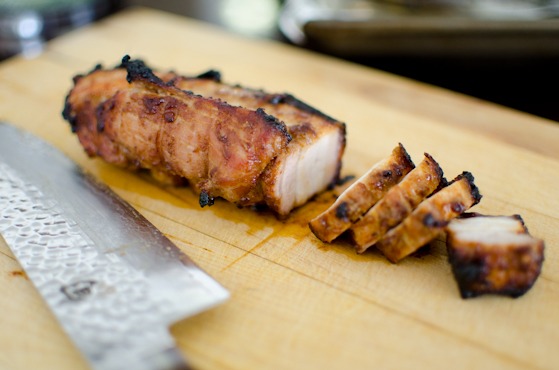 When the pork belly is done, cool down a little. Then, slice beautifully…, any thickness your mouth desire.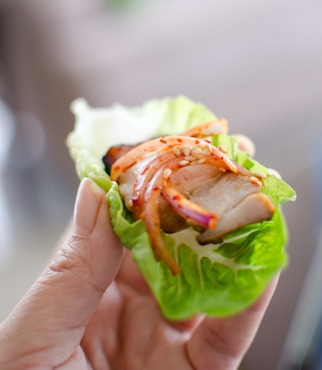 Place a slice of your lovely pork on a leafy lettuce and top with onion salad. Put it in your mouth lightning fast before anyone sees you.
I was never been a huge fan of pork belly, but now I believe. PORK BELLY IS GOOD!
Pork! You are truly the other white meat. I love you.
Yours truly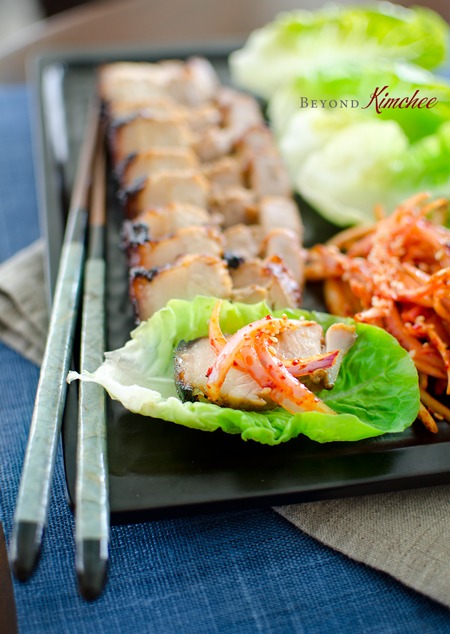 Oven Roasted Korean Pork Belly with Onion Salad
Ingredients
1 lb (450g) pork belly
2 tablespoon Korean soy bean paste (duenjang)
1 tablespoon honey
1 teaspoon garlic powder
1/2 teaspoon ginger powder
1 teaspoon + more canola oil

For the onion salad

1 medium yellow onion, thinly sliced
1 medium red onion, thinly sliced
1-1/2 tablespoon Korean chili flakes
1 tablespoon sugar
1 tablespoon soy sauce
2 teaspoon cider vinegar
1 teaspoon sesame oil
2 teaspoon toasted sesame seeds
a few dashes of freshly ground black pepper
Directions
In ca small bowl combine soy bean paste, honey , garlic powder, ginger powder, and 1 teaspoon of oil. Mix well. Spread the paste mixture to pork belly and rub all around. Let it sit for 15 minutes on the counter.
Preheat oven to 425ºF. Spray a rack with oil and place over baking pan (line the pan with foil for easy clean up).
Put the pork belly on the rack and drizzle a little more oil on top. Bake in the hot oven for 15 minutes. Reduce the heat to 350ºF and continue to bake for 20-30 minutes depends on the thickness of the meat. I used the very slim cut of pork belly which took very short time, about 30 minutes total. If using a slab of pork belly, it should take far longer. When inserted with a meat temperature, it should be around 165ºF.
Let the pork rest for a few minutes, then slice into desired size. Serve with onion salad over lettuce.
To make onion salad, soak the onion slices in cold water for 10 minutes. Drain well. Combine chili flakes, sugar, soy sauce, cinder vinegar, sesame oil, and sesame seeds in a bowl. Toss the onions with the dressing.
http://www.beyondkimchee.com/oven-roasted-korean-pork-belly-with-onion-salad/
All rights reserved by www.beyondkimchee.com