Spicy Korean Rice Cake Stir-Fry with Vegetables
This spicy Korean rice cake stir-fry offers different Korean rice cake experience. Thin round rice cake pieces are stir-fried with vegetables, which makes a wholesome meal on its own. Since it is very simple to make, you will find yourself making this over and over!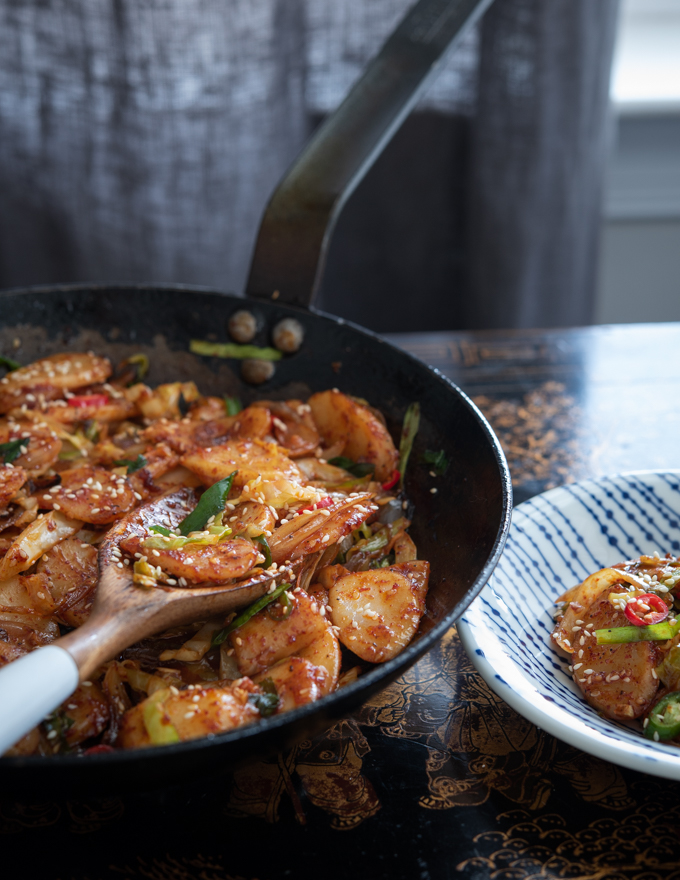 I have a weakness in Korean style rice cakes. This spicy Korean rice cake stir-fry with vegetables dish is something that I make often for a meal. These chewy sticky rice cakes are belly satisfying, I can eat the entire pan of spicy Korean rice cakes by myself, if I let myself indulge into.
The most common and popular Korean rice cakes are called "tteokbokki (떡볶이)", which I have posted a recipe on my site. It is made with rice cake sticks simmered in spicy Korean chili paste sauce with anchovy stock. It is the most common and traditional rice cake dish in Korea. If you like to try snack style Korean recipes, give this a go.
Unlike the traditional rice cake simmered in a gravy-like sauce, this recipe is stir-fried with the spicy sauce. It is simply tasty and easy to cook. Besides, you don't need to make the anchovy stock.
These spicy rice cakes are stir-fried with some vegetables so that you can be proud of yourself eating something healthy. Also this spicy rice cake stir-fry uses the thin rice cake rounds instead of the sticks so they cook faster.
The quick and easy spicy rice cake stir-fry is surely pleasing and you will be surprised how tasty they are. Follow these 3 easy steps.
Spicy Korean Rice Cake Stir-Fry Recipe Instructions
Step 1. Prepare the rice cakes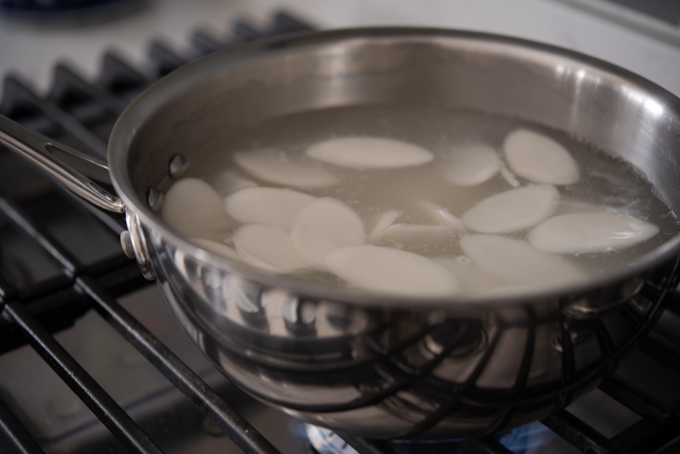 Bring the water to a boil, add the rice cake rounds and cook until they float to the top.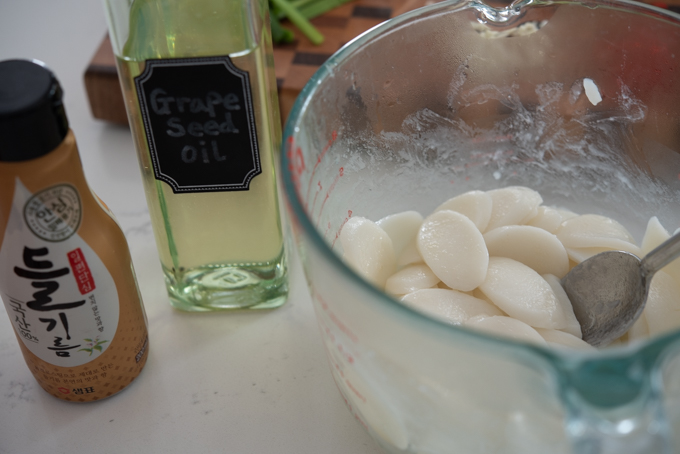 Drain the rice cakes and coat them with oils. I used a mixture of wild sesame oil and grapeseed oil. You can use any cooking oils of your choice. If you don't like the fragrance of sesame oil, you can omit it.
The reason you will want to coat the rice cake rounds with oil is so that they don't stick to each other. These rounds are very sticky, they tend to stick to the pan when you stir-fry. By coating them with oil, you can prevent that.
Step 2. Prepare the soy chili sauce
The entire dish is flavored with this soy chili sauce.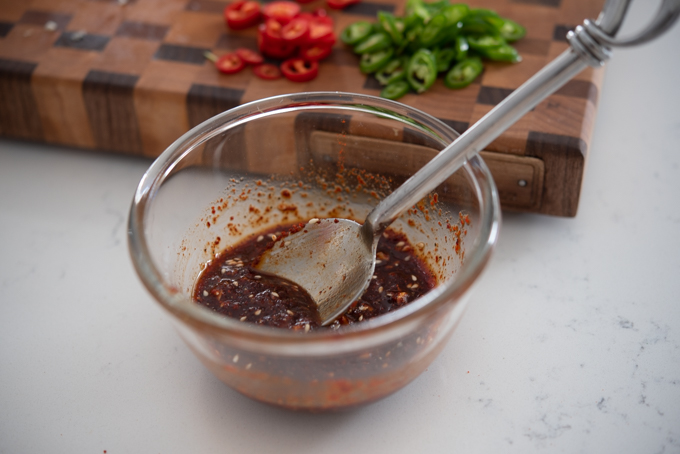 Mix all the sauce ingredients in a bowl.
Step 3. Stir-fry all together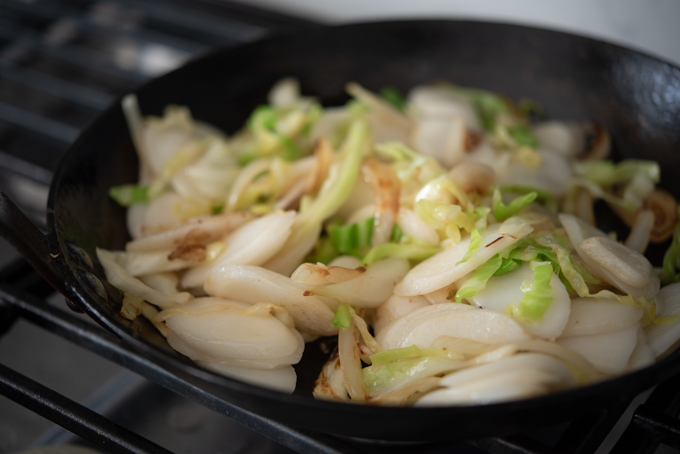 Heat a little bit of oil in a skillet, add the vegetables and stir-fry until crisp tender. Add the rice cakes and stir-fry them again for another 1-2 minutes.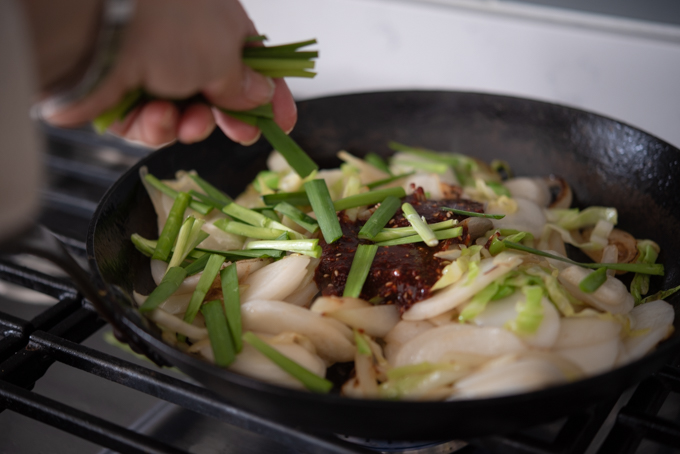 Add the sauce, chives and mix well. You can omit the chives if you don't have them.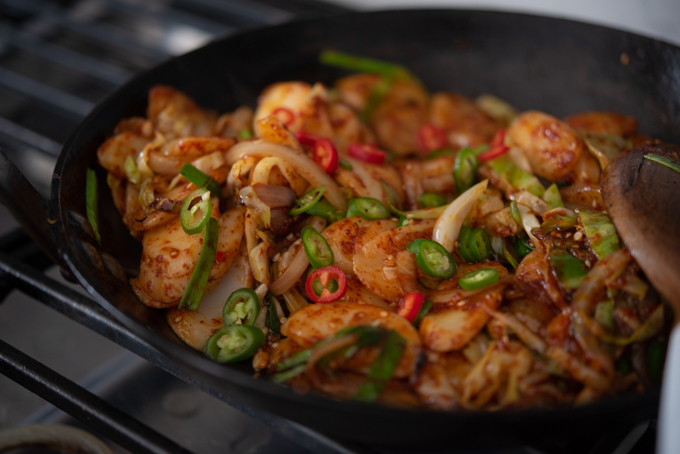 Continue to stir-fry until everything is incorporated, about 2 minutes. I like to add fresh chili to give more spicy kick. It is a personal preference.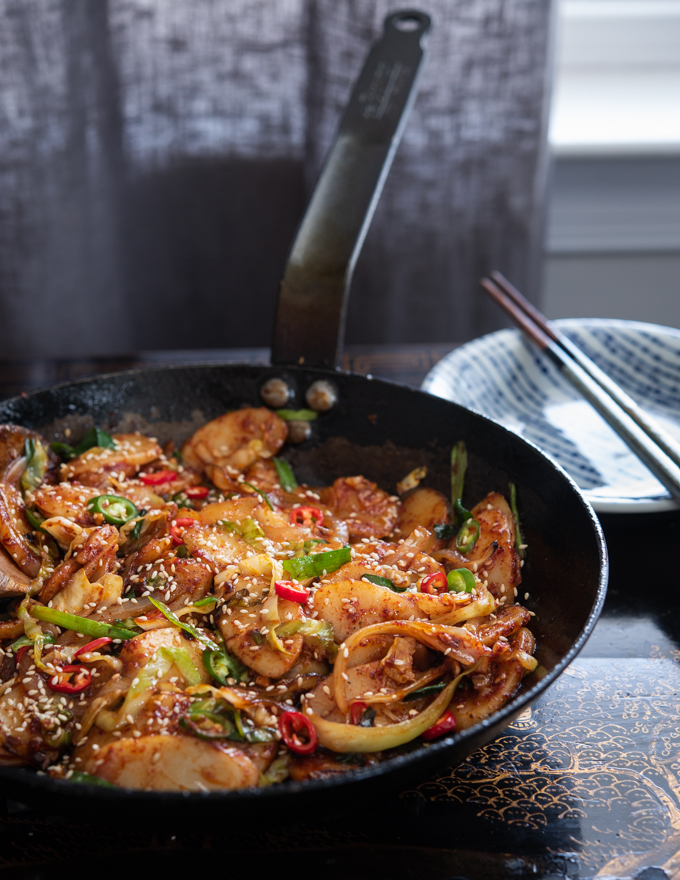 Sprinkle lots of toasted sesame seeds and a drizzle of sesame oil.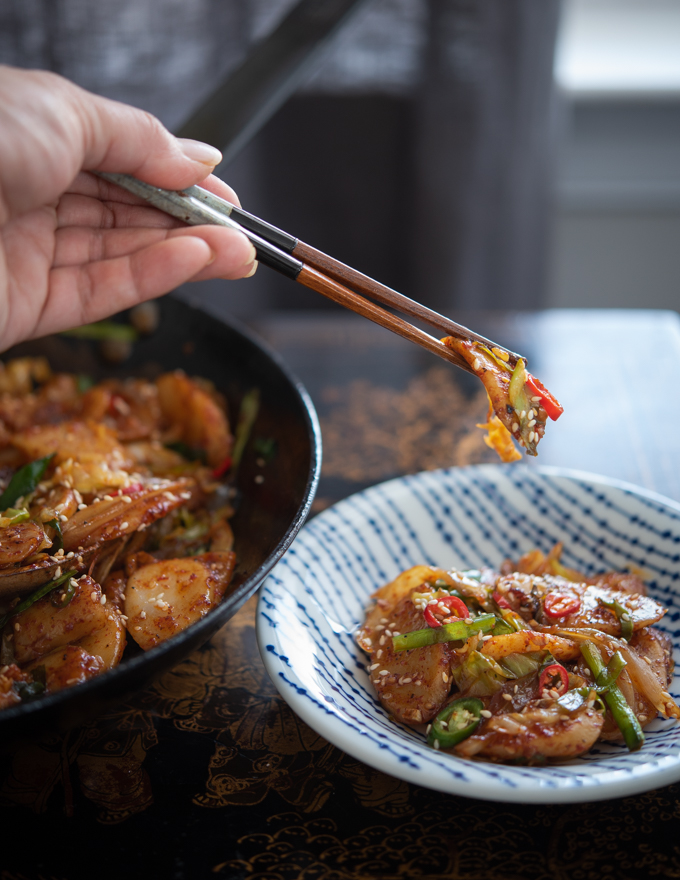 I like the simplicity of this spicy rice cake stir-fry. The chewy yet soft texture is something that I often crave for. And the spicy level in this recipe is perfect for me.
If you want the less or more spicy, you can always adjust the amount of chili flakes according to you taste. I also love the crunchiness that cabbage adds. Hope you can give it a try.
More Rice Cake Recipes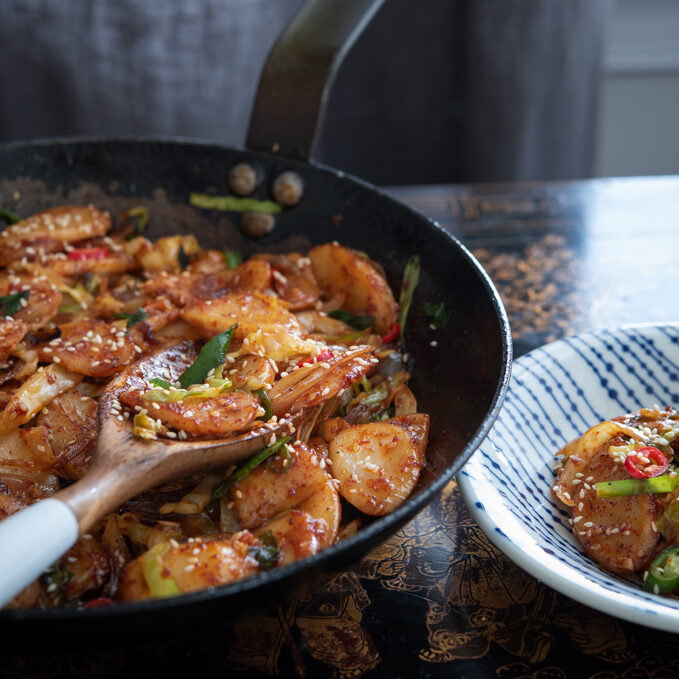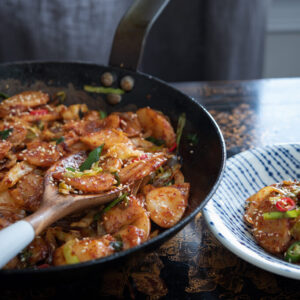 Spicy Korean Rice Cake Stir-Fry
Try Korean rice cakes in a stir-fry with vegetables. It makes a simple meal and delicious snack to enjoy. You will be making over and over.
Ingredients
1 lb rice cake rounds
1 tbsp wild sesame oil, or sesame oil
2 tbsp cooking oil, divided
1/2 small onion, sliced
1/4 green cabbage, thinly sliced
1-2 cloves garlic , minced
1/4 cup sliced Asian chives, optional
1 fresh chili, sliced (optional)
3 tbsp soy sauce
1 tbsp corn syrup
1 tbsp sugar
1-2 tbsp Korean chili flakes (gochugaru)
1 tbsp sweet rice wine (mirim)
dashes black pepper
2 tsp roasted sesame seeds
Instructions
Bring a pot of water to boil. Add the rice cakes and boil until the they float to the top, about 2-3 minutes. Drain the rice cake and put them in mixing bowl. Add the wild sesame oil and 1 tablespoon of cooking oil; toss them well.

In a small bowl, mix together soy sauce, corn syrup, sugar chili flakes, rice wine, and pepper. Set aside.

Heat the remaining oil in a skillet over medium high heat. Add the onion, cabbage, and garlic; stir-fry for 2 minutes. Add the rice cakes and continue to stir-fry for another 1 minute.

Add the soy sauce mixture, chives, and chili (if using)to the skillet and toss well; continue to stir-fry for another minute or until everything is well incorporated. Sprinkle with the sesame seeds and serve immediately.
Did you make this recipe?
Tag @beyondkimchee on Instagram. I love to see your masterpiece.