Korean Crab Stew (Kkotgetang)
If you are a crab lover, don't miss out this full flavored Korean crab stew (kkotgetang). The addition of shrimp or other seafood makes this stew heartier and deeper in flavor.
If I can pick one seafood I have to live with, I will choose crabs. I love crabs of all kinds. Steamed, stewed, baked, or fried; you name it. And this Korean crab stew (kkotgetang, 꽃게탕) is not an exception.
I know crabs require some work to enjoy them unless their meat are extracted from their shells. To most people, eating the whole crab is too much of work and it can be discouraging.
But if I can get a really good crab stew, I don't mind getting my hands messy picking out the delicious crab meat out of the shell.
Korean crab stew is a one of kind stew. Seasoned with Korean chili paste, chili powder, and a tiny bit of soybean paste diluted in anchovy stock, this delicious Korean stew offers a full flavor of seafood and warm you up when you need a comfort.
If you like Korean stews and crab, I guarantee you will love this recipe.
Fresh Crabs for Kkotgetang
If you are close to major Korean grocery store, you can buy already cleaned and cut crabs in the frozen section, which makes the cooking so much easier.
I added some shrimps to the stew so that I can enjoy both seafood.
How to make Korean Crab Stew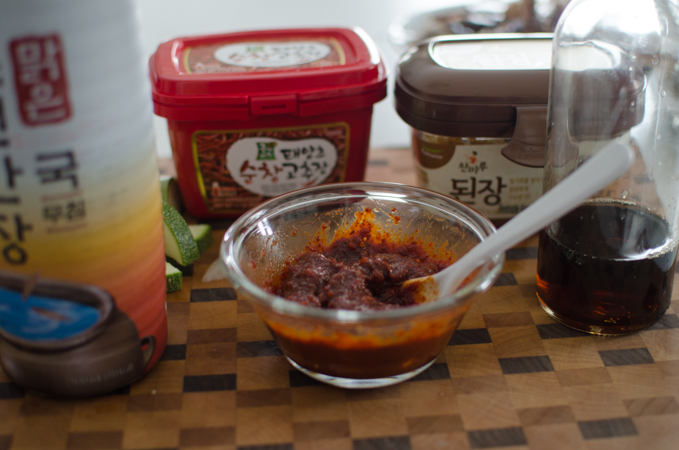 Make the seasoning paste by combining all the ingredients.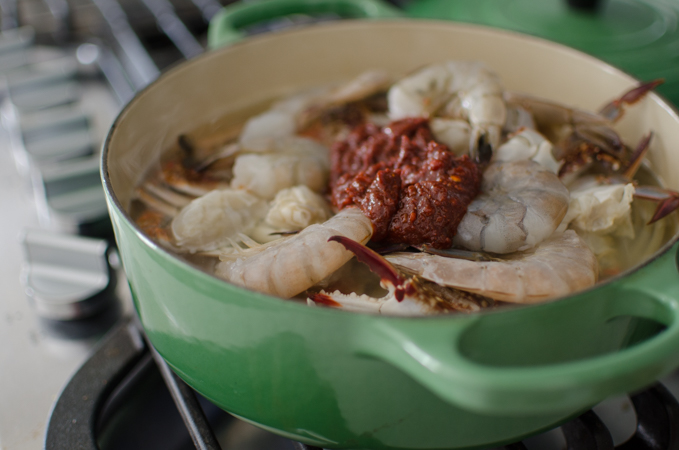 Add to the crabs and shrimps in the anchovy broth. All you need to do is to boil and simmer until the seafood are fully cooked, which only takes a few minutes.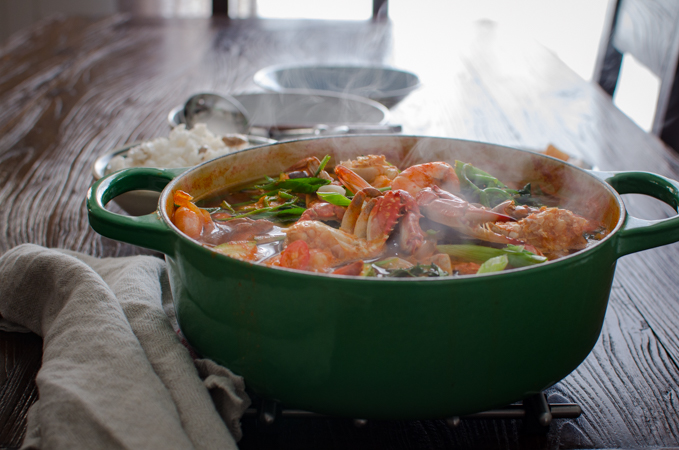 You can add some vegetables, like watercress and/or zucchini. Throw some Asian leek or green onion and fresh chili to jazz up.
You will love the flavor of the broth. With the just right amount of heat, and well balanced taste from the seafood and the fermented Korean paste, you can empty out a bowl of rice in no time.
You will need to use your finger to hold pieces of crab and suck the broth out of it. Consider it as a fun activity of eating.
You will definitely need napkins to serve with this stew. It might get messy but you get good at eating crabs after experiencing this stew. And your tummy will be happy, too.
Storage Tip
Store the leftover in the refrigerator up to 1 week. To reheat, you can warm it up in a pot on the stove, or use microwave until hot. The flavor will deepens as it stores. Freezing is not recommended.
More Seafood Recipe You Might Like
Korean Crab Stew (kkotgetang)
Fresh crabs makes a delicious seafood stew. This full flavored Korean crab stew is mildly spicy seasoned with Korean pastes. Add shrimp or other seafood you like.
Instructions
In a large soup pot, add dried anchovies, shrimp, water, and radish slices; bring to boil over high heat. Remove the sea keep and simmer over low heat for 20 minutes. Discard the anchovies but keep the radish in.

In a small bowl, combine chili flakes, chili paste, soybean paste, soy sauce for soup, fish sauce; mix well. Add the sauce to the anchovy stock.

Add the seafood and cook over med-high heat for 3 minutes. Add the watercress and zucchini, and cook another 1-2 minutes until the seafood is fully cooked. Taste and season more with Korean soy sauce for soup if needed.

Add the leek (or green onion) and pepper; heat through. Serve hot with rice and kimchi.
Did you make this recipe?
Tag @beyondkimchee on Instagram. I love to see your masterpiece.