Pan Fried Rice Cakes
I am a rice cake lover.
Yes, I know…. It is white food.
But I eat small portion and enjoy every bite of them, and go for a walk, sometimes, to remove the guilt out of my belly.
Anyway…
One of the first thing I do in the morning is to check Korean newspaper via online, usually after CNN.com or FoxNews.com
— Good thing that I speak two languages. Although neither of them I speak perfectly…
I found an article about famous street vendors of various Korean rice cake dishes in Seoul that no one should miss.
Out of all the pictures of these scrumptious rice cake dishes, this pan fried rice cakes caught my eyes.
Of course, there is no recipe attached to it but I could just imagine what goes in to this dish by reading the description. I am so good, aren't I?
The recipe is quite simple and quick to make. But hello! It is a devil…
Yes, I would like to call it a devil because it will make you experience what is like to be burning in the hell…  It is spicy, very, very spicy! I need to warn you.
However, local Koreans do love this dish apparently.  Beyond its spiciness you will find the flavor and the texture are hard to resist. Plus you can make this within 15 minutes.
How cool is that?
*****
Very simple ingredients;
Rice cakes (fresh or frozen), Korean chili flakes, chili paste, garlic, sugar, soy sauce, and cooking oil.
First, make sauce by combining chili flakes, paste, soy sauce, garlic, and sugar. Set aside.
Bring pot of water to boil. Cook your rice cakes (frozen) for 30-60 seconds.
If you are using fresh ones,  no need on this step.
Take these snow white beauties out of water.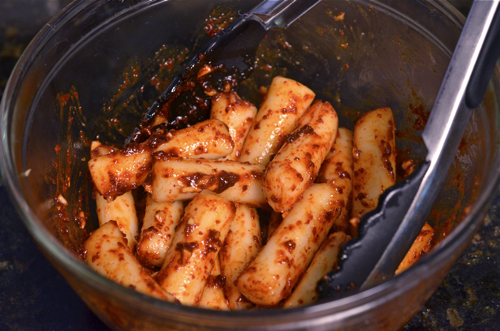 Dump them in the sauce. Coat them with this red devil all around.
The red color is totally off this time.  Wrong white balance setting in my camera. Sorry!
Heat oil in the non-stick surfaced skillet over medium heat. Add the rice cakes and pan fry them for 2-3 minutes, stirring occasionally.
That's all. So simple!
You want to eat them immediately otherwise they will get harden if you let them sit too long.
I have to admit that I was sweating by the time I finished the plate.
I liked it though.
It made me think of the concept of "burning" a lot.
So, I wonder…
Maybe that's why you see so many crosses shining at night in Seoul.
Spicy → Burning → Hell → Repentance → Cross???
Am I too philosophical?
Pan Fried Rice Cakes
Instructions
In a mixing bowl combine chili flakes, chili paste, soy sauce, sugar, and garlic. Set aside.

If using frozen rice cakes, bring a pot of water to boil. Cook the rice cakes for 30-60 seconds. Drain the cakes and add them to the sauce in a bowl. Mix them well to coat with sauce all around.

Heat oil in a non-stick surface skillet over medium heat. Saute the cakes for 2-3 minutes, stirring occasionally.

Serve immediately while hot.
Serving: 2g
Did you make this recipe?
Tag @beyondkimchee on Instagram. I love to see your masterpiece.