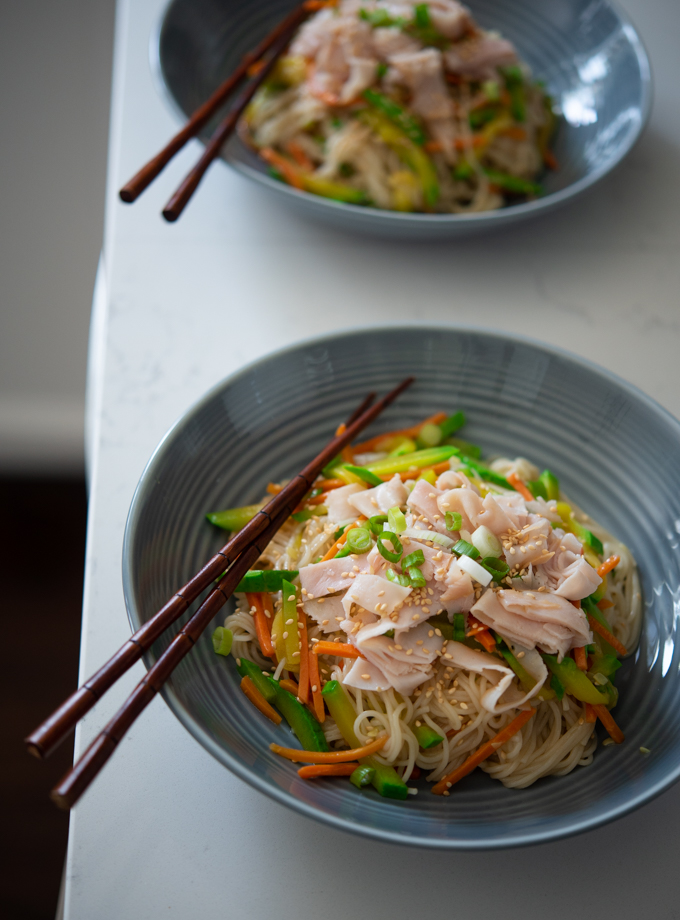 How would you like to have a bowl of cool noodles in a hot summer day? It is 100% yes for me. And if the noodles can be made in one pot? That is a bonus! Here is one pot Korean noodles that you can make in no time. It is super easy and delicious.
The thin wheat vermicelli noodles are cooked with vegetables in one pot, then rinsed in cold water to cool down, and lastly coated with very simple soy sauce seasoning. All the ingredients are something you would have in your pantry. That's all the cooking, and it is simply delicious. I promise you will be making this noodles again and again.
This type of summer noodle dish is commonly eaten in many households in Korea. However, it become even more popular after a famous Korean Youtuber named Park Maklae(박막례 할머니), an adorable elderly lady who has a ton of fans from young to old, posted in her channel; Korea Grandma. After she showed how she made this one pot Korean noodles, it became viral and everyone made this noodles at home and fell in love.
Hope you can try this noodles, too. I added a little bit of lunch meat on top to add some protein in the dish. You can pretty much add anything you like.
Cook's Notes
What type of Noodles to use?
Use thin Korean wheat vermicelli (국수, guksoo). You can find them any Korean or Asian stores. A trick to make the noodles more chewier is to add cold water when the boils up while cooking the noodles.
Use any vegetables of your choice
I used zucchini and carrot. I can see the summer squash, cucumber, cabbage, or spinach would be great too. A little bit of green onion would be a nice touch.
Seasoning sauce is the key
The secret is a mixture of soy sauce + sugar + garlic + vinegar + sesame oil. Typical pantry items that every household has! Not special ingredients are needed.
Cooking Instructions
Bring water to boil. Add the noodles. When the water boils up, pour a little bit of cold water to calm down.
After 1 minute, add the shredded carrots and cook for 1 minute.
Then add the zucchini slices and continue to cook until the noodles and vegetables are tender for your liking.
Drain the noodles and vegetables, then rinse with cold water until they are cool.
Put the noodles and vegetables in a pot again and add soy sauce, sugar, garlic, vinegar, and sesame oil
Sprinkle some sesame seeds and toss everything very well with your hand to coat the seasoning evenly.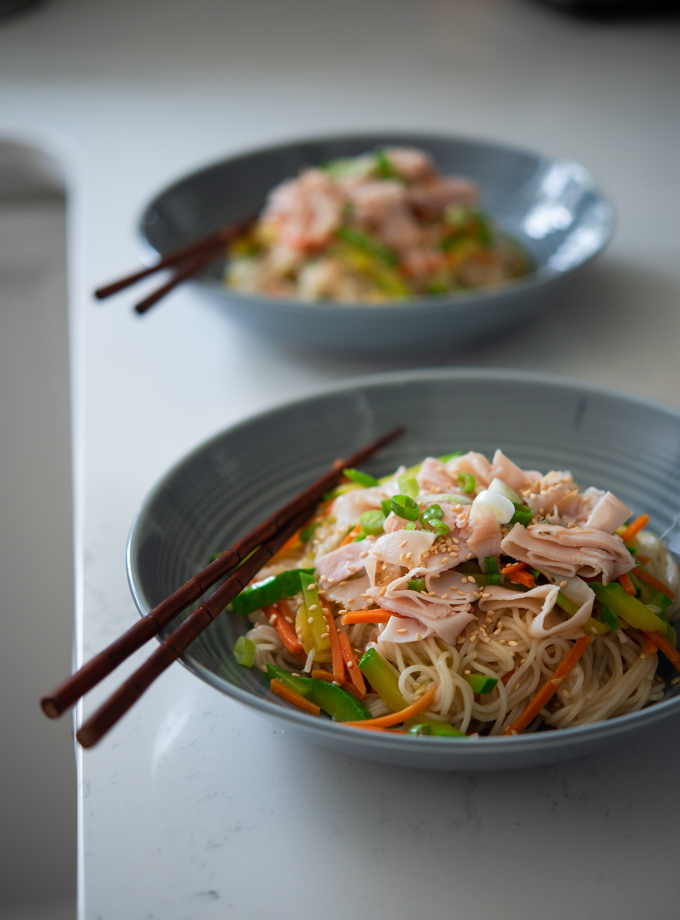 I added a little bit of deli turkey on mine. Hard boiled egg or poached chicken would be great too, if you want to add some protein to the dish.
Enjoy the noodles. You will love the taste it brings. It is a perfect summer noodle dish that everyone will love.
– Holly
Holly
One Pot Korean Noodles
10 minPrep Time
5 minCook Time
15 minTotal Time
Ingredients
4 servings thin wheat noodles
1 carrot, thinly julienne
1 zucchini, julienne
2 green onion, sliced
2 tbsp low sodium soy sauce
1 tbsp sugar
1 garlic clove, minced
1 tsp vinegar
1 tbap sesame oil
1 tbsp toasted sesame seeds
deli slices or hard boiled egg. optional
Instructions
Brina a pot of water to boil over high heat. Add noodles and let it boil. Pour a little bit of cold water when the water boils up, and bring it to boil again.
Add the carrots and cook for 1 minute. Add the zucchini and green onion and cook for another 1 minute.
When the noodles and vegetables are soft, drain and rinse them with cold water in a strainer. Drain well, and put them back into the pot.
Add the soy sauce, sugar, garlic, vinegar, sesame oil, and sesame seeds. Toss well with your hand to coat with the seasoning.
Top with deli slices or hard boiled egg if using. Serve immediately.
Notes
This recipe is adapted from an episode from the youtube channel "Korea Grandma (??? ???)"
7.8.1.2
37
https://www.beyondkimchee.com/one-pot-korean-noodles-vegetables/