Korean Knife Cut Noodle Soup with Chicken
Korean chicken noodle soup (dak kalguksu) is known as knife cut noodles. It's a soul comforting chicken soup of Korea. Korean herb broth makes it very flavorful. Homemade is always the best but store-bought noodles works fine.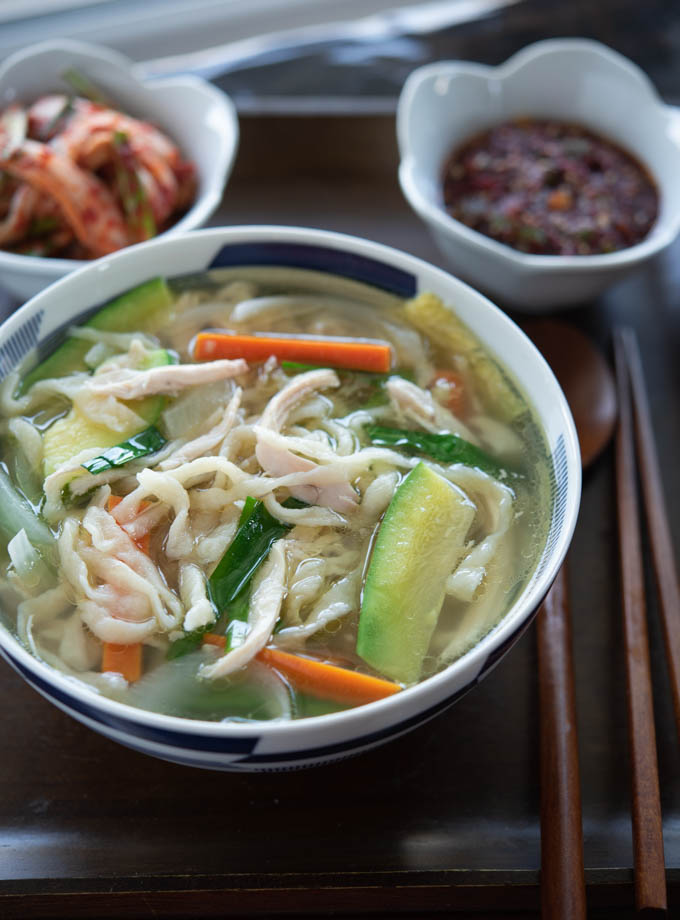 Every country has its own unique kind of chicken soup in their cuisines. Korea is not exclusive. This Korean knife cut chicken noodle soup (Dak Kalguksu, 닭칼국수) is a soul comforting chicken soup that is unique to Korean cuisine.
The whole or parts of chicken is simmered with natural Korean herb to make a batch of earthy broth, then cooked together with noodles and vegetables to serve as one pot meal. You will need to serve with the soy chili topping sauce to punch up the flavor.
The easy and convenient way to make this comforting Korean chicken noodle soup (Dak kalguksu) is to purchase the store bought wheat noodles in the refrigerator section of Korean stores. However, I decided to make my own this time.
Korean Knife Cut Noodles (kalguksu)
We call it knife cut noodles (kalguksu, 칼국수) because the noodles are cut with a knife. The noodle dough are pressed flat, and rolled. Then cut with a knife thinly to turn into long strands of noodles. These homemade noodles are not that difficult as you would think.
All you need is flour, salt, and water. Mix and knead together until smooth. You will want to let this dough rest for 1 hour. It will create smoother and better texture.
Then roll out to thin, fold a few times, and slice with a knife. You will need to dust with flour very often to avoid any sticking, though. You can also use a pasta maker if you have one.
How to make chicken herb broth

You will need a packet of Korean herbs. This packet is often used to make Korean style chicken and ginseng soup. Simmer the chicken with the herb packet, onion, leek, garlic for 45 minutes.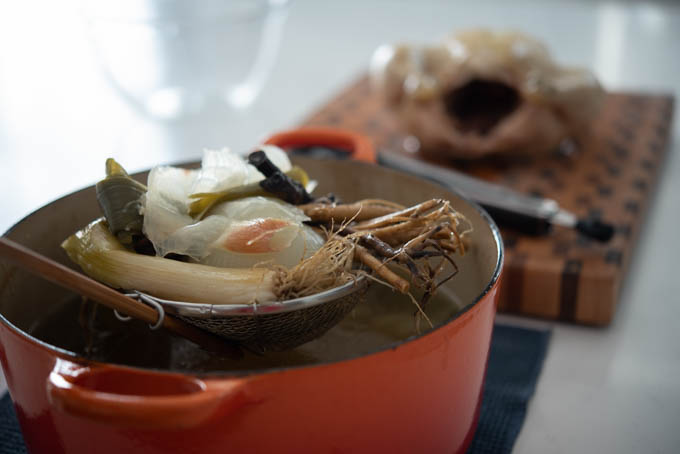 Discard the herbs and vegetables but reserve the broth and chicken.
Shred the chicken off the bones and set aside.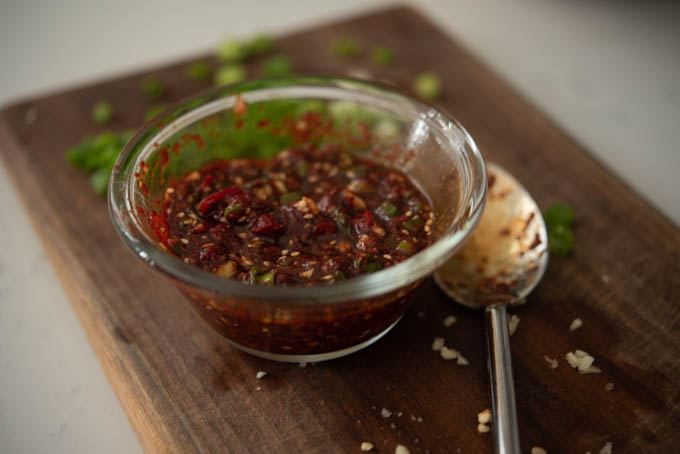 You will also need to make the soy chili sauce to season up the chicken. It contains Korean soy sauce for soup, Korean chili flakes, garlic, fresh chili, green onion, sesame oil, sesame seeds, and pepper. Mix it up and it is good to go.
How to put Korean chicken noodle soup together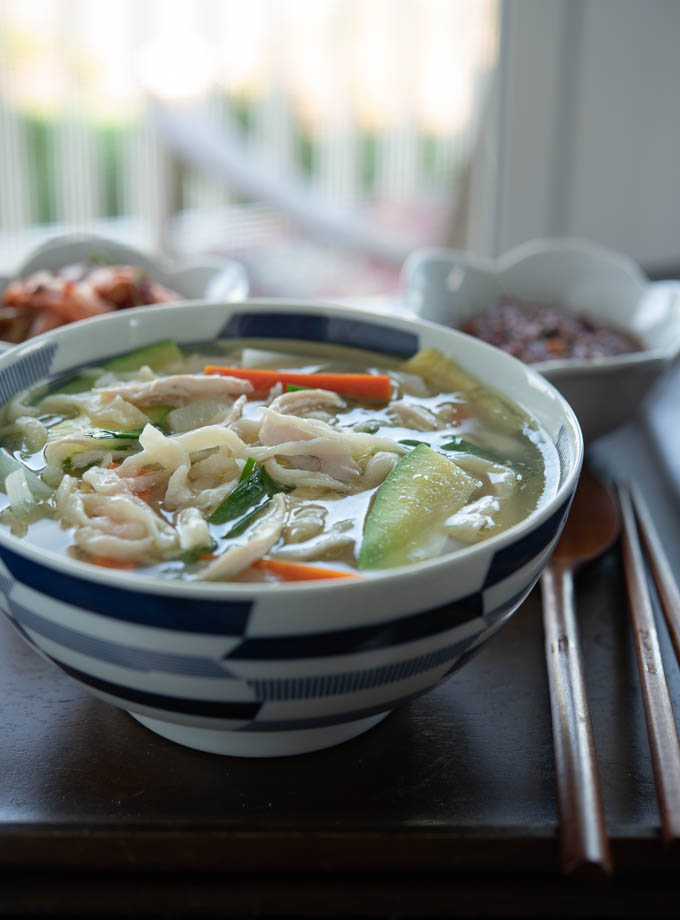 When you boil up the soup with the noodles, chicken, and the vegetables, add a little bit of Korean salted shrimp into the broth. It adds another layer of flavor.
Make sure to serve the chicken noodle soup with the soy chili sauce. It seasons the soup and adds a spicy kick to the soup that makes it so Korean.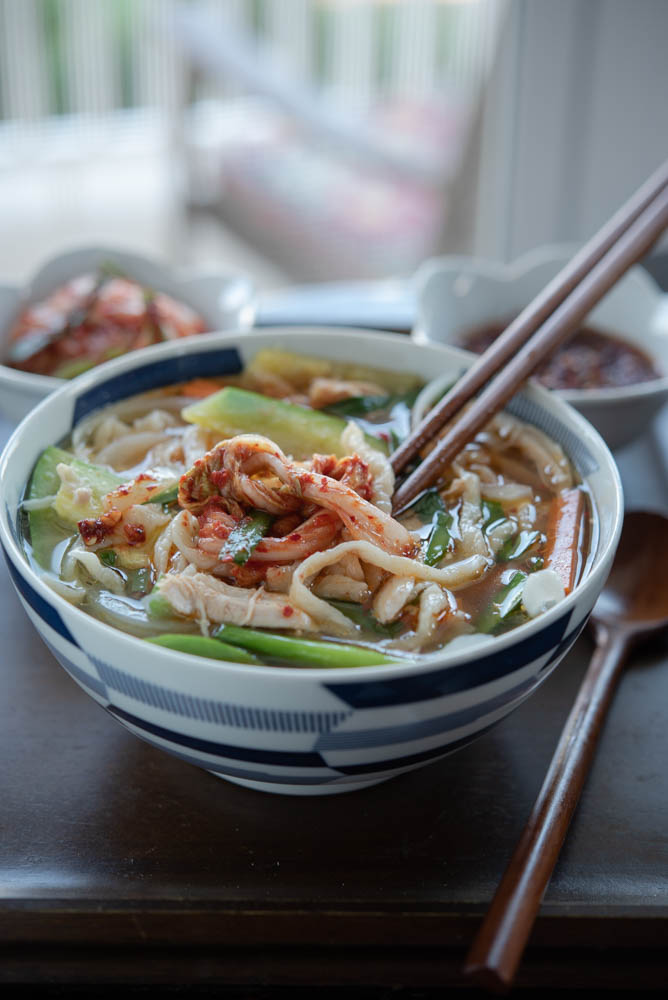 Always serve with freshly made cabbage kimchi and enjoy the soul comforting your chicken noodle soup in Korean way.
For more delicious Korean soup for the soul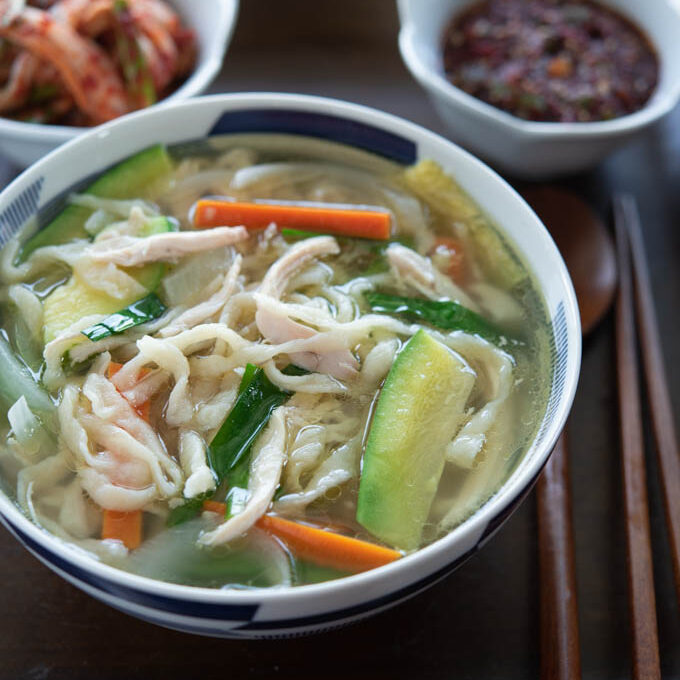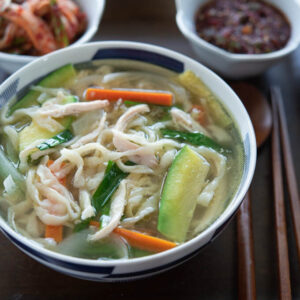 Korean Knife Cut Noodle Soup with Chicken
Korean knife cut chicken noodle soup (dak kalguksu) is a soul comforting chicken soup of Korea. Korean herb broth makes it very flavorful. This recipe uses homemade noodles but store-bought noodles work fine, too.
Ingredients
For knife cut noodles
2 1/2 cup all-purpose flour
3/4 cup water , plus more if needed
pinch salt
For chicken and herb broth
1 whole chicken
1 pkg Korean herb packet
1 onion, cut in half
1 Asian leek, cut into 2-3 pieces
6 cloves garlic
10-12 cup water
For soy chili topping sauce
For the soup
4 cup shredded cooked chicken
1 small onion, sliced
1 carrot, sliced
1 zucchini, sliced
8-10 cup chicken herb broth
1 tbsp Korean salted shrimps
1 tsp salt
Instructions
To make knife cut noodles
Mix the flour, salt and water and knead for 2-3 minutes. Form the dough into a ball and cover with a towel. Let it rest on the room temperature for 1 hr.

Dust the cutting board with flour and place the dough on top. Roll out the dough into a thin (1/8") layer as you keep dusting with flour. Roll up the flattened dough a few times. Sprinkle with more flour as you roll so that the noodles don't stick to each other. Slice the dough thinly with a knife. Toss the noodles with more flour and Set aside.
To make chicken and herb broth
Place the chicken, herb packet, onion leek, garlic in a large heavy pot and pour the water. Cover with lid and bring it to a gentle boil, then reduce the heat to low and simmer for 40-45 minutes.

Remove the chicken from the pot and set aside to cool. Discard the vegetables and reserve the broth.
To make soy chili topping sauce
Combine all the ingredients in a bowl and set aside.
To make the soup
Reheat the broth in a pot until boils. Add the onion, carrot and cook for 1 minutes. Add the salted shrimps, salt and zucchini until the vegetables are tender yet retain its body slightly. Add the chicken and keep the broth warm.

Meanwhile, in another pot, bring a water to boil. Cook noodles for 3-4 minutes or until they float to the top. Drain the noodles and place them in an individual serving bowl.

Pour the chicken and vegetable broth over the noodles and top with the soy chili sauce. Serve with cabbage kimchi on the side.
Did you make this recipe?
Tag @beyondkimchee on Instagram. I love to see your masterpiece.