Cubed Radish Kimchi (Kkakdugi)
If you like Korean restaurant-style cubed radish kimchi (kkakdugi), this recipe will guide you how easily you can make it at home with step-by-step-instructions. It creates the most crunchy and refreshingly tasting radish kimchi.
Who can resist the crunch, refreshing, and perfectly fermented Korean cubed radish kimchi called, Kkakdugi (깍두기)? If you like Korean restaurant-style cubed radish kimchi, this recipe is the one you should try.
One Korean food that I am dying to eat right now is a bowl of hot Ox Tail Bone Marrow Soup (seolleongtang, 설렁탕) and this kkakdugi kimchi as a side dish. Traditional Radish Kimchi (Seokbakji) is another common radish kimchi for the particular soup. In fact, all kimchi recipes are great to serve with, if you ask me.
I was lucky to get a bunch of Korean radish the other day and I am so~ so~ so~ excited to share this wonderful recipe with you.
I was craving for the restaurant style cubed radish kimchi. I did some research to find out the secrets of restaurant kimchi recipes. And the result I've found has two similar ingredients that I already knew about. One is the carbonated drink, and the other is the sweetened yogurt drink.
It is not so much different in terms of making the kimchi between home style vs restaurant style. Many home-cooks have been using the carbonated drink (such as sprite or 7-up) in their radish kimchi to mimic the restaurant flavor.
Yogurt drink (such as Yakult) is another new idea, but I can't prove how it will work since I don't have any access to the Yakult where I live now.
But, you will be surprised to see what I added in the recipe to mimic the flavor. And it turned out to be the best Kkakdugi I ever made. No joke!
Use Korean Radish for Kkakdugi
This is Korean radish and you must use this radish to get the right texture and taste.
You can add the green leafy parts of the radish if you want. I usually don't. Instead, I freeze them and use them in the soup later on. Delicious!
I have another kimchi recipe that uses green leafy parts of radish or turnip; Turnip Green Kimchi. Korean radish greens are great for that. Korean radish is also used in making Korean Water Kimchi (Nabak Kimchi)
How To Make Cubed Radish Kimchi
Slice the radish into 3/4-1 inch thick disks, then slice into cubes. They will reduce in size as they go ferment, so don't cube them too small.
In a large bowl or kitchen sink, sprinkle salt and sugar, and toss. Let them soak for 45-60 minutes.
Some people add carbonated drink to mimic the taste at this stage but I don't think it is necessary in this recipe.
When the soaking part is done, rinse the radish cubes once, drain, and place them in a large shallow bowl. Sprinkle 1 tablespoon of Korean chili flakes and toss well. This extra chili flakes will help radish to keep the vibrant red color.
In a blender, add diced onion, garlic, ginger, salted shrimps.
Now here comes the "IT" factor of this recipe!
"Is this milk?" Yes, it is. How bizarre to add milk in kimchi?
Well, all I can say is that it DOES the wonder. Milk will create a gas during the fermentation and it adds a very good flavor to the radish kimchi. It won't curdle, but makes your kimchi very desirable in both taste and texture.
Add the chili flakes and anchovy sauce to the onion/milk mixture. I added Korean style corn syrup (mulyeot) to the mixture. You can substitute the corn syrup with sugar instead.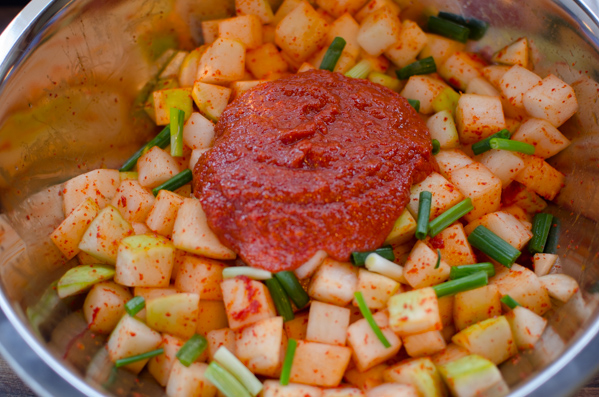 Pour over to the radish cubes. Add some chopped green onion to bring the contrast color!
Toss together. Taste and adjust your seasoning by adding more anchovy sauce and sugar.
How to Ferment and Store Kkakdugi Kimchi
Put kkakdugi in an airtight container (Glass container with an airtight lid is the best), and let it sit on the room temperature for 1-2 days depends on your room temperature.
You will see some bubbles forming on the surface. Then transfer to the refrigerator and continue to ferment for 7 days.
You might want to keep a box or two of baking soda in your fridge to keep the odor off, so the smell won't smear into the other food items.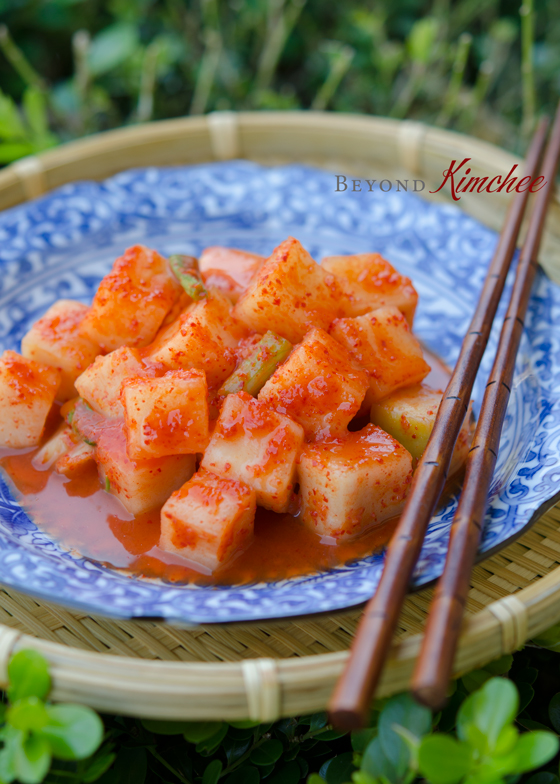 Above is my radish kimchi after 7 days of fermentation. Perfectly crunch and refreshingly cool! So good that I just keep eating one after another.
Now, my Kkakdugi kimchi motivates me to cook up some Korean recipes to serve together. But for the moment, I just serve myself with a bowl of instant ramen noodle soup with it. Delicious!
Cubed Radish Kimchi (Kkakdugi)
Learn tips and secrets of making Korean restaurant-style cubed radish kimchi (kkakdugi) at home. It creates the most crunchy and refreshingly tasty radish kimchi
Instructions
Clean the radish with a kitchen brush and rise well. Slice it into 3/4-1 inch disks, then slice into 3/4-inch cubes.

Place the radish cubes in a large mixing bowl or in a kitchen sink (with the drainage closed). Sprinkle with salt and 2 tablespoon sugar, and toss well. Let them sit for 45-60 minutes. Toss the radish half the way to soak evenly. Rinse the radish cubes once and drain well in a colander.

Put the radish in a large mixing bowl and sprinkle 1 tablespoon of Korean chili flakes and toss. Set aside for 5 minutes.

To make the kimchi seasoning paste, process together onion, garlic, ginger, salted shrimps, and milk in a blender. Transfer to a mixing bowl and add the remaining 4 tablespoon Korean chili flakes, anchovy sauce, and corn syrup (or sugar). Mix well and let it sit for 5 minutes.

In a large mixing bowl, combine the radish cubes and green onion. Pour the kimchi seasoning paste and toss all together until every radish cubes are well coated with the paste. Taste and adjust seasoning with more anchovy sauce and sugar according to your taste.

Transfer the radish kimchi into an airtight container and let it sit in the room temperature for 1-2 days. Then store the kimchi in the refrigerator for 7 days for a good fermentation before you serve. Enjoy!
Did you make this recipe?
Tag @beyondkimchee on Instagram. I love to see your masterpiece.