If I can pick one no-bake recipe for the hot summer days, this no-bake eclair cake from scratch comes to the top. I know many people rave about the easy, hassle free, and quick eclair cake that is made with instant vanilla pudding mix and coolwhip. However, I am sorry but I am not one of them. To be honest, I can taste the artificial flavor from those processed materials in the cake and It is "no thank you" for me and in my household.
I like to make my no-bake eclair cake from scratch. I made the pastry cream, which is combination of homemade vanilla pudding and the whipped cream, and it is not as difficult or complicated as it sounds. Yes, it takes a couple of more steps than the instant pudding mix version, but the taste is far more superior and it is worth every moment you spent. Actually it is a simple process and all you need to do is just waiting for the cake to chill in the fridge.
This recipe makes a large batch of eclair cake and feed at least 12 people. Plan to make this cake one day in advance. Chilling the cake in the fridge makes the graham cracker to moisten and creates soft cake-like texture that is so delicious.
How to make the pastry cream from scratch
1) Make the vanilla pudding.
You will need to use whole milk for thicker and creamier texture.
Combine milk and egg yolks together. In a pan whisk together the sugar and cornstarch. Pour the milk mixture into the starch mixture and bring it to boil over medium heat, whisking constantly, until they thickens, about 4-5 minutes.
Remove the pudding from the heat and add the butter and vanilla. Stir well. Transfer the pudding into a large bowl and cover the surface with a piece of plastic wrap to prevent the skin forming. Chill the pudding for 2 hours.
2) Mix the vanilla pudding with stabilized whipped cream to make the pastry cream
Mix the gelatin powder with water and microwave for 15 seconds. Cool slightly.
Whip the heavy cream until soft peak forms. Add the gelatin into the whipped cream and continue to whip until the stiff peak forms. Fold the stabilized whipped cream into the pudding mixture and combine until smooth and creamy.
3) Assemble the Eclair cake using graham crackers and chocolate glaze
Cover the bottom of the pan with graham crackers and spread the half of pastry cream over. Top with more graham crackers and repeat the layer again. Finish the top with graham crackers and drizzle with chocolate glaze.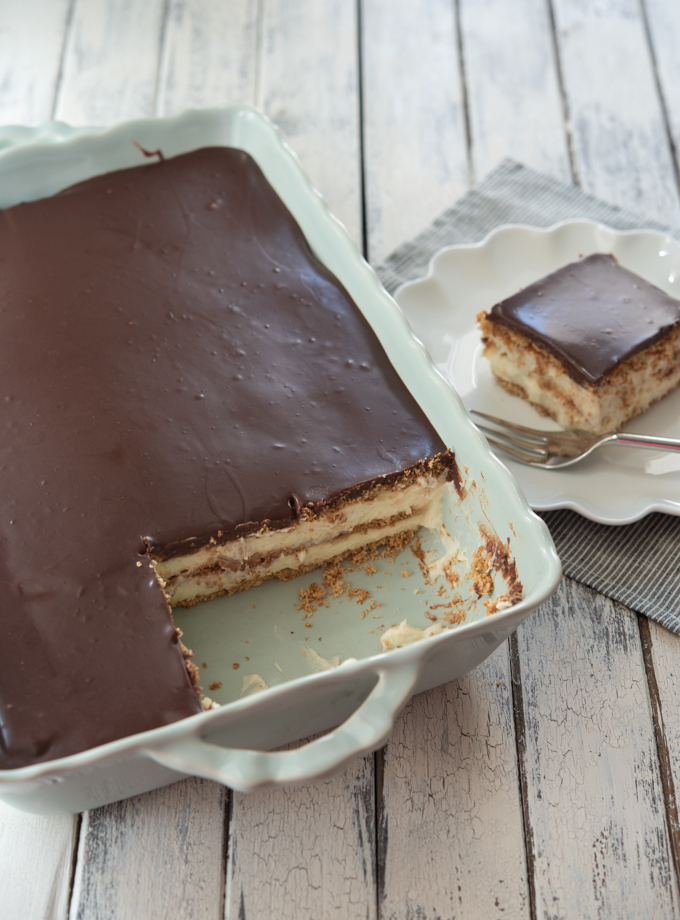 How to store the no-bake eclair cake
Keep the cake in the fridge at all time. The graham crackers will be moisten and become soft crumb-like texture. They will be ready to serve in 24 hours. The cake will last in the fridge up to 4-5 days.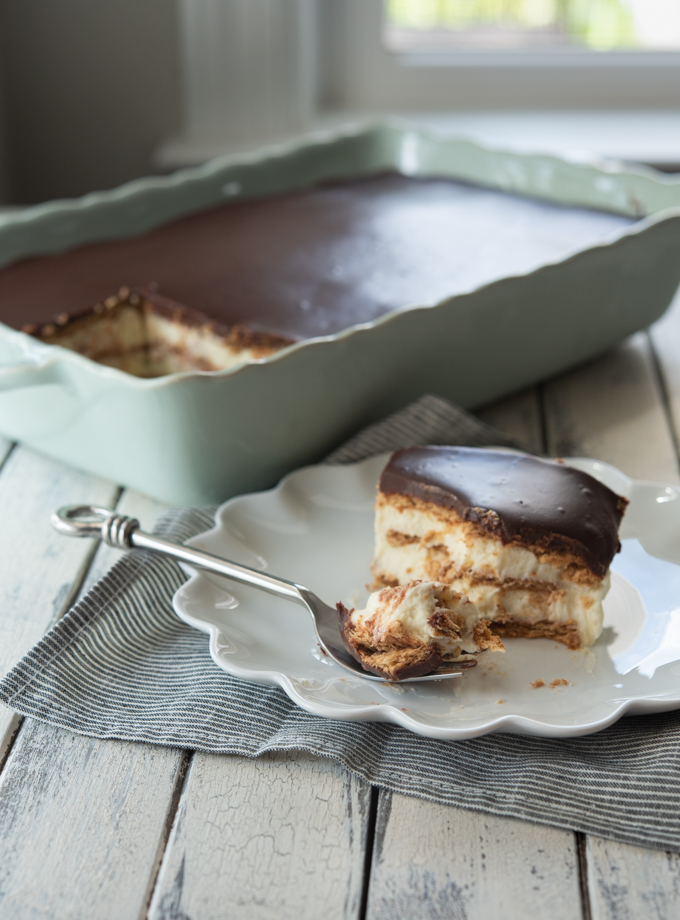 For more cool summer dessert ideas
Strawberry Kiwi Tiramisu without the Alcohol
Pavlova with Kiwi & Passionfruit
`