Kimchi Casserole (Kimchi Gratin)
Kimchi casserole is a Korean fusion dish made with sour kimchi, rice and cheeses in a baking dish. It's then baked into a delicious kimchi gratin.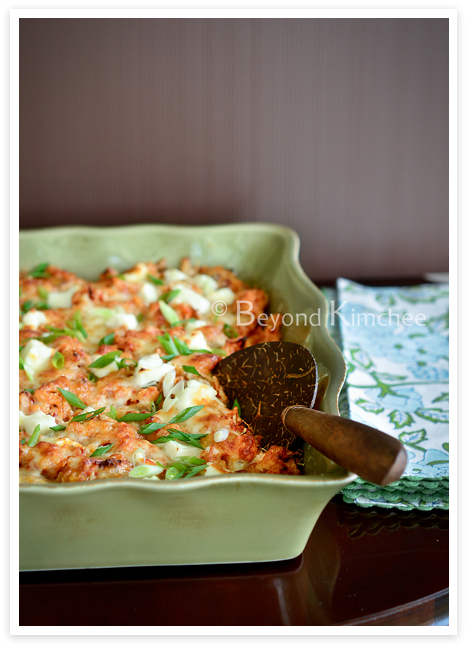 I liked the movie, "Julie vs Julia".
It is a true story about a woman named of Julie challenged all the recipes of Julia Child's first book in one year and blogged the process.
My blue eyed husband suggested that I should challenge making different types of Kimchi everyday for one year and blog about it. I still don't know if he was serious or joking.
Well, for his sake, I am not making Kimchi everyday nor every week.
But..,  I can come up with 365 Kimchi ideas though.
There are so many dishes you can make with Kimchi, not only to authentic Korean dishes but also to fuse with other cuisines as well. Possibilities are limitless and creativity is all you need.
Here is one dish that I really love.., but can't decide what to name it.
Kimchi gratin? Kimchi casserole? or maybe Baked Kimchi rice?
I will let you name whatever that sounds good to you.
Kimchi goes so-so-so well with cheese, especially with the cheeses of Mediterranean.
I used feta, mozzarella, Parmesan cheese, and mixed with Kimchi fried rice, and baked in the oven.
You can add some minced pork or chicken, ham, or sausage to add protein if you desire.
It is very delicious and comforting. Serve as a side dish or as a main with some salad on the side.
Who knows? This might be the next hot thing in the food trend.
How to make Kimchi Casserole
Here is the last piece of cabbage kimchi in my fridge. Quite fermented.., perfect for this recipe!
Shake her up gently over the sink to get rid of some stuffing inside.
Need to feed to those who can't handle the spiciness? Give a little rinse with water to get rid of some chili factor.
Chop into small pieces.
Drizzle a little oil in the skillet over medium heat.
Saute chopped onion and some garlic for 2 minutes.
NOTE : Add some minced pork at this point to make a complete one dish meal if you wish.
Add the chopped kimchi and continue to cook until it gets tender, about 5 minutes.
Add rice and toss together until well combined.
And a little kimchi juice,
sesame seeds, and toss well. Remove the skillet from the heat and set aside to cool down  a little.
Meanwhile, break apart your feta cheese into small chunks.
Grate mozzarella and Parmesan cheese…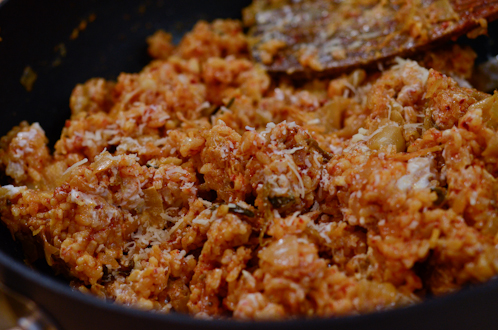 Add half the amount of cheeses to the kimchi rice mixture and toss all together.
Now, get a pretty baking dish, about 9″x13″, and grease with oil spray.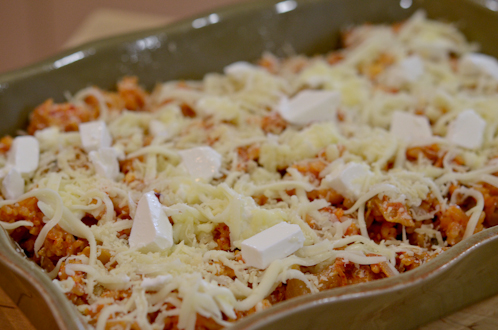 Put the mixture in the dish and spread the rest of the cheeses on top.
Bake in the preheated oven at 350º F (160º C) for about 20 minutes or so until cheese melts and creates golden crust.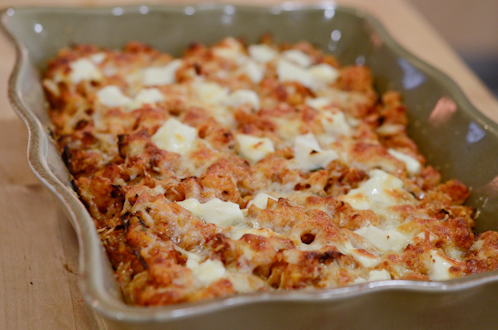 Here! They just came out of oven.
Sprinkle some sliced green onion on top for the look.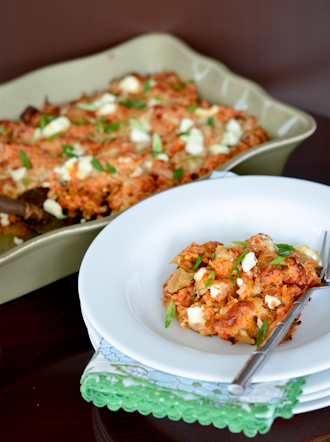 and dig in when it's still hot.
You might find yourself falling in love with cabbage all over again.
Why? Because it is sooooooo dang good!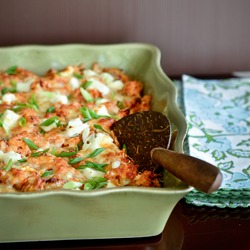 Kimchi Casserole
Sour kimchi mixed with rice and feta, mozzarella, and parmesan cheeses, and baked in oven
Ingredients
10 oz 300g fermented kimchi, chopped
1/3 lb 150g minced pork, optional
1/2 large onion, chopped
2 garlic cloves, finely chopped
2 tablespoon grape seed or canola oil
4 cups cooked short grain rice
2 tablespoon kimchi juice
1 tablespoon toasted sesame seeds
4 oz feta cheese, crumbled
1 1/2 cups shredded mozzarella cheese
1/3 cup grated Parmesan cheese
1 green onion, thinly sliced
Instructions
Preheat oven to 350º F (160º C)

Heat oil in a skillet over medium heat, saute onion, garlic, and pork (if using) for 2 minutes. Add the chopped kimchi and cook for 5 more minutes until kimchi gets tender.

Add the rice and kimchi juice, stir to combine. Sprinkle sesame seeds and mix well. Remove the skillet from heat and set aside to cool down a little.

Add half the amount of cheeses to the skillet and toss to combine. Transfer the kimchi cheese mixture into a greased 9"x13" baking dish, spread the rest of cheeses on top. Bake for about 20 minutes or until the edges and the top gets golden.

Sprinkle green onion on top while it is hot. Serve hot as a side or as a main dish.
Did you make this recipe?
Tag @beyondkimchee on Instagram. I love to see your masterpiece.