Authentic Thai Pomelo Prawn Salad
Thai style pomelo salad is made with poached prawns (or shrimps) and fish sauce dressing. Adding palm sugar in the dressing makes the salad more authentic and delicious.
Is it March already?
It must be spring then…
Living currently in a tropical land of SE Asia, I often loss the sense of seasonal changes.
Spring is my favorite season.
I miss seeing green buds blossoming on the trees, daffodils and tulips popping out of garden, and people gathering around Home Depot to look for pretty flowers to plant on their yards. I was one of them.
But I enjoy living in tropical land these days. It does offer good culinary adventures.., a big time!
… Loads of tropical fruits and veges, awesome beaches, can't complain much. I made "Pomelo Prawn Salad" the other day. It is one of the famous Thai salads.
It is quite simple to make and very refreshing to the taste; a perfect dish for drowsy days of spring!
Pomelo is the largest citrous fruit living on our planet. It tastes like grapefruit without much bitterness.
It's sometimes hard to find Pomelo outside of Asia, though.
If you can't find it, substitute with the grapefruit; make sure you drain the juice (drink it!) that leaks a lot when you cut into segments, so the salad doesn't get too wet.
Also you need to up the amount of sugar since grapefruit is more bitter than Pomelo.

Here I have some grated fresh coconut. Use the desiccated coconut if you can't find the fresh one.
Toast the coconuts until lightly golden brown over low heat.
Toast chopped peanuts, too. Let them cool down.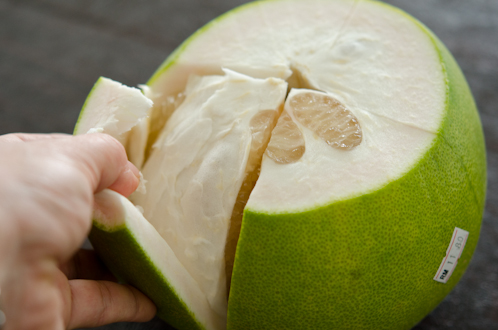 To peel the pomelo, slice off the top of the fruit, then score 4 or 6 lines from top to bottom.
Peel away the fibrous skin of Pomelo one section at a time.
Take the chunks of pulp out of each segments.
Collect the pulps in a bowl. Set aside
Poach shrimps in gentle simmering water, about 30 seconds the most. Set aside.
Slice shallots and mince a clove of garlic, too.
Smack the Thai red chilies with back of your knife to bruise them.
You don't eat them but they will give some heat in the salad.
Here is beautiful mint. Tear some.
You will also need some cilantro as well.
Put all the salad ingredients in a bowl.
Time to make some dressing to toss together with.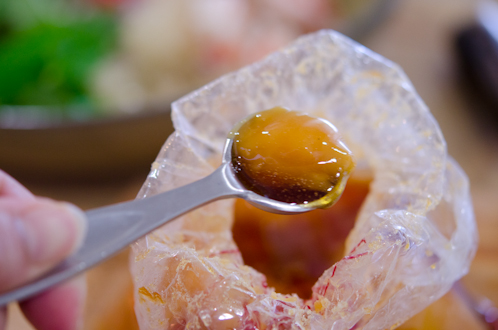 Do you know what this is?
It is fresh palm sugar. I got it from a street market in Thailand. Costed about US $0.75 for a small bag!
I can eat the spoonful like this; tastes like caramel.
You can get the dried palm sugar in some Asian groceries. If you can't find neither fresh or dried, use brown sugar instead.
Mix fish sauce, lime juice, and the sugar.
Drizzle over your salad.
Refreshingly delicious…
With this salad,
I am so ready for spring.
…better start the major spring cleaning this weekend.

Authentic Thai Pomelo Prawn Salad
Thai Pomelo prawn salad is refreshingly light and flavorful salad. Palm sugar makes the salad authentic and more delicious
Ingredients
1 large Pomelo
11 oz raw medium prawns or shrimp, peeled and deveined, tails intact
3 Asian shallots, thinly sliced
4-5 bird's eye chilies, bruised
1 garlic clove, finely minced
1 oz mint leaves
1/2 oz cilantro leaves
4 tablespoon shredded fresh coconut or desiccated coconut, toasted
3 tablespoon chopped peanuts, toasted
1 1/2 tablespoon fish sauce
2 tablespoon lime juice
2 teaspoon palm sugar or brown sugar
Instructions
To peel pomelo, slice off the top of the fruit, and score 4-6 deep line from the top to bottom. Peel the skin one section at a time. Remove pith and separate the segments of the fruit and crumble into big chunks discarding any visible seeds.

In a gentle simmering water, poach prawns until they curl up and turn pink.

In a large salad mixing bowl, combine pomelo, prawn, shallot, garlic, chilies, mint, cilantro, and coconut. Set aside.

In a small bowl whisk fish sauce, lime juice, and sugar together.

Just before serving, add the dressing over salad and toss to combine. Sprinkle peanuts on top.
Did you make this recipe?
Tag @beyondkimchee on Instagram. I love to see your masterpiece.