Homemade Dakgalbi (Spicy Korean Chicken Stir-Fry)
Dakgalbi (or dak-galbi) is a popular Korean chicken stir-fry recipe. It is made in a skillet on a stove top with chicken thighs, cabbage, rice cake, and sweet potato in a gochujang based spicy sauce. The city of Chuncheon is famous for the original Korean dakgalbi, and this is the recipe!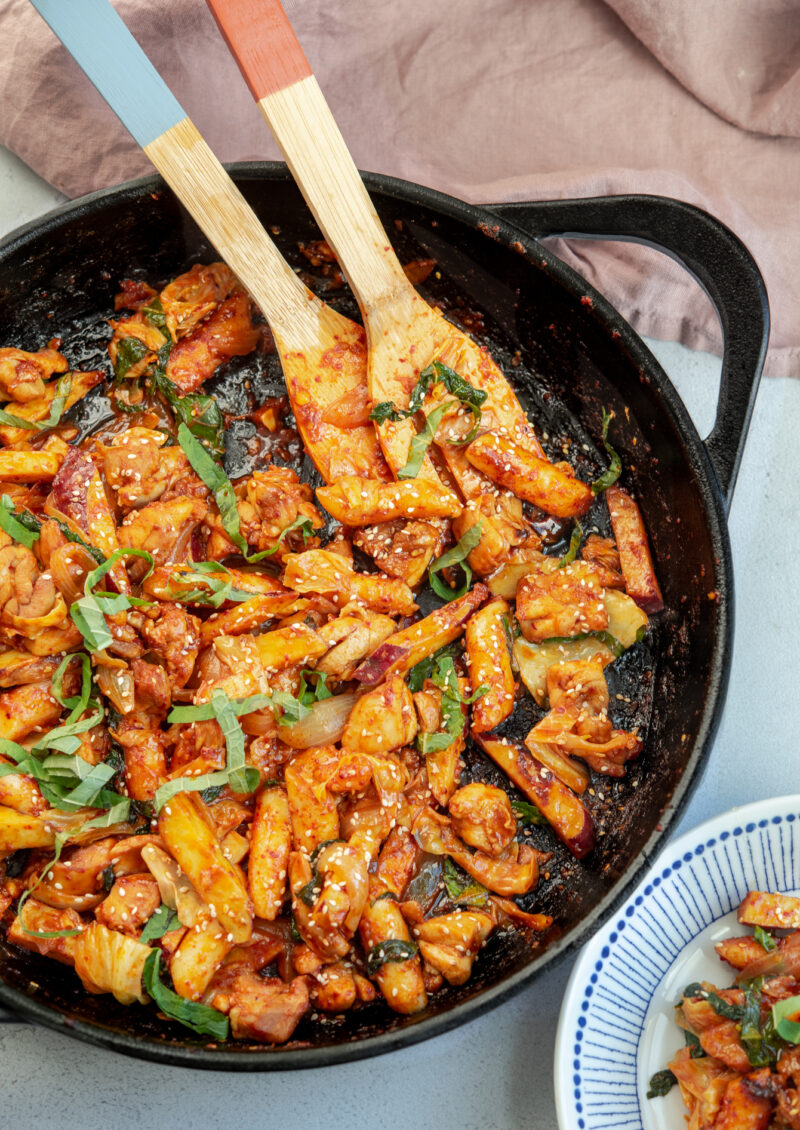 "I've made it couple of times to the exact specifications and it taste great. This is one of those dishes that I can't get as good as I've had it in Korea."

Susie
Why is it called Dakgalbi?
Although dakgalbi has nothing to do with chicken ribs, it's named after how the chicken is prepared – grilled over the open flame just like Korean beef ribs are cooked.
Chicken thighs are cut up and stir-fried with cabbage, rice cake, sweet potato wedges, and perilla leaves (kkennip), with a gochujang-based spicy sauce. So it's literally Korean chicken stir-fry.
It might sound similar to Korean BBQ chicken recipe, another popular chicken dish, but the flavor and the cooking method is different.
Dakgalbi is one of the most beloved authentic Korean recipes and very popular among both local Koreans and foreigners. My cookbook, Korean cooking favorites, also introduces this recipe.
How Dakgalbi is served in a restaurant
Most people who are new to dakgalbi are amazed at first by watching the size of dakgalbi pan, the volume of the food, and how it is cooked when they see it in the restaurant.
A big carbon steel griddle is piled up with chicken and other ingredients. Then it is brought to the dining table with a hole in the middle. A charcoal grill (or gas grill) resides underneath.
The griddle is placed over the heat and the dish starts to sizzle in no time. The server will start tossing everything in the griddle busily right at your table until everything is well cooked and soft.
Soon this Korean stir-fried chicken is ready to serve and people rush to enjoy the dish when it is hot.
Cheese dakgalbi: Recently, the K-food trend is to add mozzarella cheese to make it cheesy – I'm not a huge fan of this. It detracts from the traditional beauty and flavor of Korean dakgalbi. However it doesn't mean that you shouldn't. If you would like to try it, just add some shredded mozzarella cheese at then end of cooking and let it melt.
What should you serve dakgalbi with
When the chicken, rice cakes and vegetables are soft and fully cooked in the sauce after stir-frying, put a small portion of dakgalbi on a individual serving plate and enjoy. Scoop more portion from the griddle to your plate as you eat so that you can enjoy the hot chicken stir-fry throughout.
You don't really need anything else to serve with since it is a complete one skillet dish – no need to serve with rice.
Some people like to wrap dakgalbi in lettuce and perilla leaves (kkennip) with a little bit of ssamjang.
This Korean chicken stir-fry is a type of dish that makes you want to eat until your stomach is on the verge of exploding, but you can't help stop eating. This is not a dish for dieters or picky eaters.
Dakgalbi Fried Rice
The fun part of eating dakgalbi begins after you finish. It is a popular practice for Koreans to make fried rice with whatever remains in the skillet after finishing dakgalbi. So, save yourself some space in your stomach for this delicious dakgalbi fried rice.
Once most of the content in the griddle is consumed, then the server brings a bowl of rice to make fried rice with the remaining sauce in the griddle. Traditionally, as a final flourish they sprinkle crumbled roasted seaweed over the rice.
What are tips for the best dakgalbi
Use a large skillet which has an enough room to stir-fry everything all at once – preferably a heavy cast iron skillet or carbon steal skillet to retain the heat.
It's fun to cook dakgalbi right at the table so that people can share hot food right away. To do so, use a portable burner on the table.
If you decide to make the fried rice at the end, try pressing down the rice in the skillet over medium heat when finished stir-frying, so that it creates a crust rice layer (nurungji) on the bottom.
Ingredients you'll need to make dakglabi
chicken thigh — use boneless and skinless
vegetables — cabbage, onion, perilla leaves, and sweet potato
rice cake — tteokbokki rice cakes make the dish satisfying. Soak them in water for 10 minutes before using.
cooked rice (leftover rice) — if you are making dakgalbi fried rice at the end
For the sauce:
The condiments used in this dakgalbi recipe are the basic Korean pantry staples.
How to make Dakgalbi
Step 1: Make the sauce; mix all the ingredients in a small mixing bowl. Set aside 1 tablespoon of sauce if you are making fried rice at the end.
Step 2: Toss the chicken with 1/2 the sauce in a mixing bowl and set aside to marinate.
Step 3: Soak rice cakes in water for 10 minutes and drain. Dice chicken thighs into bite size pieces. Dice cabbage and slice the onion and perilla leaves. For sweet potatoes, try to cut into thin wedges or matchsticks.
Step 4: Drizzle 2 tablespoon of oil in a large skillet. Arrange chicken, cabbage, rice cake, sweet potato wedges, onion, and half of the sliced perilla leaves in the skillet. Drizzle the sauce over the top and place the skillet on medium-high heat.
Step 5: When it starts to make a loud sizzling sound, begin tossing everything to combine. Stir-fry until chicken is fully cooked, and the rice cake and sweet potato are tender, about 6-7 minutes. If your food seems to be sticking too much to the skillet, add 2-3 tablespoons of water to create steam to release the sauce on the skillet and to cook evenly.
Step 6: Add the remaining perilla leaves toward the end of stir-frying. Serve immediately when it is hot.
How to make Dakgalbi Fried Rice (Optional)
Step 1: To make the fried rice, turn the heat back on to medium heat. Drizzle 1 tablespoon of oil to the skillet. Add the cooked rice, the reserved dakgalbi sauce, and start stir-frying to coat the rice with the sauce residue remaining in the skillet. Add soy sauce and mix.
Step 2: Press the rice gently to the bottom of skillet and let them crisp up for 1-2 minute over low heat.
Step 3: When the rice sticks to the skillet and become golden crisp, drizzle sesame oil and sprinkle crumbled seaweed and toasted sesame seeds and toss. Serve immediately.
This recipe was originally posted in June 2012. I've updated the recipe with minor changes, new photos, and more information.