Club Med White Chocolate Bread
This White chocolate bread is the popular bread of the French resort, Club Med. With only 5 ingredients including white chocolate chips, it is super simple to make at home and so tasty.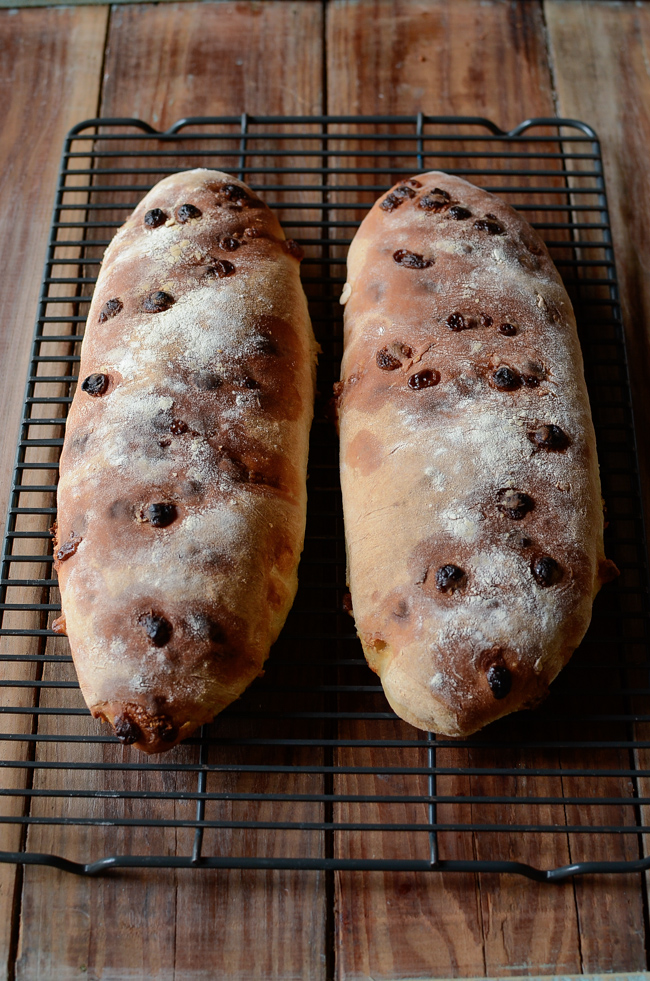 Many years ago when my kids were younger, my family spent a few days at Club Med resort in Florida. We love this white chocolate chip bread so much, we ate it every single day while we were staying.
Club Med is famous for their all-inclusive treat where you can eat everything they offer. Since it is a French resort, they have all kinds of tasty French breads and pastries with every meal.
Out of all the selection, I loved their white chocolate bread. Crispy crust with soft and tender sweet crumbs, I fell in love with that bread and I ate tons, literally everyday. I came to a regret when the vacation was over.
I had a few bags of white chocolate chips in my kitchen that I need to use up, and thought of what to make with. My once beloved, almost forgotten Club med white chocolate bread came to my mind immediately.
This white chocolate bread is super easy to make with basic pantry ingredients. You just need to have white chocolate chips.
Only 5 Ingredients for White Chocolate Bread
bread flour
white chocolate chips
instant yeast
salt
water
Instead of instant yeast, you can use regular active yeast. Make sure to proof the yeast in the water for 5 minutes before adding to the flour.
Check out my Korean twisted donut recipe for another sweet treat!
How to make Club Med White Chocolate Bread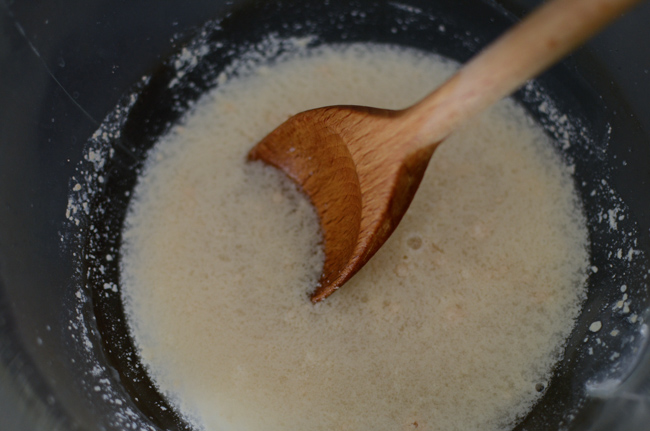 Mix water, salt, and instant yeast in a mixing bowl.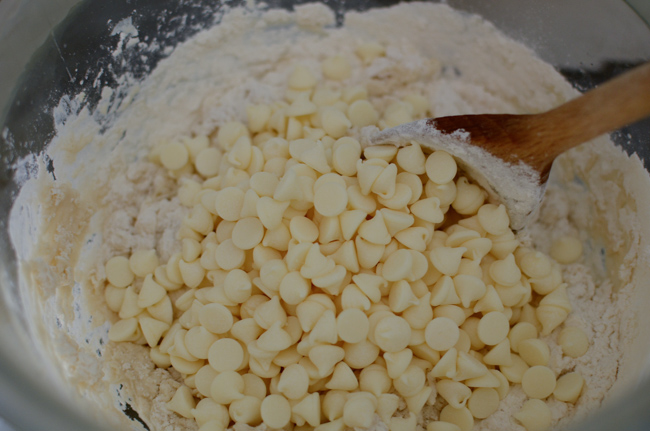 Add the flour and white chocolate chips, stir with a wooden spoon to mix them up.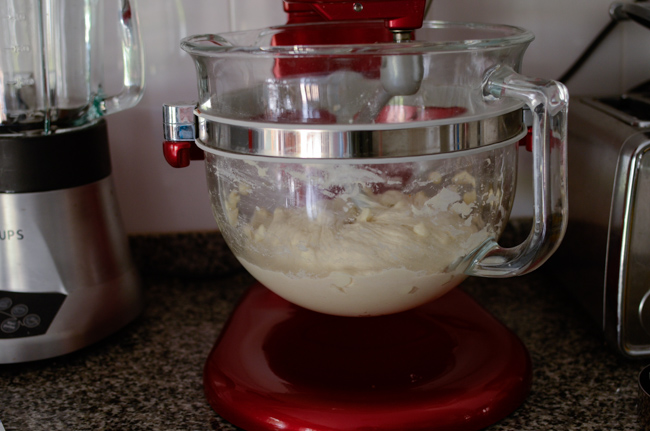 With a dough hook attached, knead the dough for 6-7 minutes on medium speed.
I would recommend to use a mixer for this job since I am not sure how it will turn out if kneading by hand. I am afraid that the warmth of your hand may melt the chocolate chips during the kneading.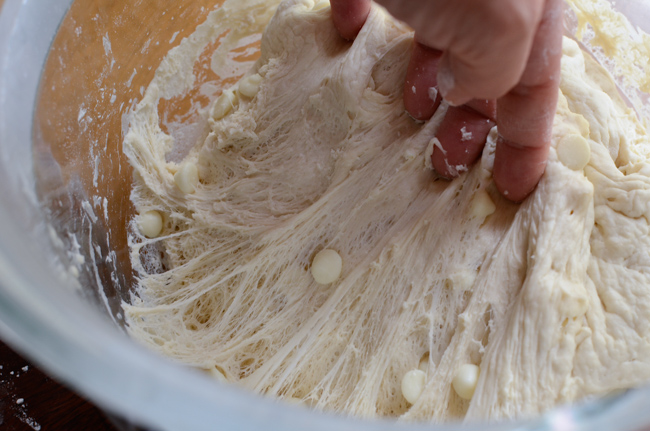 let the dough rise double in volume, about 1 hour. If you see the spider webs are forming when you pull the dough, it is perfectly risen.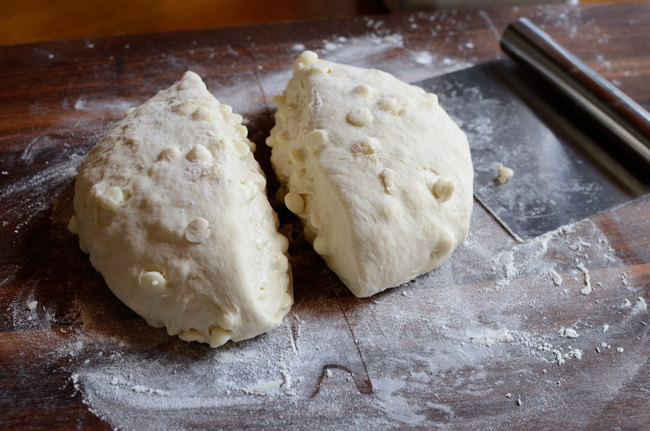 Cut in half and form the dough whatever shape you desire.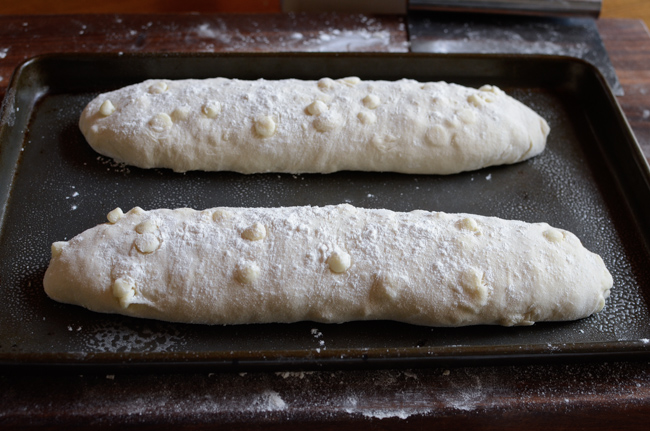 I just rolled it out. I made it into long and somewhat skinny loaf shape. You can make two big round loaves or a many small dinner rolls if you want. You will need to adjust the baking time depending on the size and the shape of your loaf.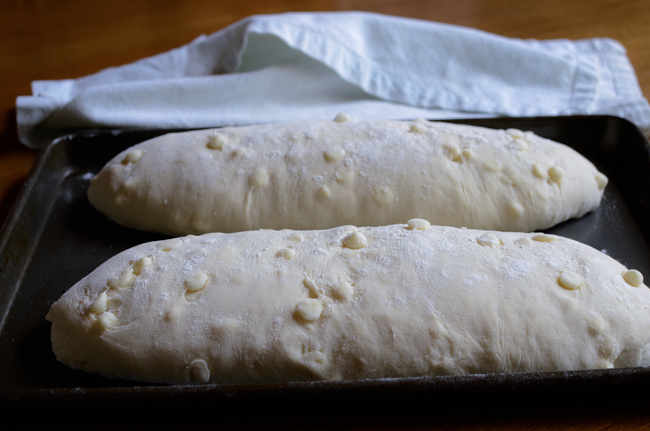 Let them rise again, about 45-60 minutes. Then put them into preheated hot 450˚F oven and bake for 10 minutes. Reduce the oven to 350˚F and continue to bake another 10-15 minutes until the crust is nicely browned.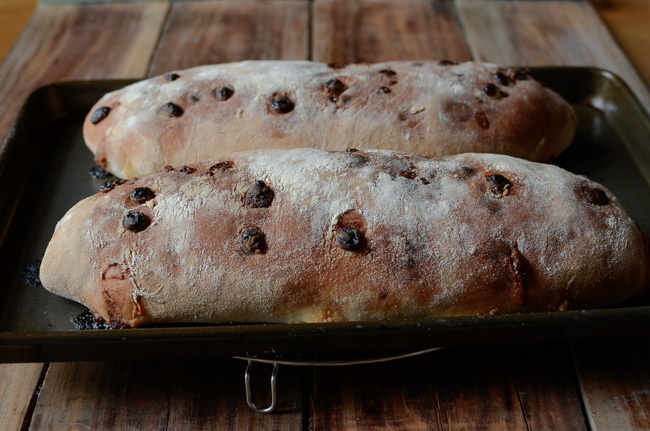 Here it is. Looks like they came from a famous bakery shop.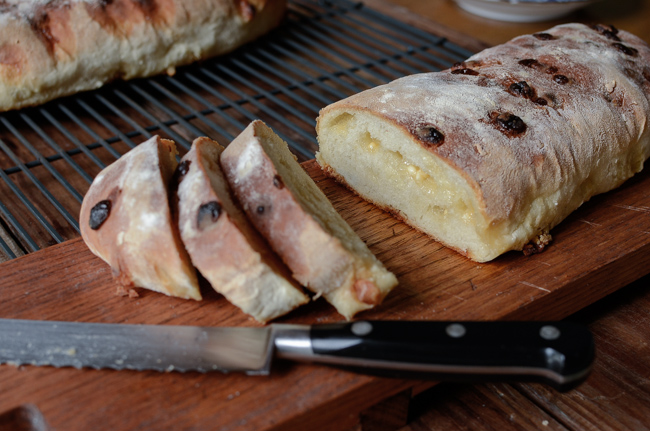 You will need to cool them down, but I couldn't resist. That is my weakness. I sliced while they are still hot and you can guess what came next.
Oh, my…! The warm melted white chocolate in a crusty bread? I could literally eat the entire loaf by myself if I let.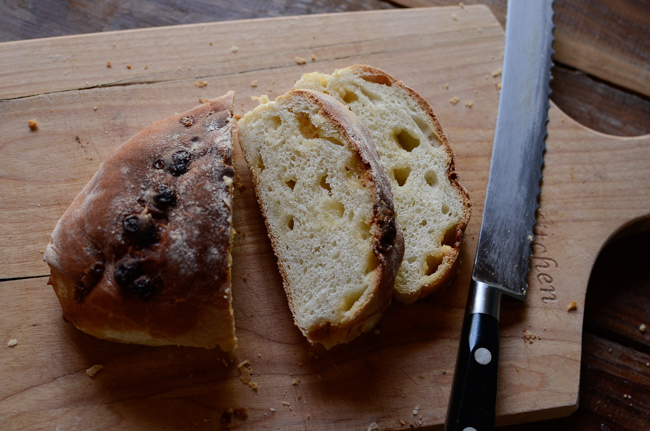 I had to teach myself to resist the temptation, so I ate only half the loaf this time. I still regret because… once the families came home, they were gone within a few minutes. No leftover for me to munch on midnight. Dang it!
How to store white chocolate chip bread
It is better to consume the bread on the day you made if you want to enjoy warm and soft texture. However, it will last up to 3 days in a room temperature. Once bread is cooled completely, cover it with a piece of plastic wrap. This bread also makes a very good breakfast toast.
Other sweet bread recipes you might like
Some of these sweet bread recipes are my favorite. Hope you can try them all!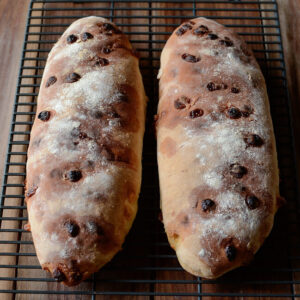 Club Med White Chocolate Bread
Club Med resort's White chocolate bread made with white chocolate chips. With only 5 ingredients, it is super simple and delicious.
Instructions
In an electric mixing bowl, combine water, yeast, salt. Add flour and white chocolate chips, mix with wooden spoon until everything is combined. It will be somewhat sticky dough. If the dough seems too stiff, add more water, 1 tablespoon at a time.

Attach a dough hook to a mixer and knead the dough for 6-7 minutes on the medium speed.

Cover the bowl with a towel and let the dough rise to double in volume, about 1 hour.

Deflate the dough and turn it over to a floured board. Divide the dough in half and roll each half into an elongated loaf shape. Sprinkle the top with extra flour and transfer the loaves onto a greased pan. Cover and let them rise again, about 45-60 minutes.

Preheat the oven to 450˚F. When the oven is ready and the loaves are risen, put it in the hot oven and bake for 10 minutes. Reduce the temperature to 350˚F and continue to bake another 10-15 minutes or until it forms dark golden brown on the crust.

Cool the loaves on a rack for 5 minutes. Enjoy the warm bread while they are still warm.
Did you make this recipe?
Tag @beyondkimchee on Instagram. I love to see your masterpiece.