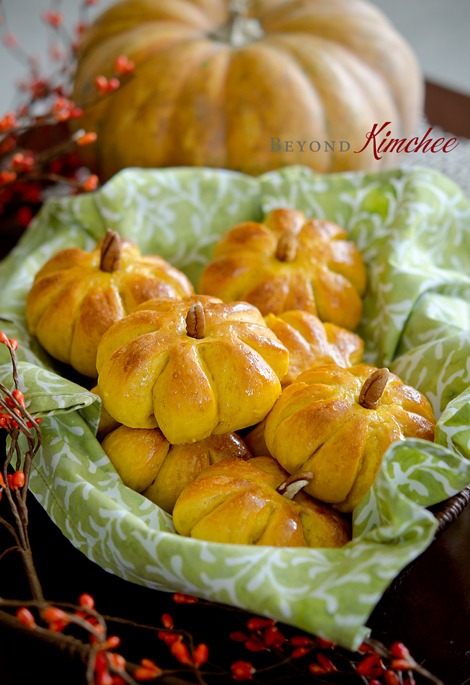 "Don't play with your food!"
I tell my kids all the time when they show not much interest in eating their food but playing with it. Well, I find myself today that playing with food is quite entertaining and I did have a great time making these Pumpkin Dinner Rolls. The best part? You get to eat them at the end!
Pumpkins are delicious and nutritious. So why not add some in the dinner rolls to join the harvest season and celebrate the bounty of mother nature?
These rolls even look like mini pumpkins. They are quite easy to make from scratch and will look so gorgeous on your Thanksgiving dinner table.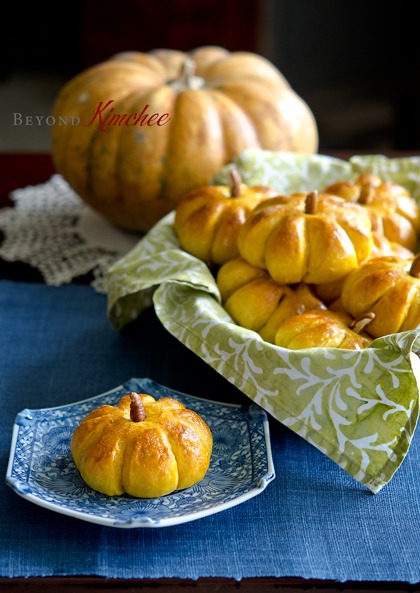 The dough recipe is from Delicious Dishes. They were soft and tender with a hint of sweetness. But you can use any of your favorite dinner roll recipe to shape these cute minis.
They didn't take as much time as I thought it would. The whole process went really fast and I had nice warm rolls ready for my lunch.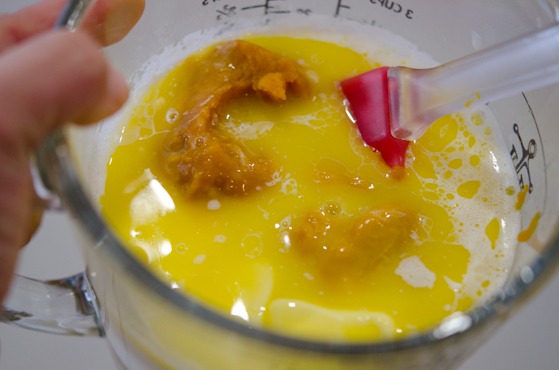 Heat milk to scalding hot, add butter to melt and pumpkin to mix in. Add the salt and stir everything well.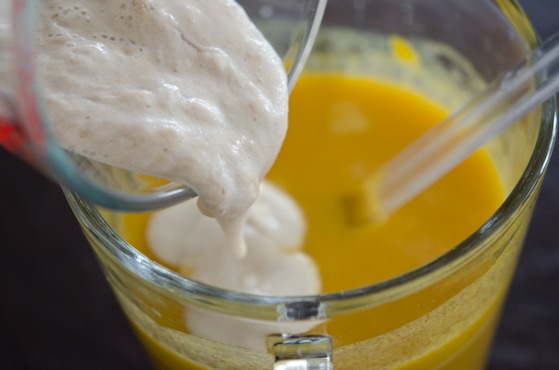 Combine yeast, sugar and warm water and let them bubble up. Add to the pumpkin mixture. Add an egg and mix well.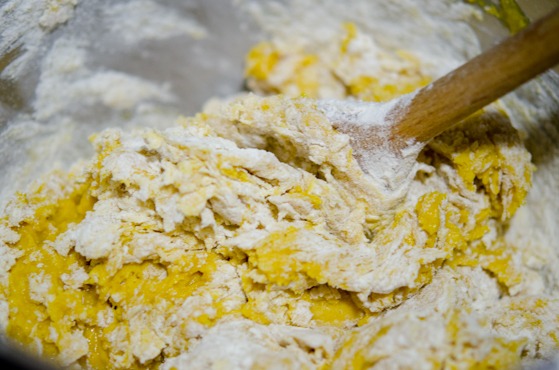 Add the flour gradually and stir with a wooden spoon.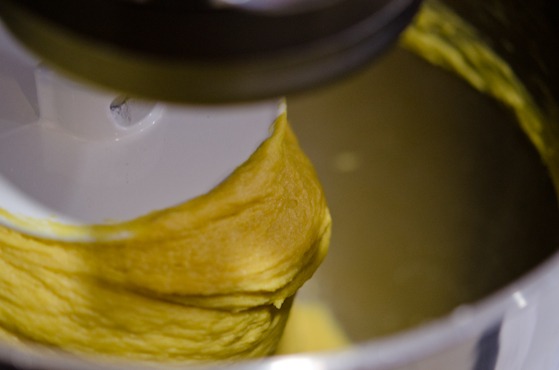 Time to knead! I used my mixer to do the job. Knead until the dough pull itself from the side of the bowl, about 5 minutes.
Dump the dough on the lightly floured surface and knead with your hand for 1 minute.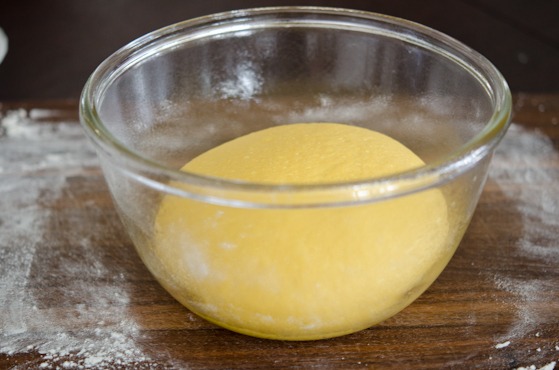 Form the dough into a ball and place in a greased bowl. Cover and let it rise in a warm place until they get double in volume.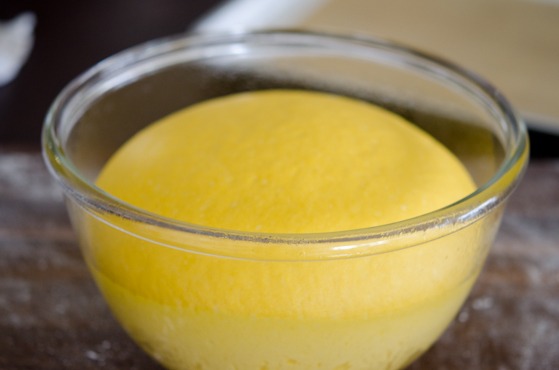 Here is the beautifully risen dough. Love the deep yellow color!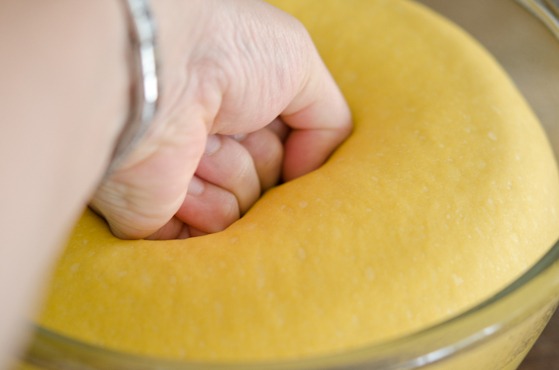 Give it a punch to deflate. The moment I've been waiting for…
Divide the dough in half. Roll each half to make a log and cut each log in 15 pieces or more if you prefer smaller rolls.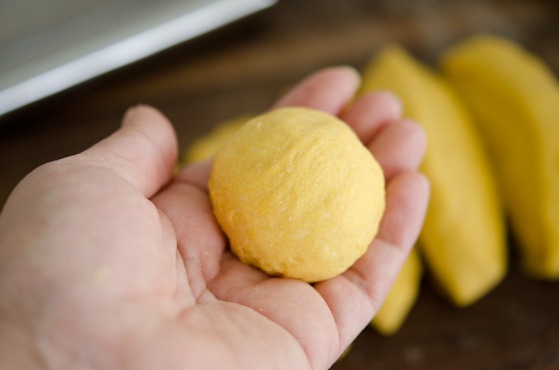 Form each piece into a ball by pulling it together…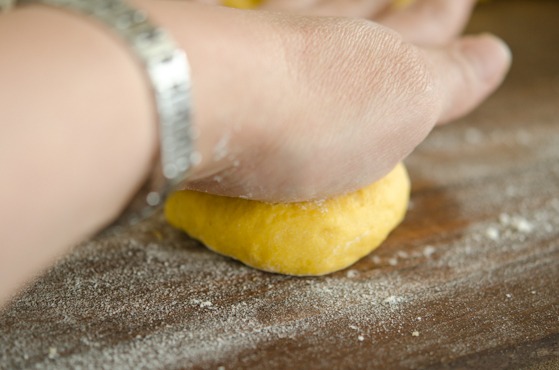 Press down a little with your hand.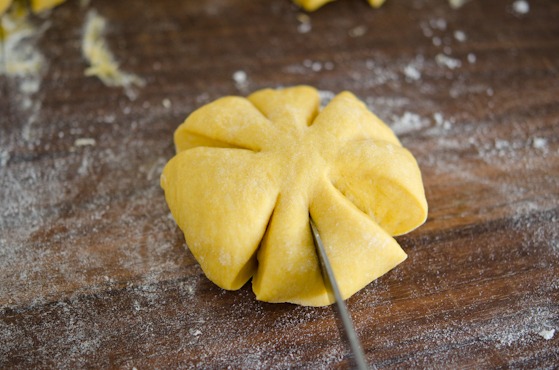 Using a knife,  give 8 segments of cut on the edge but leave the center uncut.  Looks like a flower…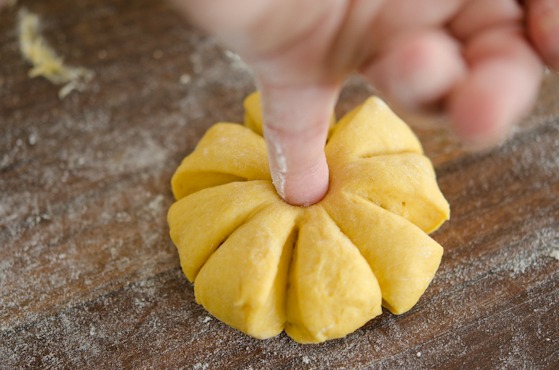 Poke deeply on the center of pedal with your pinkie.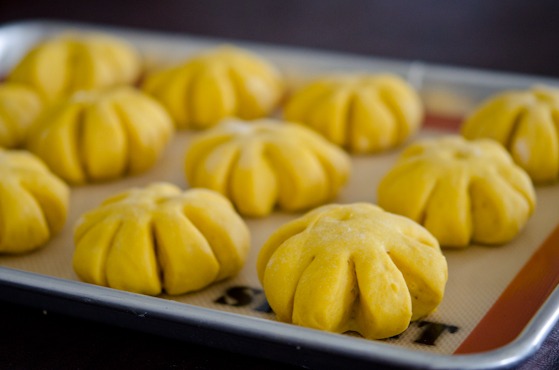 Let them rise again. The center indentation somehow disappeared but you can always poke them again. You gotta love poking!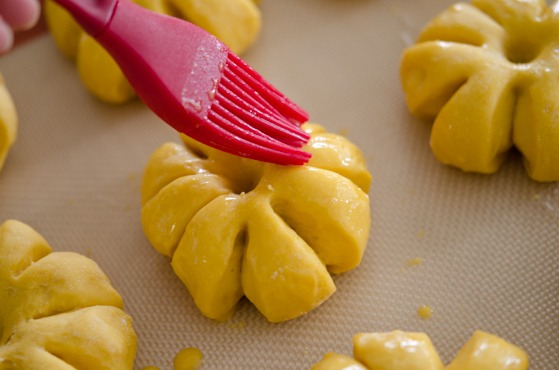 Brush with egg wash to give the golden look…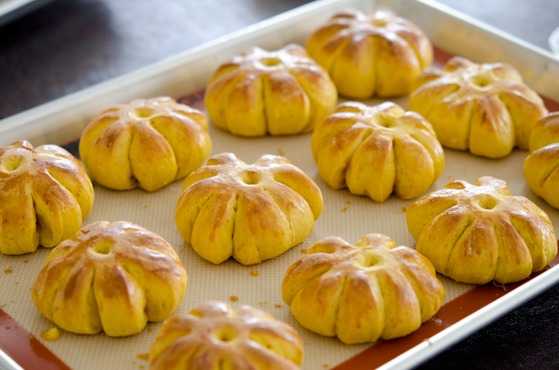 Bake them in the 350F oven for 9-12 minutes. Don't over-bake.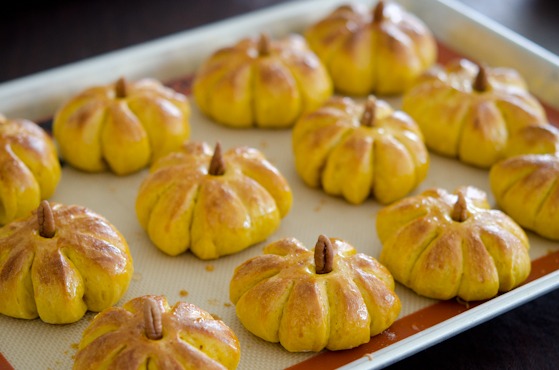 Brush with melted butter to give them a little shine. …And the final touch? The sliced pecan pieces as stems! Cute… aren't they?
In a couple of weeks I am hosting Thanksgiving dinner at my house for about 20 guests. Thank God…, it will be a potluck!
Imagine the turkey adorned with all the bells and whistles, the scrumptious & glorious fall side dishes flowing around the Thanksgiving table…, and think of these mini pumpkin rolls being passed around, I bet you will see some smiles on people's face.
There are so much to thank for. Family, friends, the laughter, and even the tears of life through rain or shine, thick or thin.
I have been loved… tons!
And YOU! my blog readers who have shown a great amount of support and encouragement…, Thank you!
With love,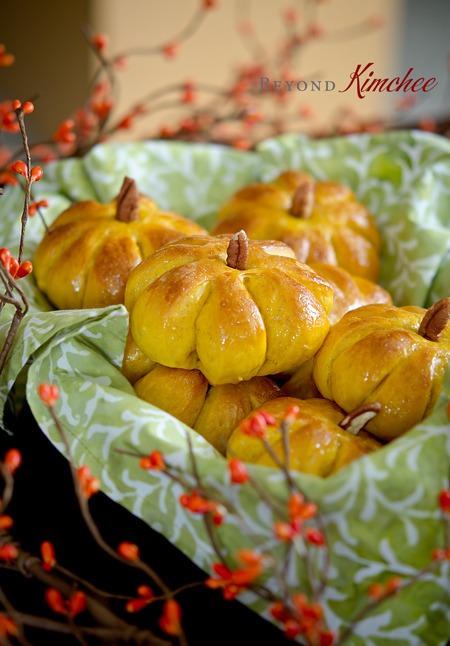 Ingredients
3/4 cup whole milk, scalded
1 cup canned pumpkin puree
1/3 cup light brown sugar
1/3 cup white sugar
6 tablespoons butter
1 egg
1 teaspoon salt
2 packages active dry yeast (1/2 ounces) plus 1 teaspoon white sugar
1/4 cup lukewarm water
5 cups all-purpose flour
15-20 pecan halves, sliced into 3 vertical sections
1/4 cup melted butter, optional
Directions
Pour hot milk in a mixing bowl, add butter and stir to melt. Add sugars, pumpkin puree, salt to the milk and combine well.
In a small bowl proof yeast in a lukewarm water with a teaspoon sugar. When it gets foamy add to the pumpkin mixture, and add the egg, mix well.
Add in flour gradually and mix with a wooden spoon until well combined. The dough will be sticky.
If using electric mixer, attach a dough hook and beat the mixture until the dough itself pulls from the side of the bowl.
Turn the dough out to a wooden board dusted with a little flour. Knead with hand for 1 minute. Form the dough into a ball shape, place in a greased bowl and cover with a cloth. Let it rise in a warm place until it doubles in volume, about 1 hr.
Punch the dough to deflate and knead it for a few seconds on a wooden board. Cut the dough in half. Cut each half into about 15 pieces.
Roll each piece into a ball shape with your hand. Flatten the piece with palm of your hand a little. Using a knife, give 8 cuts on the edge to mimic flower pedals but the leave center uncut.
Poke the center with your finger to give a deep indentation, and repeat the same procedure to all the other pieces.
Place them, 2" apart, on a baking pan lined with parchment paper or baking mat, and let them rise again to be doubled, about 45 minutes.
Preheat oven 350ºF for 20 minutes.
If the center indentation is not obvious on the rolls, poke them again with your finger.
Brush with egg wash, if you wish, and bake for 9-12 minutes until the top gets slightly golden.
Brush the rolls with melted butter or a little honey diluted with water to make it shine if you wish.
Insert pecan slices on top to mimic pumpkin stem.
https://www.beyondkimchee.com/pumpkin-dinner-rolls/
All rights reserved by www.beyondkimchee.com