Bungeoppang (Korean Fish-Shaped Taiyaki Bread)
Learn to make Bungeoppang in your kitchen. This Korean fish-shaped bread is a twist on the classic Japanese snack, Taiyaki. Crispy and soft pastry filled with sweet red bean filling, enjoy this must-try Asian dessert all year with this easy recipe.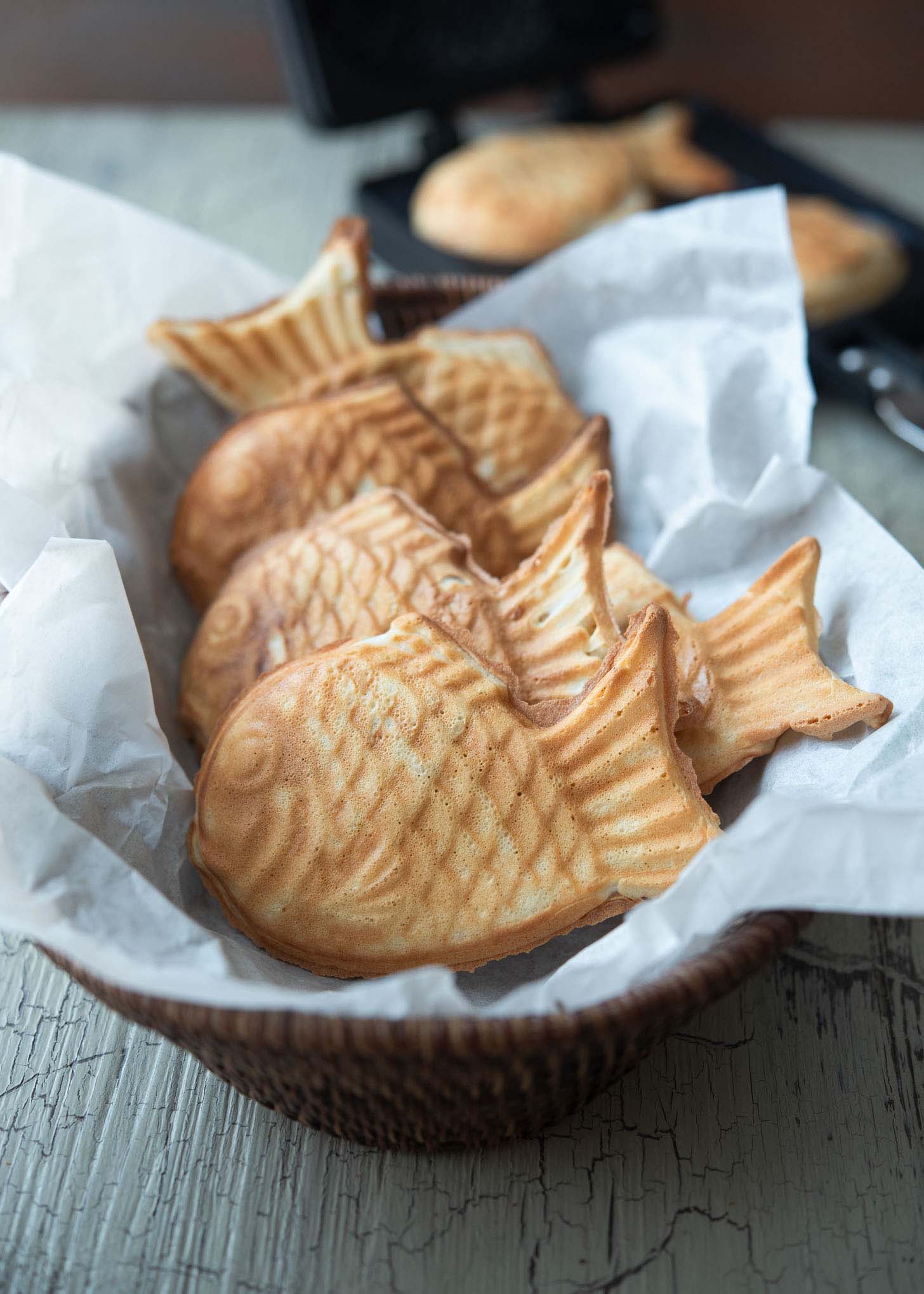 Winter streets in Korea come alive with the irresistible scent of Bungeoppang, a staple among Korean winter snacks. Known as Taiyaki in Japan, this iconic fish-shaped pastry transcends being merely a comfort food.
For many, it serves as one of those cherished Korean childhood snacks that evoke fond memories. Far from being just a seasonal Korean street food, making bungeoppang at home is remarkably simple.
Armed with a specialized fish-shaped mold and some pantry staples, you're minutes away from a warm, filling delight.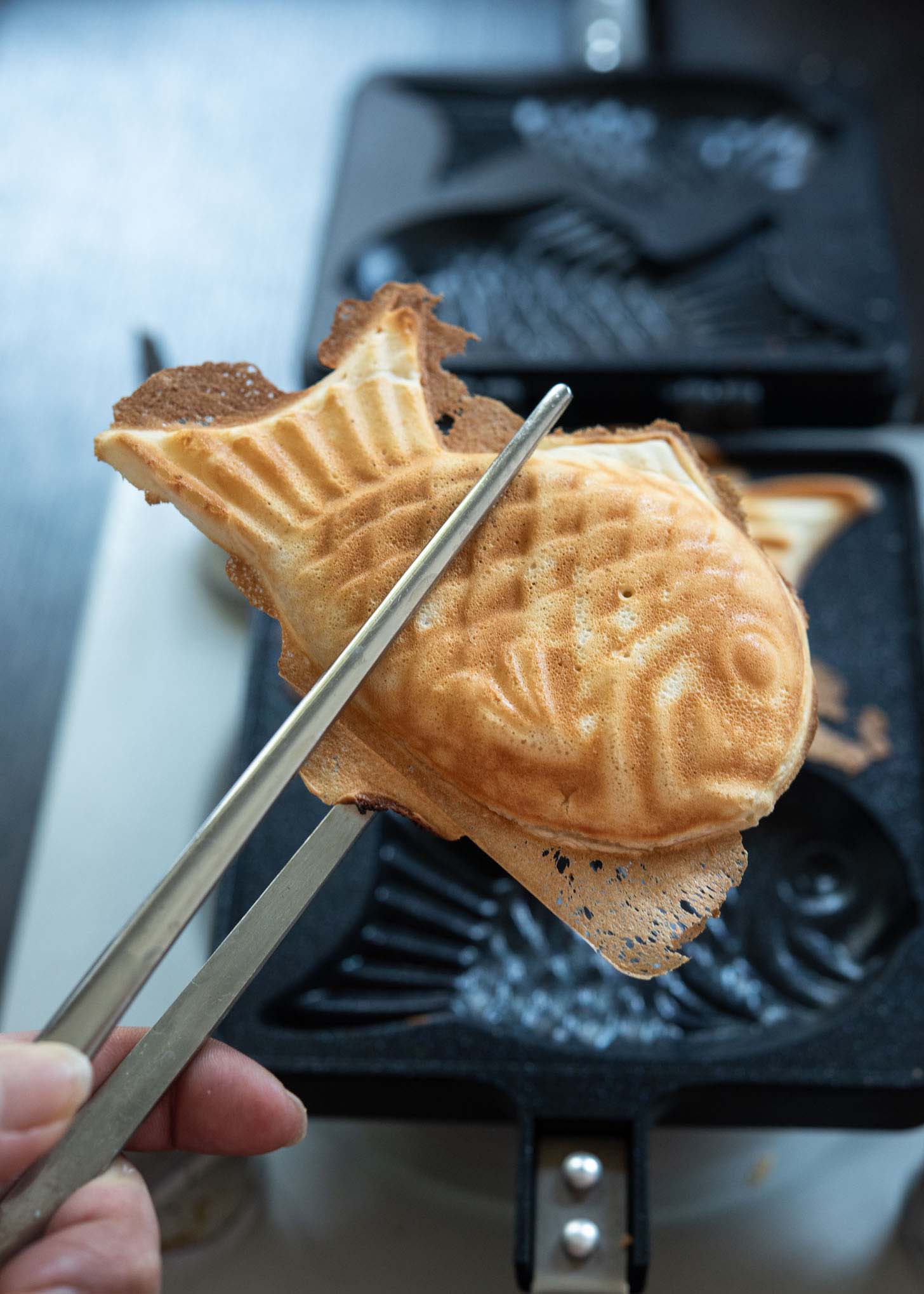 What is Bungeoppang?
Often referred to as a fish shaped pastry or crucian carp bread, it is a popular Korean street food that gains special affection during the winter months. This charming, waffle-style treat comes stuffed with a variety of sweet and savory fillings to cater to all taste buds.
The most traditional filling is red bean paste, but these days you can also find it filled with custard, chocolate, or even cheese.
To make bungeoppang, a special fish-shaped mold, known as bungeoppang pan similar to waffle iron, is used. The fish pastry is often cooked right on the street, making it a popular choice for a warm, on-the-go delicious treat.
Additionally, they are budget-friendly, with prices ranging from 2 to 5 pieces per dollar, depending on the location. This makes bungeoppang an affordable Korean dessert perfect for savoring on chilly days.
Don't miss out on Hotteok (Korean sweet pancake) and Roasted Sweet Potatoes (gun-goguma), two more delicious Korean snacks perfect for winter!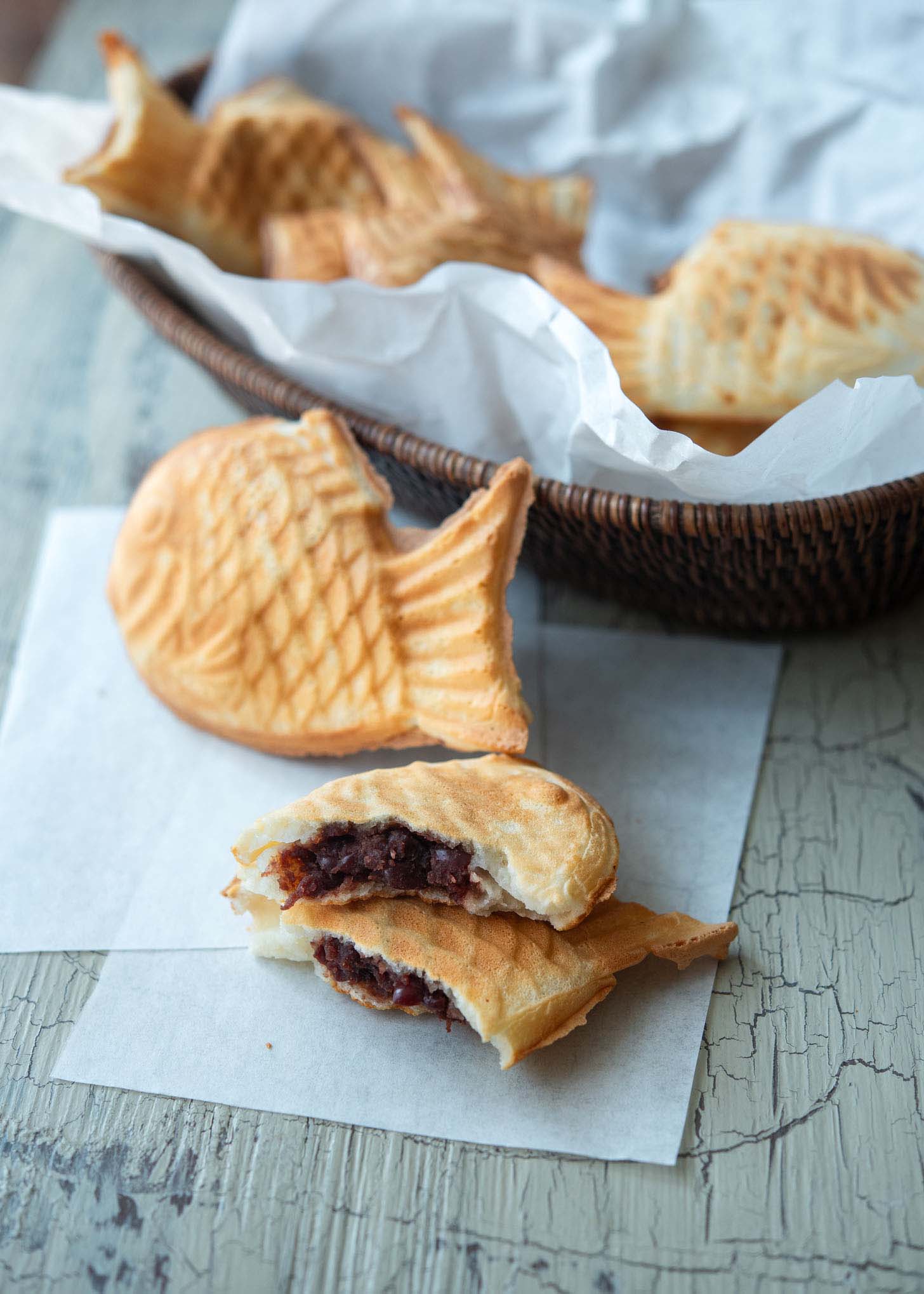 Taiyaki vs Bungeoppang
The Origin of Taiyaki
Originating in 1909, Taiyaki is a fish-shaped Japanese pastry, initially a creative take on the red bean-filled imagawayaki. It was crafted to resemble a 'tai,' symbolizing prosperity in Japan. Its creator, Seijirō Kobe, aimed to make the luxurious taste accessible to all.
Through the years, Taiyaki's fillings, shapes, and textures have evolved, winning hearts beyond Japan. This dessert's versatility has expanded its appeal across Asia, making it more than just a local delicacy.
Korean Version of Fish-Shaped Bread
Introduced in Korea in the 1930s, Bungeoppang was initially quite similar to Taiyaki. However, it soon adopted its own unique identity, taking on the carp shape instead of the sea bream. It's a unique blend of Western waffles and Eastern dumplings, indicative of Korea's diverse culture.
After losing steam for a while, this fish-shaped treat came back strong in the '90s, thanks to a retro trend in South Korea. Now, it continues to evolve, and fans post their top places to get it on Google Maps, with ratings and prices.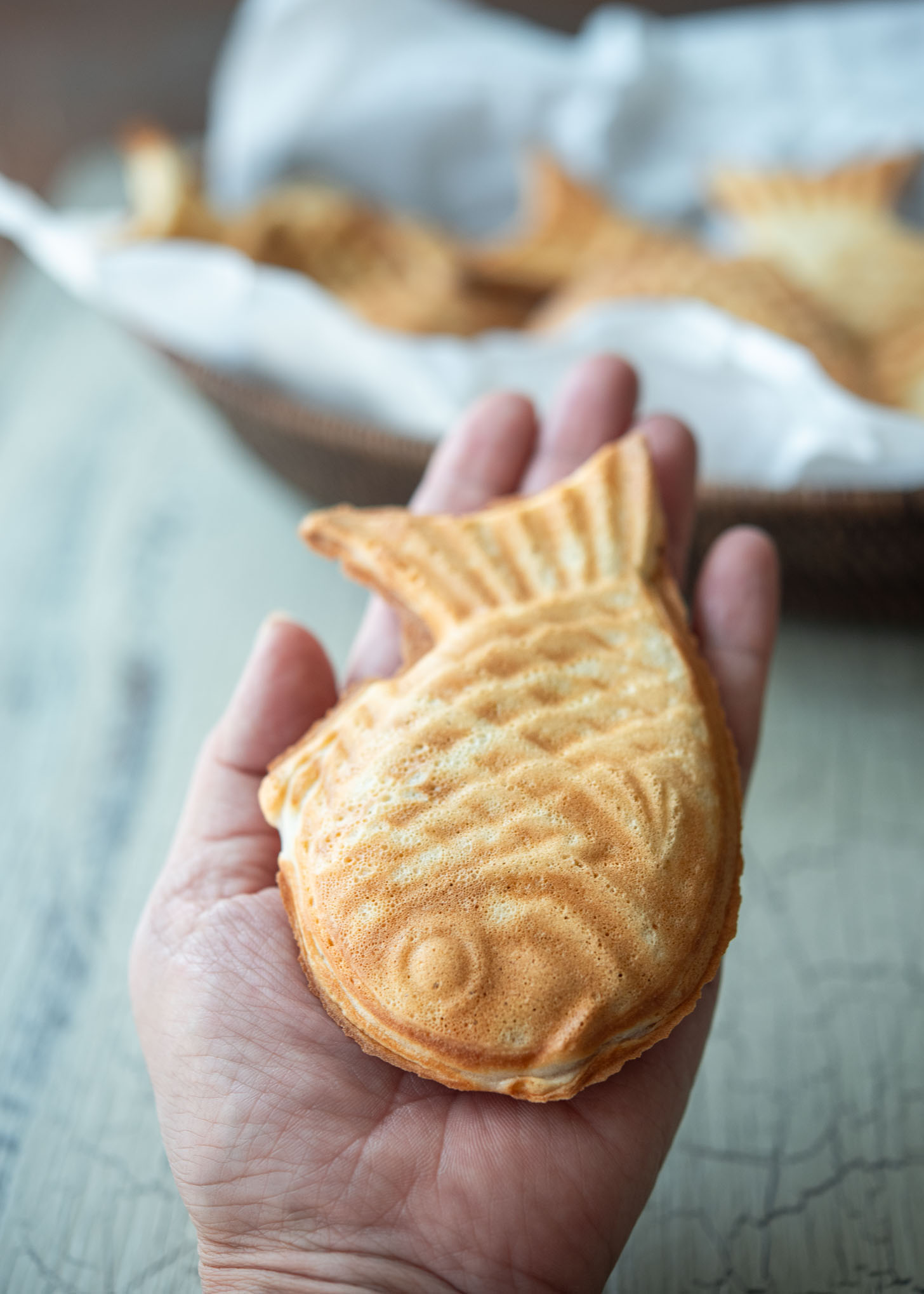 Key Differences
Although both snacks have shape of a fish and molded, they stand apart in several important ways:
1) Filling Variations:
Both treats offer a range of fillings. Taiyaki sticks with traditional options like red bean, sweet potato, and custard, while Bungeoppang ventures into contemporary choices, including chocolate, custard, and savory fillings like ham and cheese.
2) Texture Differences:
Texture sets them apart: Taiyaki has a soft, cake-like consistency, while Bungeoppang features a crispier exterior, especially around the edges.
3) Availability and Seasonal Popularity:
Taiyaki is enjoyed year-round and is available in specialty stores and street stalls. Conversely, Bungeoppang, a symbol of winter in Korea, is predominantly a seasonal street food delight, peaking in popularity during the colder months.
If you're a fan of Korean street foods, you'll also love my other recipes for Korean Twisted Donut and Tteokbokki (spicy rice cake), each a quintessential winter comfort food.
Tool: Fish-Shaped Mold (Taiyaki Pan)
To make bungeoppang, you'll need a specialized fish-shaped mold or pan. These pans are usually designed for gas stoves.
If you have an electric or induction cooktop, you might want to consider buying a portable gas stove to achieve the ideal cooking conditions for your pastries.
Where to get it? You can purchase a Taiyaki fish-shaped pan online.
Ingredients Needed
Batter Ingredients
Cake Flour: This serves as the base for your fish-shaped pastry and provides a tender crumb.
Sweet Rice Flour: Adding this to the mix will give your pastry a slightly chewy texture.
Baking Powder: This leavening agent helps the batter rise, creating a fluffy interior.
Sugar: For the touch of sweetness.
Melted butter: Helps moisten the batter, ensuring a moist pastry with a buttery taste.
Milk: Adds moisture and a creamy taste to the batter.
Sweet Red Bean Paste: The classic filling that many people love; it's sweet and slightly nutty.

Store-bought red bean paste works great for this recipe.
Optional Fillings for Customization
The beauty of Bungeoppang is its versatility; you can fill these pastries with anything from sweet red bean paste, soft custard filling to savory cheese.
Nutella: For a hazelnut chocolate twist.
Vanilla Custard: Adds a creamy, luxurious texture.
Cheese: If you're up for a savory version, consider adding cheese to the mix.
How to make Bungeoppang (Korean Taiyaki Bread)
Step 1. Prepare the Batter
In a large mixing bowl, mix together cake flour, sweet rice flour, baking powder, and a little salt. Pour in milk and melted butter, then stir until it's smooth and thin like crepe batter.
For an even smoother texture, use a hand blender. Then, put the batter into a jug to make pouring easier later on.
Step 2. Preheat the Pan
Heat your Taiyaki pan on medium-low. When it's hot, brush some cooking oil onto the fish molds. Using a pastry brush or an oiled paper towel helps spread the oil evenly.
Have some red bean filling on a small spatula, ready to add to the pan.
Step 3. Assemble and Cook
Pour batter into the fish molds until they're about 70% full.
Add around 1 1/2 tablespoons of red bean paste or your preferred filling to the middle of each mold.
Cover the filling with extra batter. Don't worry if some spills over the sides. Close the pan's lid and quickly flip it over.
Step 4. Cook till golden crisp
Cook for 3-4 minutes, then flip and cook for another 2-3 minutes.

If they're not golden brown, keep cooking and flipping until they are.

Once done, let them cool on a rack and trim off any extra batter for a neat appearance.
Enjoy it Hot!
Serve this fish-shaped treat immediately for the best texture and taste. Be aware that as they cool, the texture may harden.
Storing and Reheating Tips
Storage: Keep your bungeoppang fresh by storing them in an airtight container. They'll last up to 3 days in the fridge or up to 2 months in the freezer.
Reheating: For a fresh-out-of-the-oven experience, warm them in a toaster oven until the exterior crisps up again.
Related Recipes
Love this recipe? Rate it and share your experience in the comments below! On Instagram? Tag me to showcase your creation. For more delicious recipes, subscribe to our newsletter!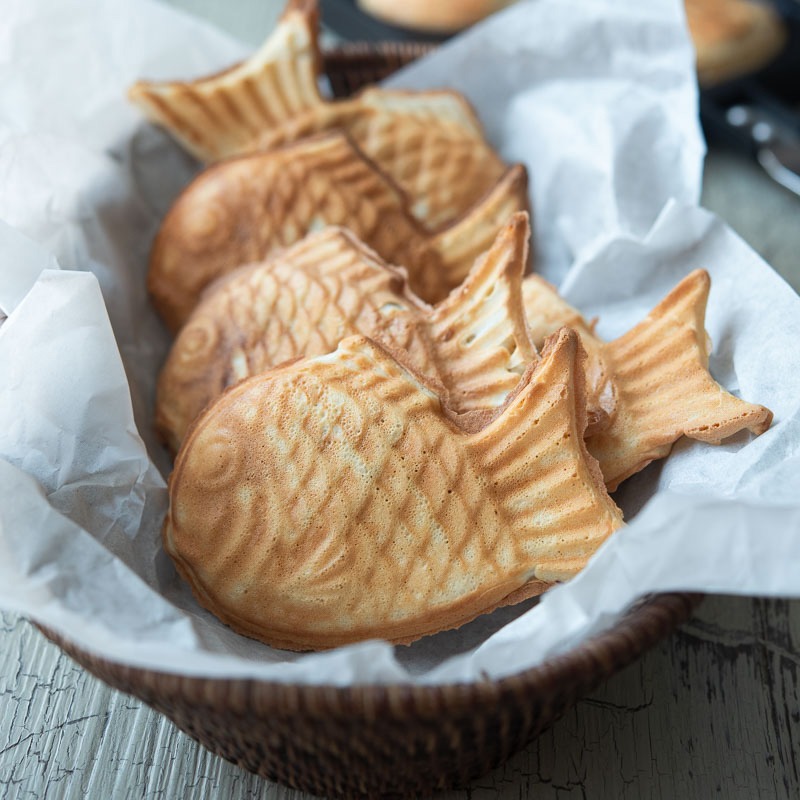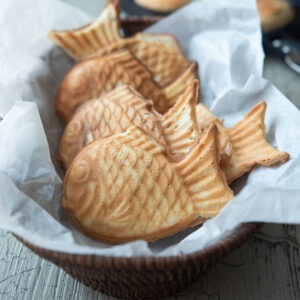 Bungeoppang (Korean Fish-Shaped Taiyaki Bread)
Bungeoppang, Korean fish-shaped bread, is a twist on the classic Japanese snack, Taiyaki. Crispy and soft pastry filled with sweet red bean filling, enjoy this must-try Asian dessert all year with this easy recipe.
Ingredients
1 1/2 cup (150 g) cake flour
1/4 cup (40 g) sweet rice flour
1 tsp baking powder
1 1/2 tbsp sugar
1/4 tsp salt
1 1/4 cup (300 ml) milk
2 tbsp melted butter, or oil
10 oz (300 g) sweet red bean paste, or other fillings of your choice. See note below.
Equipment
taiyaki pan https://amzn.to/3ZVMzVs
Instructions
In a large mixing bowl, combine cake flour, sweet rice flour, baking powder, sugar, and salt. Add milk and melted butter, then whisk until the mixture reaches a thin consistency, similar to crepe batter. Alternatively, you can use an immersion blender for a smoother mix. Transfer the batter to a pourable jug for easy pouring later.

Place your fish shaped mold (Taiyaki pan) over medium-low heat. Once hot, lightly grease the fish-shaped molds with cooking oil. A pastry brush or an oiled paper towel works best to ensure even coverage without pooling oil.

Fill each fish-shaped mold about 70% full with the batter. Spoon approximately 1 1/2 tablespoons of red bean paste — or your chosen filling— into the center of each mold. Top off with more batter to completely cover the filling. It is okay if the batter overflows to the sides of the pan. Close the lid and immediately flip the pan.

Allow to sizzle for 3-4 minutes on the first side, then flip and continue for another 2-3 minutes. If the fish isn't golden brown yet, continue cooking, flipping as needed, until you achieve that perfect golden-brown hue.

After cooking, let them cool on a wire rack and trim away any excess batter for a polished look. Serve hot.
Notes
Bungeoppang started with sweet red bean filling but now offers trendy sweet fillings like chocolate and custard, and even savory options like ham and cheese.
Calories: 345kcal, Carbohydrates: 65g, Protein: 9g, Fat: 5g, Saturated Fat: 3g, Polyunsaturated Fat: 1g, Monounsaturated Fat: 1g, Trans Fat: 0.1g, Cholesterol: 13mg, Sodium: 166mg, Potassium: 120mg, Fiber: 2g, Sugar: 21g, Vitamin A: 162IU, Calcium: 101mg, Iron: 1mg
Did you make this recipe?
Tag @beyondkimchee on Instagram. I love to see your masterpiece.