Korean Cold Buckwheat Noodles with Kimchi
Korean style Cold buckwheat noodles are topped with homemade gochujang sauce, young radish kimchi, and cucumber. It's a perfect summer noodle dish.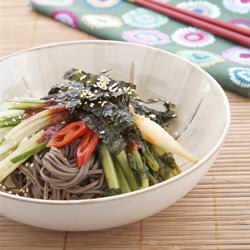 Buckwheat noodles, buckwheat noodles…
I was craving something hot, sour, salty, yet sweet. I thought of the Korean style buckwheat noodles smothered with spicy chili sauce would calm down my craving and it did.
There are many ways Koreans prepare buckwheat noodles into fabulous dishes. Here is one way you can enjoy. Try this quick sesame soba noodles made with buckwheat noodles. It only takes 15 minutes.
The flavor in the sauce will dance around on your tongue. It truly is hot sour salty and sweet. You can throw some fresh cucumbers, carrots, and/or lettuce depends on your mood.
My summer kimchi was in its most glorious stage these days so I added some (you don't need to).
The best part? It only takes a few minutes to prepare. Love it!
How to Make Korean Cold Buckwheat Noodles with Kimchi
What you'll need to make
The ingredients are; buckwheat noodles, Korean chili paste, chili flakes, brown sugar, vinegar, sesame oil and seeds, corn syrup(optional), carbonated citrus drink (I used Fresca), dried roasted seaweed and cucumber.
1. Gochujang Noodle Sauce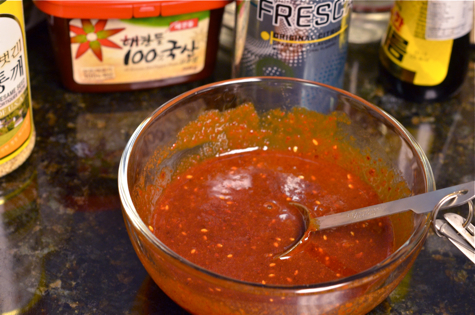 You will want to make the sauce first. Combine all the given ingredient.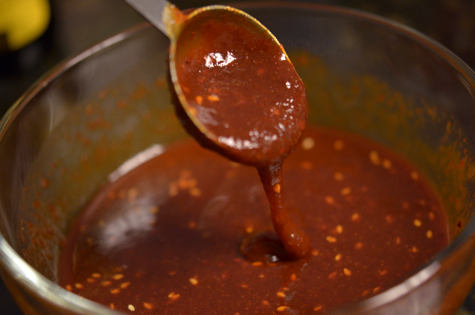 The consistency is somewhat like thick syrup. You can adjust amount of sugar and vinegar depends on your taste but you will like the amount I give you.
2. Cook Noodles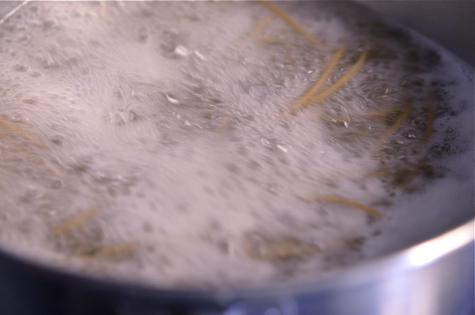 Cook the noodles in boiling water according to the package direction. But…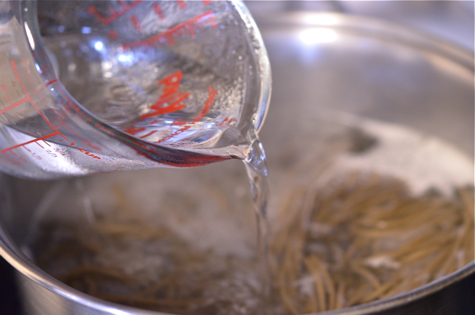 when the water comes up to boil again after you add the noodles, pour 1/2 cup of COLD water to the pot. This will calm down the boiling water and help the noodles to be chewier. Repeat that again when the water comes up to boil again.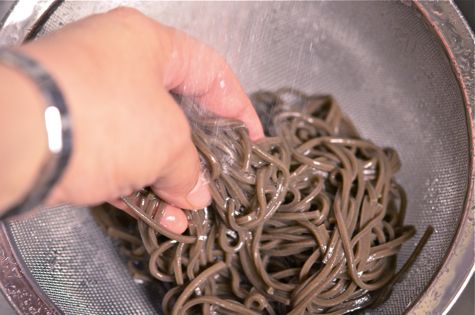 Rinse the noodles in the cold running water and drain well.
3. Toppings for Noodle Bowl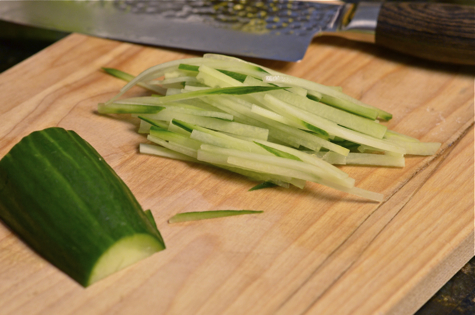 Slice cucumber, carrot, cabbage or whatever that make you happy for topping in the dish.
My light and deliciou homemade with with radish is a perfect companion for this dish (traditionally) but it is not mandatory.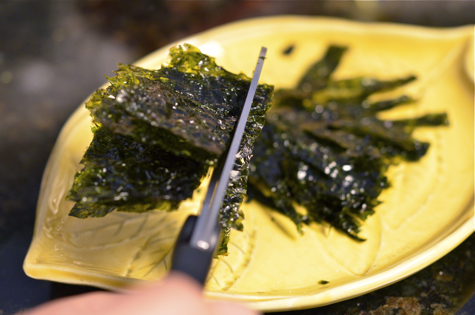 You will like the addition and the flavor of this dried roasted seaweed. Just crumble or slice into small pieces.
Place the noodles in a big serving bowl, top with vegetable. Drizzle the sauce over and mix with chopsticks. I like to add half boiled egg on the side to include protein for this meal.
We had a few emergncy visit to doctors this past several days: broken toes, ear infection, allergies, etc.
Life gets busy and hectic sometimes but I do enjoy the lovely spring. Spring does bring the green beauties of the earth along with pollens. Stay health and stay happy. "Achooo!"
Sorry, I just sneezed.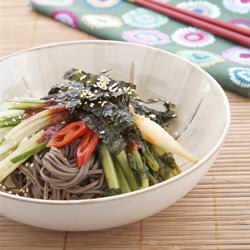 Korean Cold Buckwheat Noodles with Kimchi
Korean style Cold buckwheat noodles are topped with homemade gochujang sauce, young radish kimchi, and cucumber
Ingredients
4 individual packet buckwheat noodles
1/2 English cucumber, thinly sliced
1 carrot, peeled and thinly sliced
2 seaweed sheets (gim), crumbled or sliced
1 cup baby radish kimchee, optional
2 boiled eggs, slice in half
For gochujang noodle sauce:
2 1/2 tbsp white vinegar
2-3 tbsp light brown sugar
2 tbsp carbonated drink, such as Fresca, Sprite, 7-up, etc
1 tsp sesame oil
2 tsp sesame seeds
1 tbsp corn syrup, optional
Instructions
To make the gochujang noodle sauce, mix all the ingredients in a small mixing bowl and let it chill in the fridge.

Meanwhile cook buckwheat noodles according to the package direction. After adding the noodles to the boiling water, pour 1/2 cup of cold water when the water boils up again. Repeat the process until the noodles are done. Rinse noodles with cold water and drain.

Place noodles in the individual serving bowl and top with vegetables, drizzle with sauce, about 1 to 2 tablespoons per serving. Serve boiled eggs on the side.
Did you make this recipe?
Tag @beyondkimchee on Instagram. I love to see your masterpiece.