Hello there!!!!
I have been hibernating in my den for the past few month. I am finally waking up and joining the world of blogging again. My injury plus the surgery took some time to recover. I thank everyone who had been so gracious to leave get-well comments on my post. Thank you very much.
I am still not 100% well yet but I feel good enough to get back to the kitchen and cook some delicious meals for my family and myself, and share the recipes with my readers.
Before I start today's recipe post, I would like to share a wonderful meat that I came across.
"The Bos Life" of artisan meat contacted me for trying their product.  Their artisan meat is raised free of hormones and antibiotics. Their beef is harvested from grassfed cattle in the traditional way. Unlike some grassfed cattle beef I have tried before, which often yields dry and tough texture, the beef from Bos Life was impressively tender and flavorful with distinctive marbling and a clean taste.
The meat box was delivered by Fedex and very well packaged.
So, I used one of their beef cut to create today's post; the Beef and Rice Cake Skewers. This type of dish is called "Sanjeok (산적)" in Korean. Sanjeok is traditionally made with beef and various vegetables skewered together, then covered with batter, and pan fried. The spin-up for this traditional dish adds rice cakes. I am going to simplify the recipe by using 3 main ingredients and skipping the batter coating.
If you have a fine quality beef, fresh rice cakes, a bunch of green onion, and a little bit of Korean beef marinade…, you are good to go.
Here are the ingredients.
I chose this beautiful NY striploin for this recipe.  The marbling almost looks like the grainfed beef. You can use rib eye or other tender cut of beef.
Cut into 1/2″ strips and set aside.
In a shallow bowl, combine soy sauces, sugar, garlic powder, sesame oil and black pepper. Grind in onion, tiny bit of kiwi (optional), and pear to the mixture.
TIP: You can use store-bought Korean beef marinade for this recipe to make your life simpler.
Mix all together.
Reserve 1/4 cup of the marinade.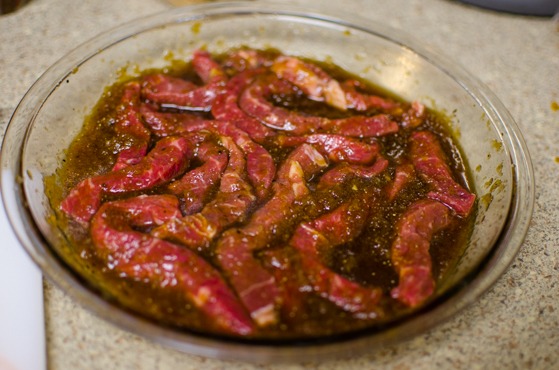 Add the beef strips to the bowl and toss together. Let it sit for 10-15 minutes to soak up the flavor.
Cut green onion about the same length as rice cakes. (You will use white and light green part of onion)
Fresh rice cakes works the best for this dish. However, if you have to use frozen kind, cook them in the boiling water until soft first, then proceed to the next step.
Coat the rice cakes withe the reserved 1/4 cup of marinade.
Skewer together one by one. As you can see, I left the beef strips slightly longer than the rice cakes or green onion. The reason is…, the meat will shrink once cooked. I would cut the beef about 3/4″ longer than the rice cakes.
Note: I had to cut the bamboo skewers in half to get the right length.
Heat oil in the skillet until hot, add the skewers and brown them about 1-2 minutes on each side.
You can add a little more oil by using brush if the pan seems too dry. They cook fast.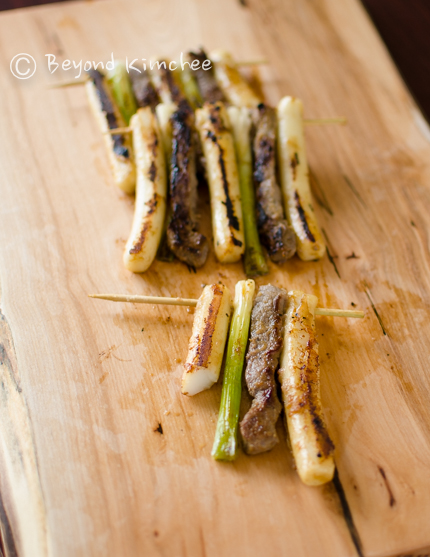 I have to admit that the flavor of this artisan beef was amazingly good. Very tender and full of flavor. (I didn't need to use kiwi to tenderize)
Such a simple dish to satisfy. My husband and the kids were raving about the beef after taking just one bite.
The meat is costly but you are getting the finest quality beef available and it is better for you. They deliver their products to the members by creating a monthly subscription box. They also launched a kickstarter campaign to raise a fund for the company to meet the demand of producing more so they would be able to provide the finest quality products at a lower cost.
Disclosure: This post was sponsored by The Bos Life.
Beef and Rice Cake Skewers
Ingredients
10 oz NY striploin beef, cut into 1/2" thick strips (cut 3/4" longer than rice cakes)
1 lb fresh rice cakes
a bunch of green onion, cut into same length as rice cakes (using only white and light green part)
3 tablespoon soy sauce
1 tablespoon Korean soy sauce for soup
1 tablespoon brown sugar
1 teaspoon sesame oil
1/2 teaspoon garlic powder
dashes of freshly ground black pepper
1/2 small onion, grated
1/4 Asian pear, peeled and grated
1/4 kiwi, peeled and grated (optional)
some bamboo skewers, about 4" long
1-2 tablespoon canola oil
Directions
Make a marinade by combining soy sauces, sugar, sesmae oil, garlic powder, black pepper, grated onion, grated pear. and grated kiwi (if using) in a shallow bowl. Reserve 1/4 cup of the sauce in a another container and set that aside.
Place the beef in the marinade mixture and toss together and let it sit for 10-15 minutes to soak up the flavor. Toss the rice cake with the reserved 1/4 cup of marinade in another bowl.
Skewer beef, rice cakes, and spring onion one by one to the bamboo skewers. (2-3 strips of each ingredient in one skewer)
Heat skillet over med-high heat and drizzle a little oil. Place skewers on the hot skillet and brown them about 1-2 minutes on each side. Add a little more oil if the pan seems too dry.
Serve warm or at a room temperature.
http://www.beyondkimchee.com/beef-and-rice-cake-skewers/
All rights reserved by www.beyondkimchee.com