Vietnamese Mango Shrimp Salad (Gỏi Xoài)
This beautiful Vietnamese mango shrimp salad serves as a simple lunch or as a side salad to any Asian main dish. The video tutorial will guide you how you can make it so easily at home.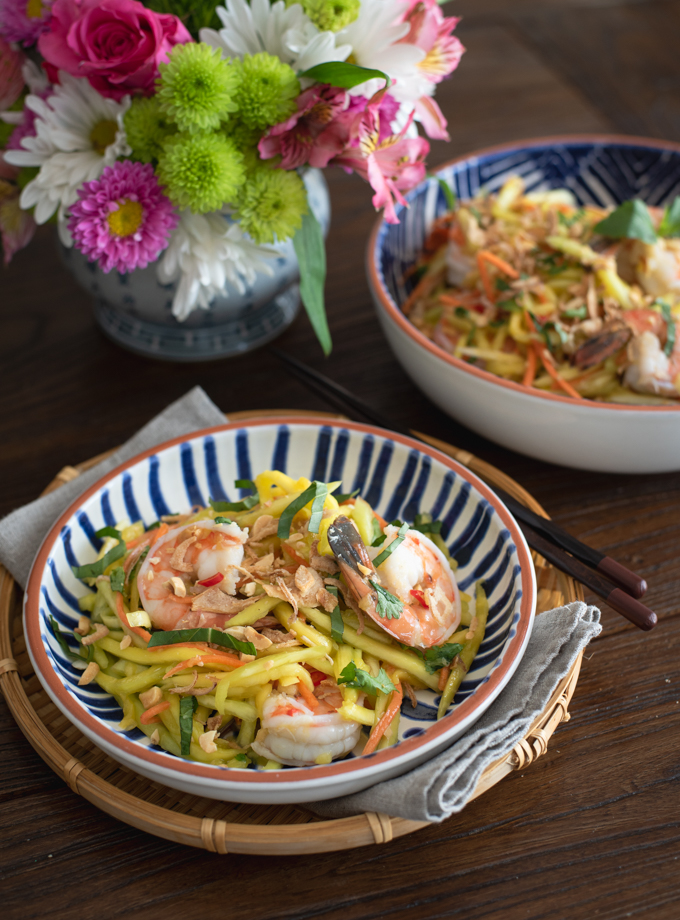 Vietnamese mango shrimp salad is one of the quick and easy salad to enjoy in a warm day. With a couple of firm green mangoes, shrimp, some herbs, and seasoned with fish sauce, red chili, sugar, and lime juice, this Vietnamese mango shrimp salad presents a beautiful presentation on any BBQ table or to enjoy as a simple lunch on its own.
Vietnamese Mango Shrimp Salad Video Tutorial
What Mangoes Should I Use?
If you can find the Vietnamese green mangoes, that would be the best choice. Vietnamese green mangoes are just unripe mangoes. When the ripe, they turn yellow. You can use any mangoes as long as they are unripe and firm to touch. If mangoes are slightly ripen, they are too soft to shred and won't hold its firm texture.
Can I omit the fresh shrimp?
Yes, you can skip the fresh shrimp if you wish not to include. Or substitute with the dry baby shrimps. If using dried shrimps, soak in water for 10 minutes, then toast in a skillet before adding to the salad. You can also use frozen shrimp instead of fresh ones since you can save the time to devein shrimps.
Other ingredients for Vietnamese mango shrimp salad
Herbs: I use Vietnamese (Thai) basil and Cilantro. Thai basil has the unique fragrance that are screaming for the SE Asian flavor and aroma. Use sparingly, though. You can also add fresh mint to this salad to add another layer of flavor.
Fresh Red chili: The little bird's eye red chili can go a long way to spice up the salad. Use 1-2 chilies and chop finely. You can remove the seeds to reduce the heat.
Roasted Peanuts: I use a store-bought jarred roasted peanuts. It is much easier than trying to roast yourself.
Fried Shallots: You can find this in many Asian groceries. It adds nice crunch and flavor to the salad
Salad dressing
All you need is fish sauce, sugar, and lime juice. You can adjust amount of each ingredients according to your taste.
More Delicious Salad Recipes
Vietnamese Mango Shrimp Salad (Gỏi Xoài)
This beautiful Vietnamese mango shrimp salad serves as a simple lunch or as a side salad to any Asian main dish.
Recipe Video
Ingredients
1 lb shrimp, peeled and cleaned
2 green mangoes, peeled and shredded
1 small carrot, peeled and shredded
5-6 Thai basil leaves, julienne
1-2 red chili, sliced
4 tbsp chopped cilantro
4 tbsp chopped roasted peanuts
fried shallot, optional
1-1/2 tbsp fish sauce
1 tbsp palm sugar or brown sugar
1/2 lime, juiced
2-3 tbsp fried shallot
Instructions
In a simmering boiling water, poach shrimps until fully cooked. Drain and set aside.

In a large bowl, combine shredded mangoes, shrimps, carrot, herbs, chili, and peanuts.

In a small bowl, combine fish sauce and sugar to make the dressing. Dissolve the sugar completely.

Add the dressing to the salad mixture and the lime juice; toss well. Taste and adjust the seasoning according to your taste. Sprinkle with the fried shallots and serve!
Did you make this recipe?
Tag @beyondkimchee on Instagram. I love to see your masterpiece.