Salisbury Steak with Mushroom Onion Gravy
Classic Salisbury steak makes a homey comfort dinner. Beef patties are simmered in full flavored mushroom onion gravy. They are moist and and delicious.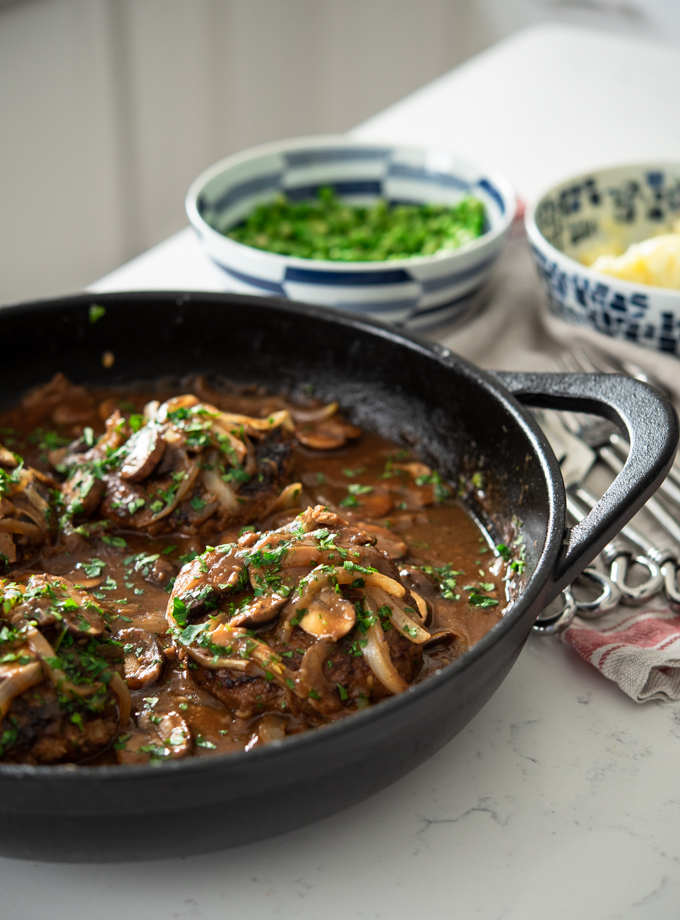 Salisbury Steak with Mushroom Onion Gravy
Salisbury steak is one of the classic dishes that everyone loves. Seasoned beef patties simmered in delicious onion mushroom onion gravy brings cherished memories of childhood to many people in U.S.
Here is my version of the ever famous Salisbury steak with mushroom onion gravy made in a cast iron skillet. It is easy and quick to put together with simple pantry items.
Enjoy this juicy and succulent Salisbury steak with mushroom gravy for a dinner this week. Hope this old fashioned meal can comfort you in the midst of the crazy stay home situation due to the Covid-19 pandemic.
Salisbury Steak with Onion Mushroom Gravy
Moist seasoned beef patties simmered in the delicious mushroom onion gravy makes this calssic Salisbury steak a homey comfort dinner.
Ingredients
1 lb ground beef, 80% lean
1 small onion, finely minced
1/2 cup breadcrumbs
1 egg
2 tbsp ketchup
1 tbsp yellow mustard
2 tsp Worcestershire sauce
salt & pepper to taste
2 tbsp butter
1 tbsp olive oil
For the Gravy
1 tbsp butter
1 large onion, sliced
8 oz cremini mushroom, sliced
2 tbsp flour
2 cups beef stock
2 tbsp ketchup
1 tbsp yellow mustard
1 tbsp worcestershire sauce
salt & pepper to taste
2 tbsp chopped fresh parsley, optional
Instructions
Heat a little amount of oil in a small skillet and sweat the onion until soft.

In a large mixing bowl, combine beef, onion, breadcrumbs, egg, ketchup, mustard, and worcestershire sauce. Season with salt and pepper. Mix well and shape them into 4 patties.

Heat 1 tbsp of butter and olive oil in a heavy cast iron skillet over medium heat, add the beef patties and cook for 3-4 minutes on each side. It is okay if the patties are not fully cooked. Transfer the patties to a plate and set aside.

Add the 1 tbsp butter to the skillet and add the onion. Cook until just softened. Add the mushrooms and continue to cook until soft, seasoning with salt and pepper.

Sprinkle flour and toss well until you don't see the white flour. Pour the beef stock and stir to combine everything.

Return the patties to the skillet and simmer for 5 min or until the sauce thickens. Garnish with the parsley if you wish. Serve hot with mashed potatoes.
Did you make this recipe?
Tag @beyondkimchee on Instagram. I love to see your masterpiece.