Korean Radish Pancakes (Mujeon)
Korean radish pancakes are easy and delicious. Enjoy the mellow and sweet taste of Korean radish with this recipe, but you can substitute with daikon radish, if you can't find it. Serve the radish pancakes with soy lemon dipping sauce.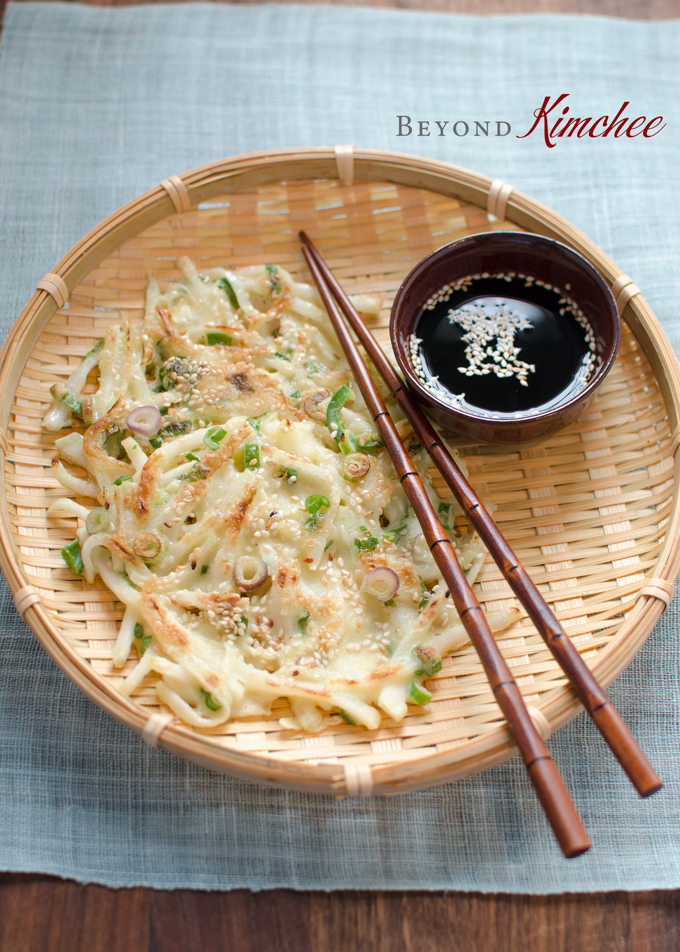 A forgotten Korean radish left in the refrigerator turned into these delicious Korean radish pancakes (Mujeon, 무전). If you haven't tasted Korean radish, you are missing out on a delicious and healthy vegetable.
I found a piece of Korean radish in the back of the vegetables tray in my refrigerator. Interestingly, I didn't even remember how long it had been sitting there. Don't you love discovering things you didn't expect when you clean the refrigerator?
It still looked decent although it didn't have all its fresh glory. I thought of making Braised Korean Mackerel and Radish with this, but soon realized that I didn't have any mackerel, not even a can. So that left me thinking of what I could do with this half-century old Korean radish.
For me, if I can't think of any "Wow!" idea when it comes to cooking with vegetables, I usually make simple pancakes with them. This radish pancake is one of the delicious Korean pancakes I like.
Can't find the Korean radish? Use Daikon radish instead.
How To Make Korean Radish Pancakes
Peel the radish first and slice it very thinly into disks. Then cut into thin matchsticks. About 1/8-inch would be the most ideal. For me slicing is like a healing moment. I love it.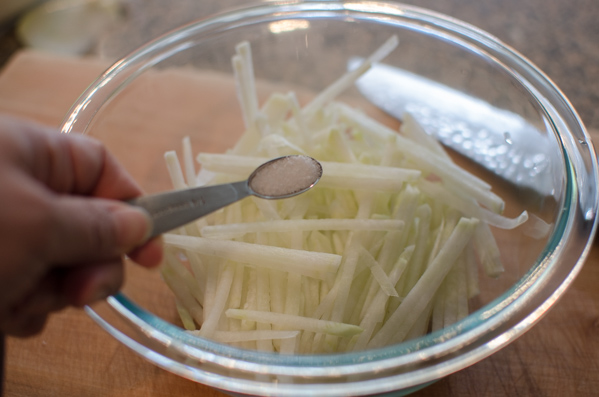 Sprinkle a little salt and let them sit for 10 minutes.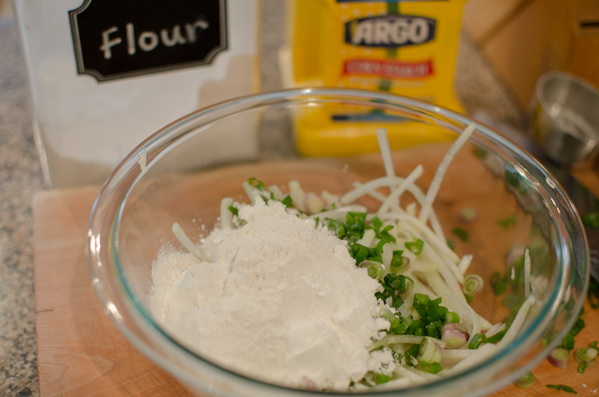 The radish will look a little lifeless. Add some chopped green onion, a little corn starch and flour.
Add some water and crack an egg into the mixture until the better has a wet but not runny consistency.
Sometimes I like to add a few sliced jalapeño pieces into the batter. I enjoy a spicy kick.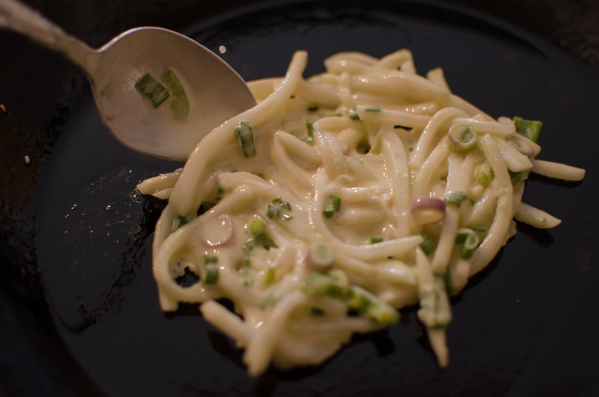 Spread the batter as thin as you can and sprinkle a little love – the toasted sesame seeds! Cook 2-3 minutes.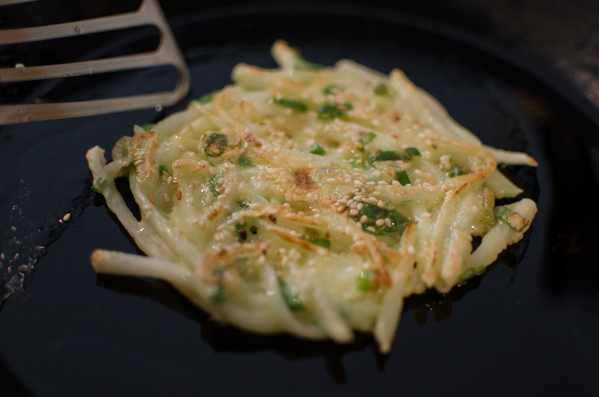 Flip it over, and voila! The radish pancake is looking pretty. Cook the other side for another 2-3 minutes and it looks perfect to enter my gastronomic system.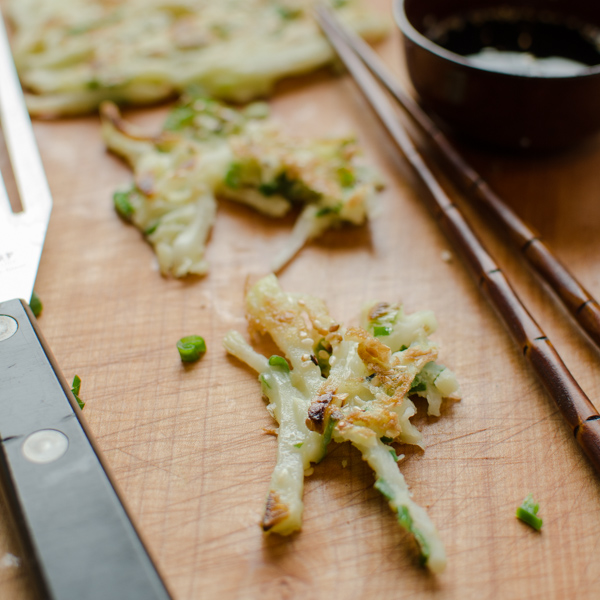 Dip your pancakes in a soy-lemon dipping sauce. I made about 6 pancakes and I ate all of them without thinking twice. Sharing was at not at the front of my mind at the moment.
If you have not tried Korean radish, this is a great recipe to start with. It's simple, delicious, and good for you. Hope you get to try Korean radish pancakes with Korean radish soon.
Soy Lemon Dipping Sauce
All you need is soy sauce and lemon juice. 2 parts soy sauce and 1 part lemon juice is the ideal ratio, but you can adjust it according to your taste.
More Korean Radish Recipes You Can Try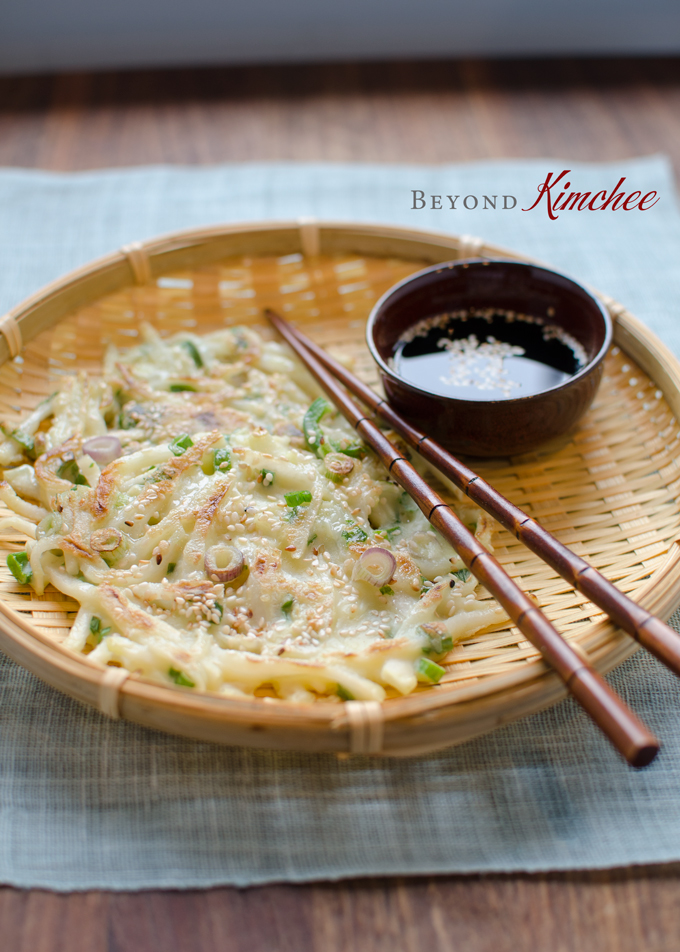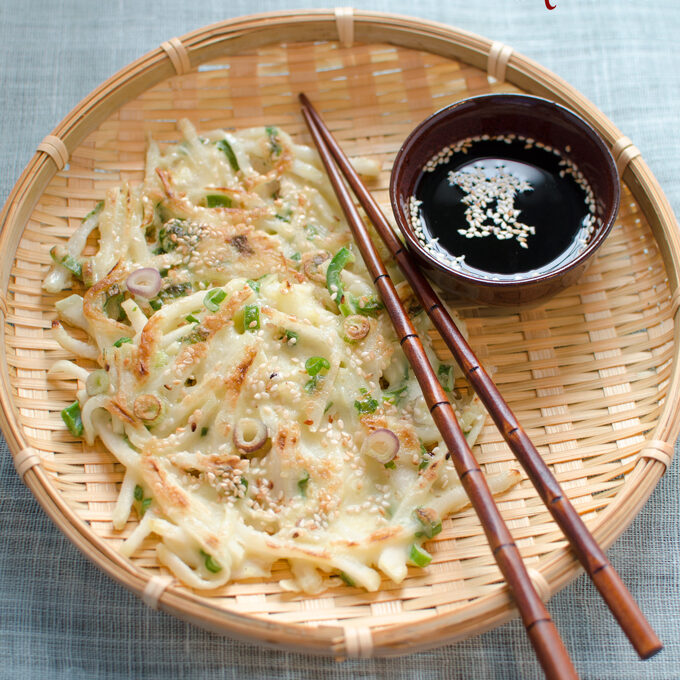 Korean Radish Pancakes (Mujeon)
Korean radish pancakes are an easy and delicious way to enjoy nutritious radish. Enjoy the sweet taste of Korean radish with this recipe. Serve with soy dipping sauce.
Ingredients
1 small Korean radish (or daikon radish), peeled
1 green onion , finely chopped
1 jalopeño, seeded and sliced, optional
1/2 tsp salt
1 cup all-purpose flour
1 tbsp cornstarch
1 egg
3-4 tbsp water
dash white pepper
1 tbsp toasted sesame seeds
oil for frying
For soy lemon dipping sauce
2 tbsp soy sauce
1 tbsp freshly squeezed lemon juice
Instructions
Slice the radish into 1/8-inch disks, then slice into thin sticks, about 1/8-inch.

Place radish sticks in a mixing bowl, add salt, and let it sit for 10 minutes.

Add green onion, jalopeño, flour, cornstarch, egg, and 3 tablespoon water. Mix well. If the batter seems to dry add more water. Adjust the amount of flour and water to your desired batter texture.

Heat 1-2 tablespoon of oil in a cast iron skillet over medium heat, add 1/4 cup of radish batter onto the skillet and spread thinly. Sprinkle a little bit of toasted sesame seeds on top. Fry for 2-3 minutes until the bottom get golden brown. Flip and fry for another 2-3 minutes.

To make soy lemon dipping sauce, mix soy sauce and lemon juice in a small mixing bowl. Serve the pancakes warm with soy sauce lemon juice dipping sauce.
Did you make this recipe?
Tag @beyondkimchee on Instagram. I love to see your masterpiece.