Radish Beef Rice Bowl (Rice Cooker Recipe)
Simple and delicious Korean style beef rice bowl with radish is cooked in a rice cooker. Serve with soy chili sauce dressing. This recipe makes a healthy one dish meal with hardly any effort.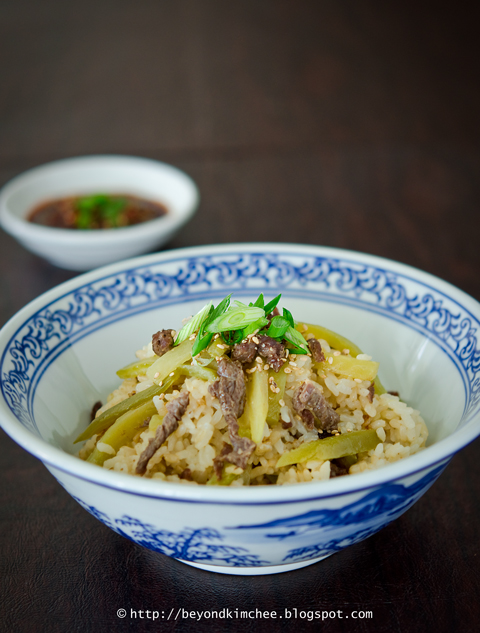 "No vitamins are better than fall radishes. So eat your radishes now!!!" Every fall my mother forced to feed us radishes. Radish soup, radish salad, radish kimchi, … and the radish rice – the worst one. I HATED it.
I don't think radish is kids friendly vegetable at all. It is bitter and peppery. If you cook them they get mushy…,  and kids ain't like mushy stuff. However my tongue has constantly been evolved. I love these peppery radishes now. I finally became a grown-up, hallelujah!
Green Radish vs Korean Radish
The Korean radish, if you can find them, are at their peak in the fall. They are sweet to eat as raw and turn into mellow flavor when cooked. I craved the radish rice that I hated as child.
I searched for my Korean radishes in Kuala Lumpur, but alas…! No where to be found. Instead I chose green radish – simply out of curiosity. Have you seen green radishes?
This guy is totally green inside out. He is more peppery. So my verdict is; go with Korean one!
Here is my fabulous Mr. Korea that I used for my beef radish soup last year. If you are unlucky to find him, then, use Daikon radish instead. 
In reality any radish will work. I mean they all get cooked into mushy stage but Korean radish will bring sweet mellow flavor rather than peppery kick into the dish.
You will like the simplicity of this Radish Beef Rice Bowl – How can you go wrong with simple food? It is cooked in a rice cooker, and makes a healthy rice bowl dish without much effort. 
How to make Radish Beef Rice Bowl in a Rice Cooker
Grab your typical Korean pantry stuff; soy sauce, sesame oil, sesame seeds, Korean chili flakes, rice wine, green onion, garlic, radish, a little piece of beef, and a little bit of sugar that I missed in the photo.
First, time to shine your cutting skills. Cut beef into thin matchsticks (cross grain).