Lemon Jumbles (Lemon Ring Cookies)
Lemon ring cookies called Lemon Jumbles is old fashioned short bread like lemon cookies. It has a citrus lemony taste in every bite.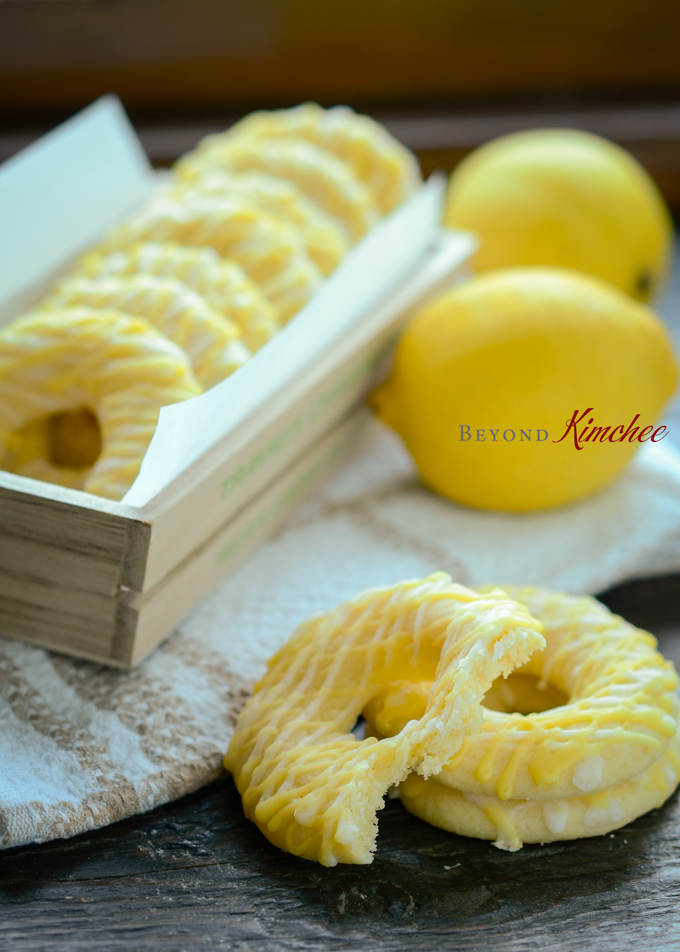 Thinking of baked goods with lemon makes me salivate. The perfect balance between the tartness and sweetness in cakes and cookies is irresistible and I can never stop myself from munching more.
Old-Fashioned Lemon Cookies
I made some lemon cookies called lemon jumbles. These old fashioned shortbread like cookies originated from England. They are often twisted into knots before baking or made into rings, so I might call these lemon ring cookies as well?
You can easily roll them into a ball shape and turn them into round cookies, if you are not into shaping them. But for me it was worth spending extra 15 minutes to shape them into rings. It was fun and the outcome is great to present.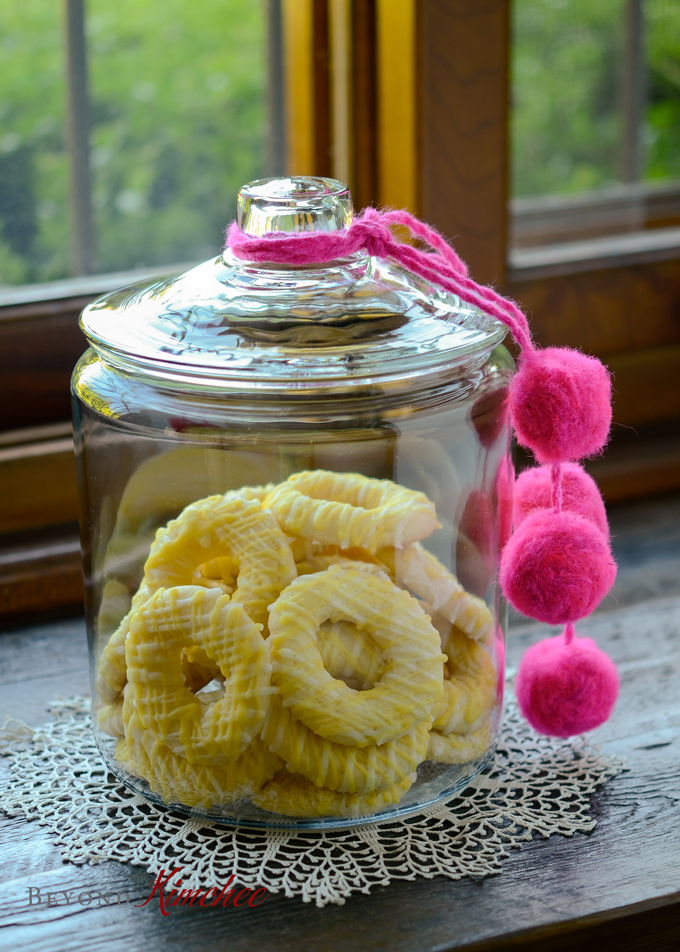 They are delicious cookies and I don't think you can limit yourself to eating just one piece. I couldn't.
How to Make Lemon Jumbles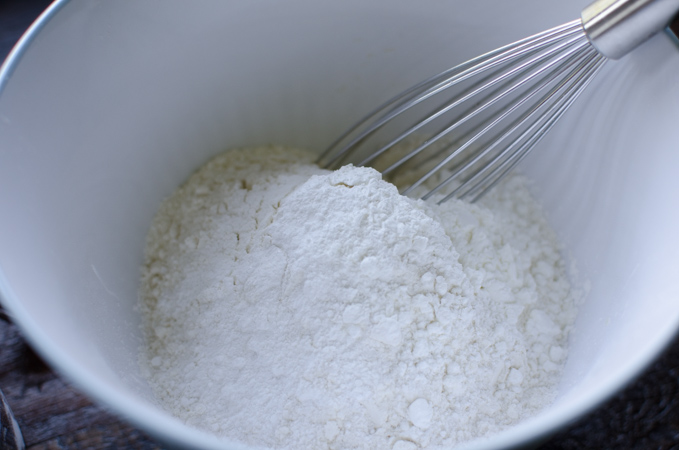 First combine all the dry ingredients, flour, salt, baking soda, and cream of tartar.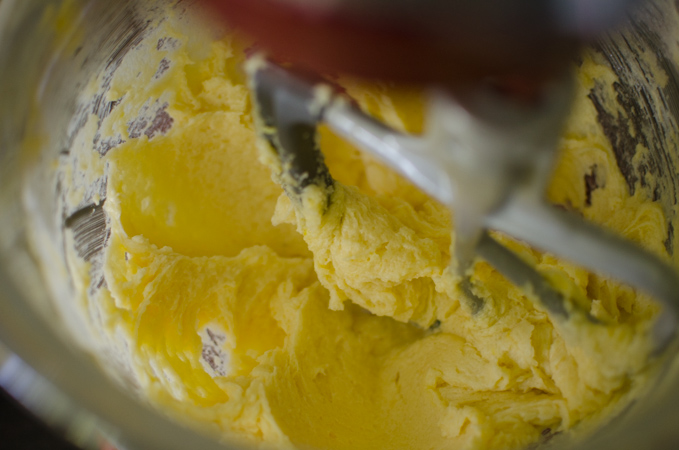 Cream the butter with sugar and add an egg, lemon zest, lemon juice, and almond extract, then beat until fluffy.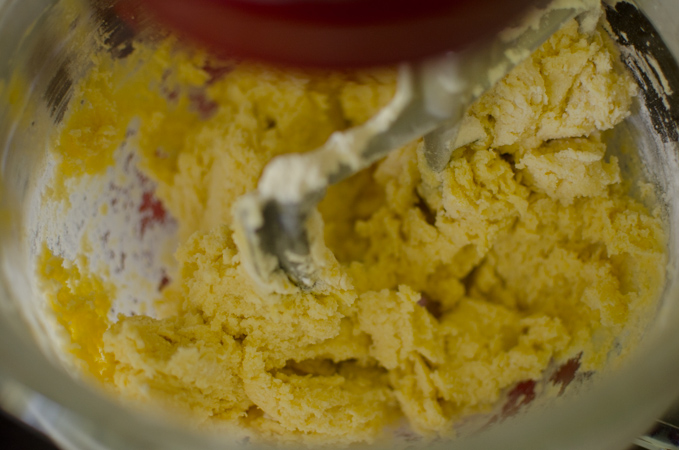 Slowly stir in flour mixture.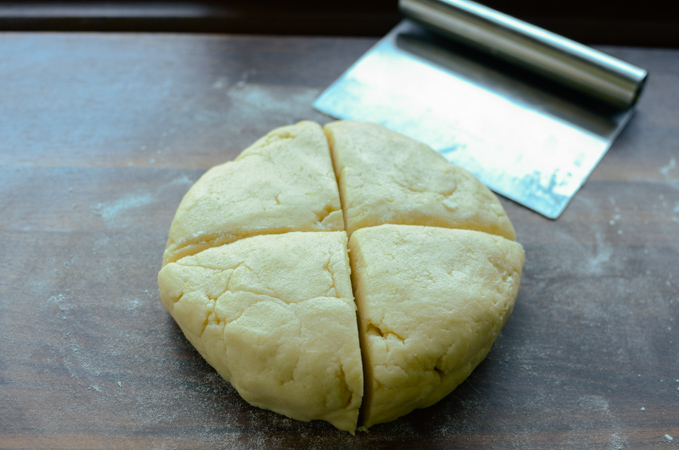 Turn the dough onto a cutting board and cut into quarters.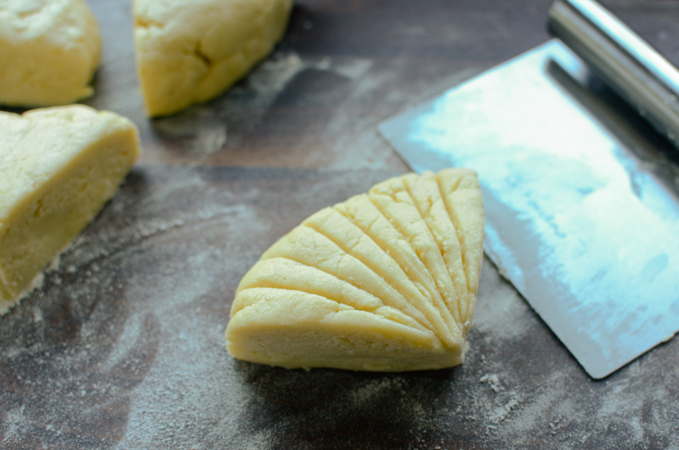 Cut each quarter into 8. That will make 32 cookies total. If you want to make them to smaller rings, I would go with 12. That will make about 4 dozens cookies.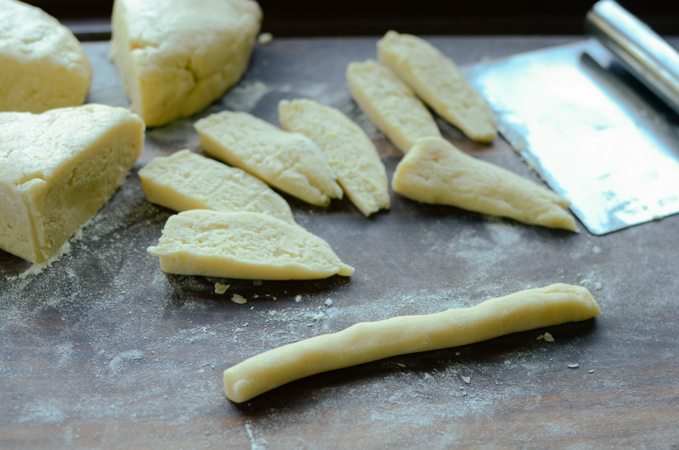 Roll each piece into about 6″ rope.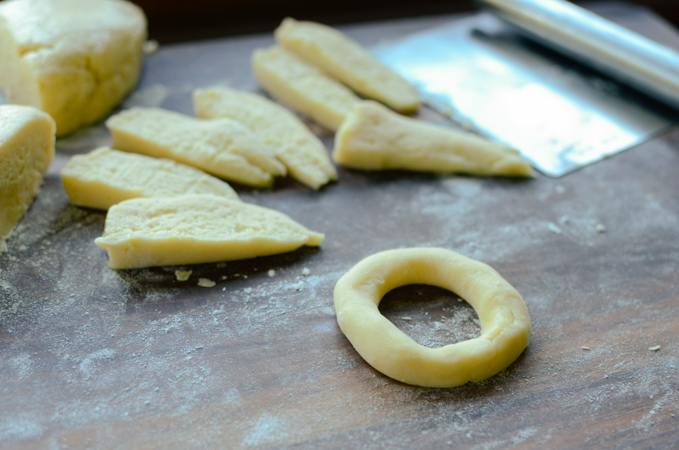 Bring the ends together to make ring shape.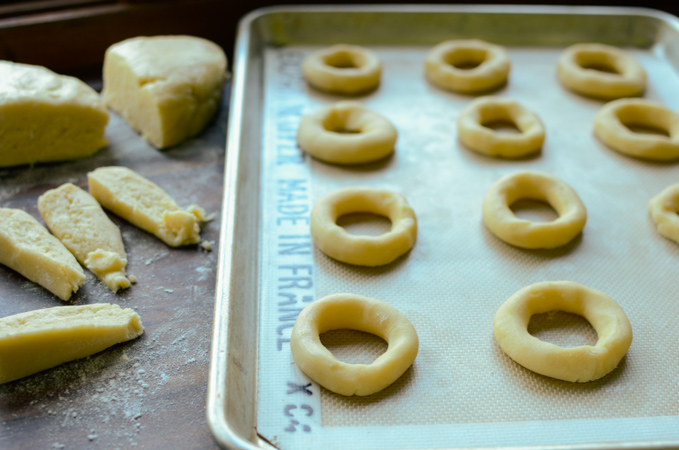 Place them on the lined baking sheet Bake at 350˚F for 9-12 minutes or just slightly browned on the edge.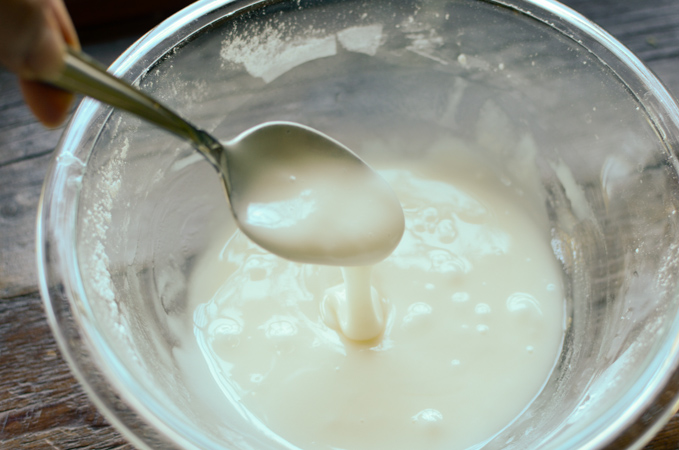 To make the glaze, stir together the powdered sugar, lemon juice, butter, and a tiny bit of corn syrup.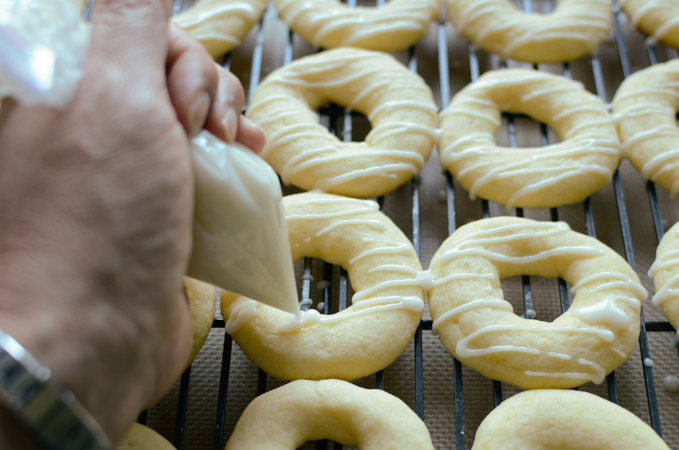 Drizzle the cookies with the glaze.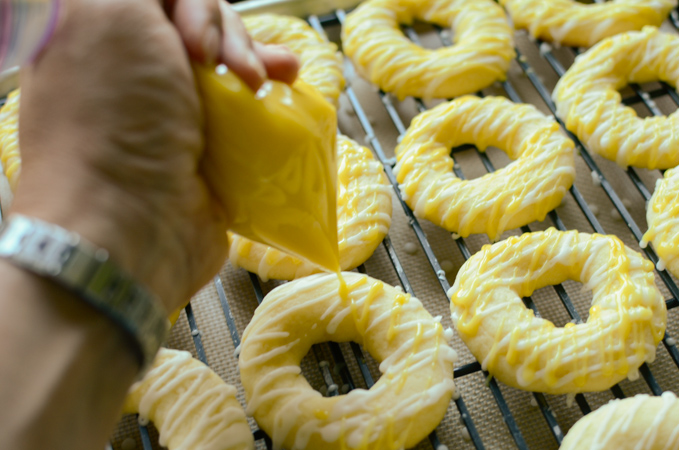 I added a little bit of yellow food coloring to the remaining glaze and drizzled more to give contrast.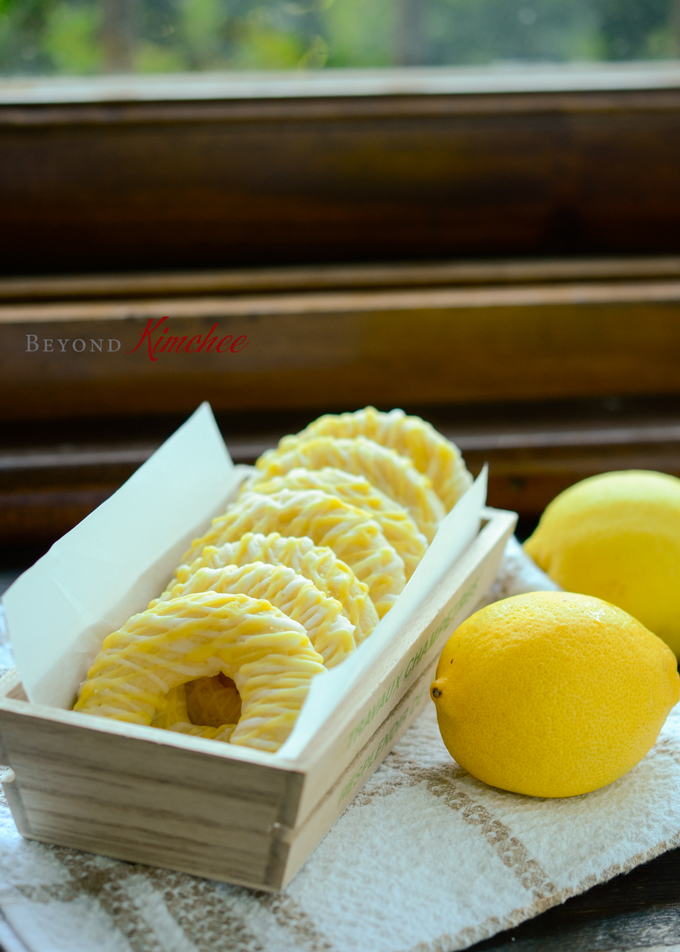 Don't you just love the color of anything yellow? Lemons, bananas, rubber duckies..?
I am sure the spring sunlight is abundant in the northern hemisphere. Enjoy the sun and the everything that is blooming on the ground. Happy spring!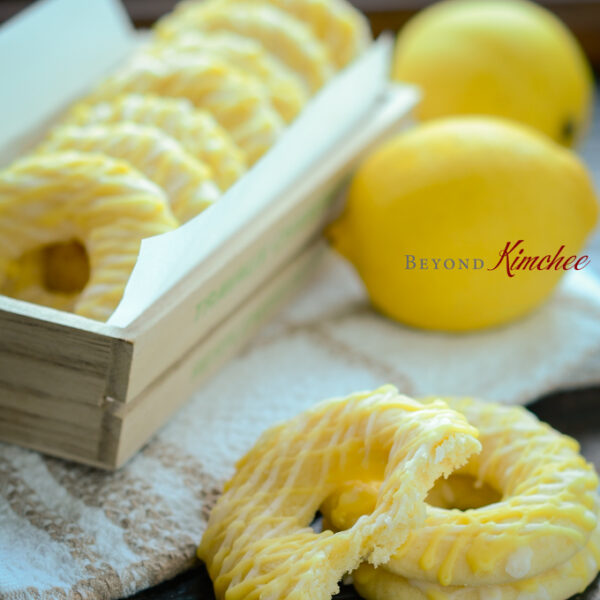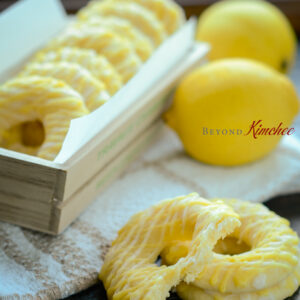 Lemon Jumbles (Lemon Ring Cookies)
Lemon Jumbles (Lemon Ring Cookies) are old fashioned short bread like lemon cookies. It has a citrus lemony taste in every bite. Makes 32 cookies
Ingredients
2-3/4 cup all-purpose flour
1 teaspoon cream of tartar
1/2 teaspoon baking soda
1/4 teaspoon salt
1 cup butter, slightly softened
1 cup granulated sugar
1 egg
1 tablespoon freshly grated lemon zest
1 tablespoon fresh lemon juice
1/2 teaspoon almond extract
For the glaze
1-1/2 cup powdered sugar
1 tablespoon very soft butter
2-3 tablespoon lemon juice
1 drop lemon food coloring
Instructions
In large bowl, stir together flour, cream of tartar, baking soda and salt; set aside.

In another large bowl, with electric mixer on medium speed, beat together butter and sugar until creamy. Add the egg, lemon zest, juice and almond extract until light and fluffy. Stir in flour mixture.

Gather up dough and shape into ball. Cut it into quarters. Shape each quarter into a flat disk. Score each disk into quarters, then cut into 8 pieces.

Roll each wedge to form an evenly thick 6-inch-long rope. Bring ends of each rope together and press firmly to create ring.

Space about 1 1/4 inches apart on baking sheets. Bake cookies, one sheet at a time, in the middle third of oven 9 to 12 minutes, until slightly browned at edges. Reverse sheets front-to-back halfway through baking time. Using spatula, immediately remove cookies to wire racks to cool.

To make glaze, mix all ingredients in small bowl. Add more lemon juice, if needed, to produce somewhat thin glaze. Put half of the glaze in a small zip back and cut a tiny hole on the corner. Drizzle each cookie with glaze.

Add a drop of yellow food coloring to the rest of the glaze and mix. Put the yellow glaze into another zip bag, cut a hole, and drizzle over the cookies. Let glaze set, about 1 hour.

Store the cookies in an airtight container.
Notes
If you want to make smaller ring cookies, cut into 12 pieces on each quarter of the dough. That will make 4 dozen cookies.
This recipe is adapted from all-American cookie book by Nancy Baggett
Did you make this recipe?
Tag @beyondkimchee on Instagram. I love to see your masterpiece.