Red Bean Rice Cake
With sweet red beans, rice flour, and sweet condensed milk, you can transform an Asian style red bean dessert into a western style cake.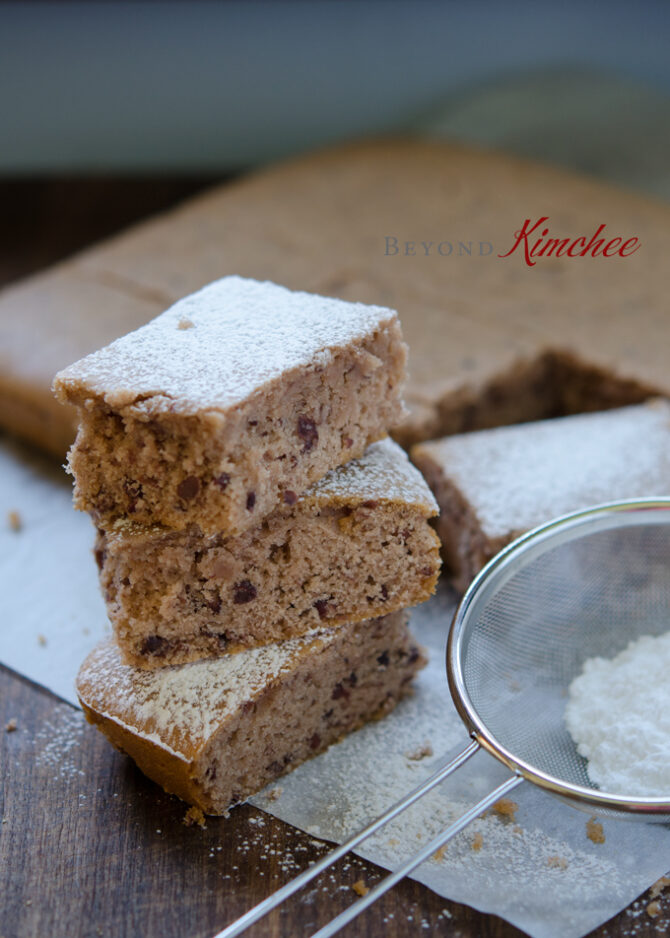 I used to be fanatic about anything with red beans and I still am. I think the most Koreans love red beans in anything, as well. I love rice mixed with red beans, sweet buns filled with red beans, red bean porridge, and oh, don't let me forget to mention the famous shaved ice with red beans.
Red beans are common ingredient to use in sweet dishes in many Asian countries but not as popular in the western cuisines. I hardly encountered the sweet or even savory dishes made with red beans. Dishes made with red beans are lovely and nutritious. So hope these amazing legume would get more spotlight in the culinary world.
I originally intended to make red bean buns, then changed my mind at the last minute. I wanted to attempt to make western style cakes with red beans and rice flour. I wanted to accomplish a rice cake that holds the fine crumbs like the most cakes made with wheat flour. I think I came quite close.
I used the plain rice flour, not the glutenous/mochi flour which is often used in making Asian style sweet dishes. By using plain rice flour you don't have the sticky mochi like texture. The cake does, however, bring slightly gritty texture though. To me, the texture is quite similar to a corn bread and very enjoyable.
The recipe itself can't be any simpler. You need to get the rice flour (NOT the gluteneous sweet rice flour) and the sweet red beans in a can. You can purchased them in most Asian grocery stores.
The rest of the ingredients are something you might already have in your kitchen or easily purchased at your local stores.
How to make Red Bean Rice Cake
Combine the dry ingredients separately from the wet ingredients first.
Then, just dump everything together to mix well. All can be whipped up with a spoon or spatula very fast. I would like to line a parchment paper in my baking pan so that I can take the whole thing out easily after it is baked.
You can dust with powdered sugar for a neat look. The cake will be slightly crumbly when cutting but will hold its shape, though.
You can definitely taste the flavor of the sweet red beans, and the rice cake is very tender and soft. Delicious!
Hope you get to try this rice cake version of red beans. It is a great way to indulge a gluten-free dessert with Asian twist!
Red Bean Rice Cake
With sweet red beans, rice flour, and sweet condensed milk, you can transform an Asian style red bean dessert into a western style cake.
Ingredients
2 cup rice four, preferred short grain rice flour
2-1/2 teaspoon baking powder
1 18 oz can weet red beans
1-1/4 cup sweet condensed milk
2 eggs, slightly beaten
1/2 cup melted butter
Instructions
Preheat the oven to 350˚F (170˚C)

In a bowl combine flour and the baking powder. Set aside.

In another large mixing bowl, mix red beans, condensed milk, eggs, and butter. Add the flour mixture to the red bean mixture and mix well with a spoon or spatula.

Grease the 9×13 inch pan and/or line with parchment paper. Pour the mixture in the pan and even out the top. Bake in the oven for 30-40 minutes or until the toothpick comes out clean.

Let the cake cool completely in the pan. Cut into desired size. The cake can stay fresh on the room temperature for 3 days.
Did you make this recipe?
Tag @beyondkimchee on Instagram. I love to see your masterpiece.