Pan Fried Potatoes with Green Beans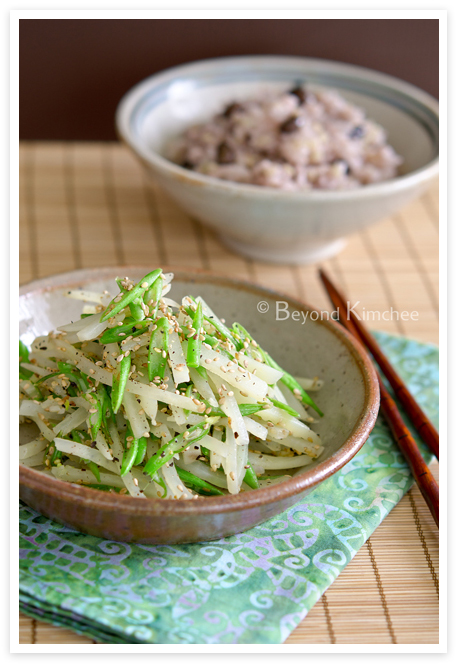 I must be either a very simple minded or a extremely boring person.
How could I feel so happy for a single potato…? I had one potato lounging on my counter and a handful of green beans that I wasn't sure what I was going to do with. I was hungry and I wanted to EAT them both.., so I made pan fried potato with green beans. What a JOY-ous day! I was quite happy how they turned out.
So here it is. This simple Pan-fried potato and green beans might help your day to be happy, too. All you need is..,a single Mr. potato, some attractive green bean ladies, a clove of garlic who needs serious party time, salt and pepper,and lots of toasted sesame seeds, plus a tiny bit of healthy oil to cook them.
But you have to see how I cook together. Sometimes a recipes is not always about the ingredients. It can be about the techniques, too.
First, peel your potato and slice into 1/8″ thick slices.
Then cut these slices into 1/8″ matchsticks.
Rinse. Why? You want to remove some starch so they don't stick to each other later. Set aside to drain.
You will need about this much of green beans.
Slice green beans diagonally very thin.
In a non-stick surfaced skillet over medium heat, fry chopped garlic in oil for 10 seconds.
Add the potato
Sprinkle some salt and stir.
Cover with lid and cook for 1-2 minute over medium-low heat.
You can tell they are cooked half-way.
Add the green beans and toss. Season with a little salt again.
Cover with lid and continue cooking for another minute or so.
When potato is soft with a little body and the green beans are somewhat crisp tender, it is done. Add freshly ground pepper,
and lots of toasted sesame seeds. I crush them with my fingers as I add to the pan.
Toss gently all together. Taste to see if you need to add more salt.