Oyster Soft Tofu Rice Bowl (Skillet Dinner)
If you like oyster, this oyster soft tofu rice bowl with kimchi makes a great one pot meal. Soft tofu brings the soft and mellow texture and oyster brings the good flavor in the gentle spicy sauce. Serve over rice.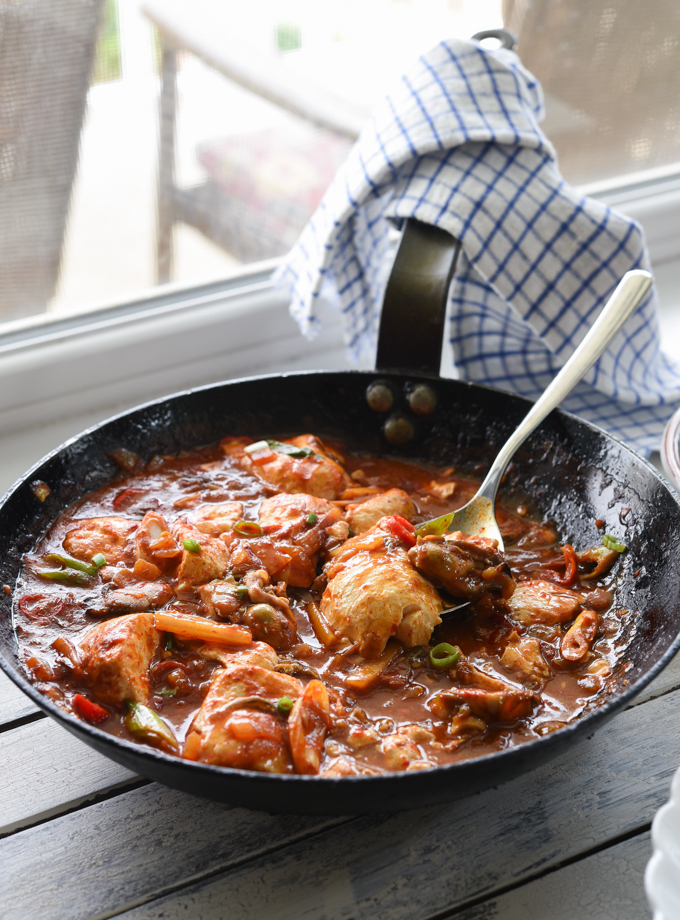 Soft tofu has been loved by many Asian people regardless of their origin. I, as a Korean, like to use soft tofu in soups and stews with beef, pork and seafood as you can see in spicy soft tofu stew with beef and seafood recipe in my previous post.
Here is another recipe that you can use soft tofu into a quick and easy rice bowl dish; oyster soft tofu rice bowl. I got the inspiration from the Mapo Tofu, the Chinese spicy tofu and pork dish flavored with dubanjang sauce (aka Chinese chili bean sauce). I replaced the pork with oyster and kimchi, and it turned out fantastic!. It is gently spicy and full of flavor, you will love the scrumptious texture over rice. You will love how quickly you can put together.
Soft Tofu with Oyster & Kimchi
Try the combination of soft tofu with seafood & kimchi. I used fresh oyster in this recipe but you can use any kind of seafood of your choice. Mussel, clam, shrimp, and squid are all great in this recipe. I recommend to add a little bit of tiny baby dried anchovies to provide even deeper flavor. Dried anchovies comes in 3 different sizes and you can find them in Korean grocery stores. Look for the tiny anchovies. The larger ones are for making stocks.
Recipe Tips
You must use the extra soft or silken tofu to enjoy the velvety texture of soft tofu in the recipe. They come in either tube or in a sealed container. Tofu is inexpensive way of enjoying plant based protein.
Not an oyster fan? No worries! Substitute with other seafood of your choice or leave it out. But you got to keep the dried baby anchovies in the dish since they make the base flavor.
If you have very sour fermented cabbage kimchi, chop them up and throw in. Kimchi adds another layer of flavor and you will love the crunch texture it adds to the dish.
Dubanjang is Chinse chili bean sauce. You can easily find it in most grocery stores and Asian specialty stores.
How to cook Oyster Soft Tofu Rice Bowl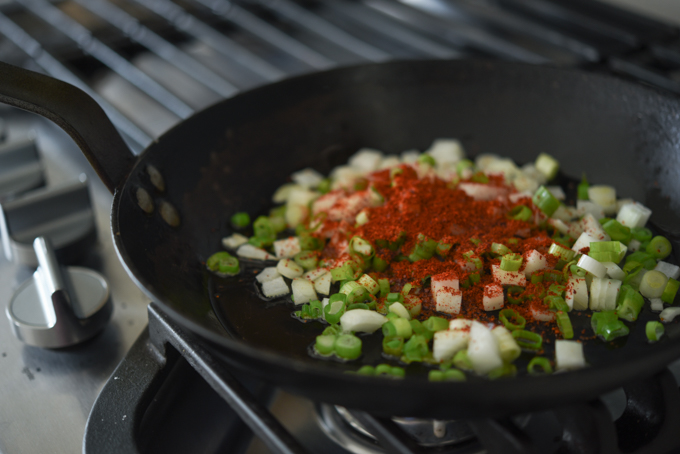 Heat oil in a skillet over medium low heat. Stir-fry green onion and onion with Korean chili flakes. This will help infuse the chili flakes in oil and the onions will bring nice aroma to the dish.
Add the kimchi and baby anchovies into the skillet and stir-fry for 2 minutes.
Add the dubanjang sauce, soy sauce, and oyster sauce; stir well.
Add water, soft tofu, oyster, more green onion, and fresh chili (if using), to the skillet and mix well. Bring the whole thing to boil and cook for 3-4 minutes until the oysters are fully cooked.
Mix cornstarch with some water and add to the skillet. Cook until it thickens slightly, about 1-2 minutes.
Serving and Storage Suggestion
Serve it hot over rice in a bowl. Store any leftover in the refrigerator for up to 1 week. To reheat, warm up in a skillet over medium heat until hot or use microwave. Freezing is not recommended.
More Rice Bowl Recipes
Oyster Soft Tofu Rice Bowl (Skillet Dinner)
This soft tofu rice bowl with oyster and kimchi makes a great one skillet dinner. Simmer in a simple spicy sauce and serve over rice.
Ingredients
1 tbsp oil
2 green onion, finely chopped
1/2 small onion, finely chopped
2/3 cup chopped sour cabbage kimchi
3 tbsp dried baby anchovies
1 cup + 2 tbsp water
1 pkg extra soft or silken tofu, 16 oz
8 oz fresh oyster, cleaned
1 tbsp soy sauce
1-1/2 tbsp dubanjang sauce
1 tbsp oyster sauce
1 tbsp cornstarch
1 red chili sliced, optional
4 servings cooked rice
Instructions
Heat oil in a skillet over medium low heat, add the onions and chili flakes; stir-fry for 30 seconds. Add kimchi and baby anchovies and cook for another 2 minutes.

Add 1 cup of water, tofu, oyster, soy sauce, dubanjang, oyster sauce, cornstarch, and chili; stir well and let them boil for 3-4 minutes over medium heat or until the oysters are fully cooked.

Mix cornstarch in 2 tablespoon of water and pour into the skillet. Cook one more minute to thicken the sauce slightly. Serve hot over rice.
Did you make this recipe?
Tag @beyondkimchee on Instagram. I love to see your masterpiece.