NY Times chocolate chip cookies
  Many people asked me since I began the recipe blog a month ago that if I like the "Pioneer woman",  the famous blogger.  Honestly I never heard about her until 2 weeks before I started my own. I was just browsing some food recipes via internet and came across her blog page. I liked her stories and her way of doing the recipes.
Ironically that was the way I've been thinking about how I wanted to do mine. I have been thinking about having a food blog for a long time as my personal journal. I waited a while because I wanted to improve my photography skill and my not so good computer skill. Still not quite there yet but I am so happy I finally got out of my comfort zone and do something that I enjoy doing and preserve it as a record. This is my blog, my stories, and my recipes that I wouldn't mind sharing with other people around the world.
If the pioneer woman has her Marlborough man, I have my Piano man.
My husband plays piano. He plays with the "Law" during the day but plays with piano at night.
Last Saturday he had his own small concert inviting many friends and coworkers.
He wanted to be a concert player when attending college studying music but his dream did not work out. He chose different route instead and have forgotten his dream for a long time… nearly 15 years. I am glad that he finally got his moment even though it was on a small, humble, unknown stage at church. 
Perhaps his dream of becoming a concert player will never come true but he became a respected father, a loving husband, and a sincere man to his fellows. A dream that millions of people would want to have it come true…   
So, I treated him with his favorite cookies.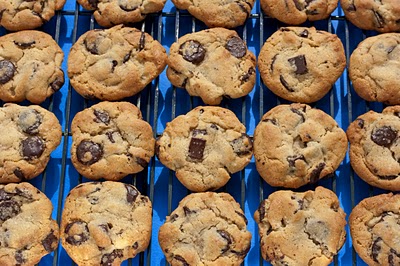 I would like to dedicate this cookie recipe (although it's not mine) for my piano man and all the other hard working fathers and mothers, grandparents, uncles and aunts in the world who set aside their dreams in order to support their family. 
This is the famous New York Times chocolate chip cookies. I know there are gazillions of chocolate chip cookie recipes out there but this is, I think, the winner of all. Big applause to Jacques Torres, the Chocolatier and David Leite! They did a great job creating the most wonderful chocolate chip cookies
Do you know what the secret of this recipe is? Two kinds of flours and letting the dough sit for 24-72 hours. Yes, 72 hours! Oh, and sprinkling some sea salt on top before baking. 
Trust me, This cookies has the most crispy texture outside but soft and chewy inside. 
Hail to the king of all cookies!
You will need; bread flour, cake flour, baking soda and powder, sea salt, brown sugar, butter, white sugar, eggs, vanilla, bitter sweet chocolate disks. I added semi sweet chunks on this batch.
First sift flours, baking soda, baking powder, and salt.
Let it snow! Let it snow! Set aside.
 In a mixer with paddle attachment, cream butter and sugars together
until very light and fluffy, about 5 minutes.
The mixture will look like this. Very creamy!
Add eggs one at a time and beat well.
Beat it!… Beat it!…  Suddenly I miss MJ
Stir in vanilla and reduce the speed to LOW. Importante!
 Gradually add the dry ingredients and mix until just combined, 5-10 seconds.
Over mixing will create tough cookies.
 And your mixture will look like this!
Let your chocolates to dive in to mixing bowl.
Gently stir them without breaking the chocolate.
Now your ultimate cookie dough is just created but not yet completed.
Wrap the dough with plastic wrap and refrigerate for 24-72 hrs.
The longer, the better.
When ready, preheat oven to 350F, For me it is 170C.
Scoop the dough, about 1 1/2″ ball size, on to baking sheet with parchment paper on it.
Original recipe ask for 1/3C of dough each but I want them little smaller.
Press gently to flatten a bit.
Sprinkle a tiny bit of sea salt on top and put into hot oven.
Now let's talk about the baking time.
The original recipe ask for 18-20minutes for 5″ cookies.
Mine will come out about 3″ in size.
You need to know how your oven works.
My convection oven only needs 9 minutes to get the result I want. Yours might need longer.
Bake 1 or 2 cookies first as a test and adjust time accordingly.
Let them cool on the wire rack.
Can you resist these cookies? 
If you can, then you are a saint. I can't.
They are so evil…  be aware!
NY Times chocolate chip cookies
Ingredients
2 C minus 2 Tbsp, 8 1/2 oz cake flour
1 2/3 C 8 1/2oz bread flour
1 1/4 tsp baking soda
1 1/4 tsp baking powder
1 tsp sea salt
2 1/2 sticks, 1 1/4 cup unsalted butter
1 1/4 C 10 oz light brown sugar
1 C plus 2 Tbsp, 8 oz granulated sugar
2 large eggs
2 tsp vanilla extract
1 1/4 lb bitter sweet chocolate disks, at least 60 percent cacao content
sea salt for sprinkling
Instructions
Sift flour, baking soda, baking powder and salt in a bowl. Set aside.

Using a mixer with paddle attachment, cream butter and sugars until very light, about 5 minutes.

Add eggs, one at a time, mixing well after each addition. Stir in vanilla. Reduce speed to low.

Add dry ingredients and mix until just combined, 5 to 10 seconds. Drop chocolate pieces in and incorporate them. Cover with plastic wrap and chill the dough for 24-72 hours.

When ready to bake, preheat oven to 350 degree. line a baking sheet with parchment paper.

Scoop a dough with spoon making about 1 1/2" ball onto baking sheet, making sure the disks are horizontal on the surface, press gently, and place them 2" apart. Sprinkle a tiny bit of sea salt on top.

Bake for about 9-12 minutes until the edges gets golden brown and the top begins to crack.

Transfer cookies on the rack and let them cool completely.

Serve with a glass of cold milk and you are in heaven.
Did you make this recipe?
Tag @beyondkimchee on Instagram. I love to see your masterpiece.