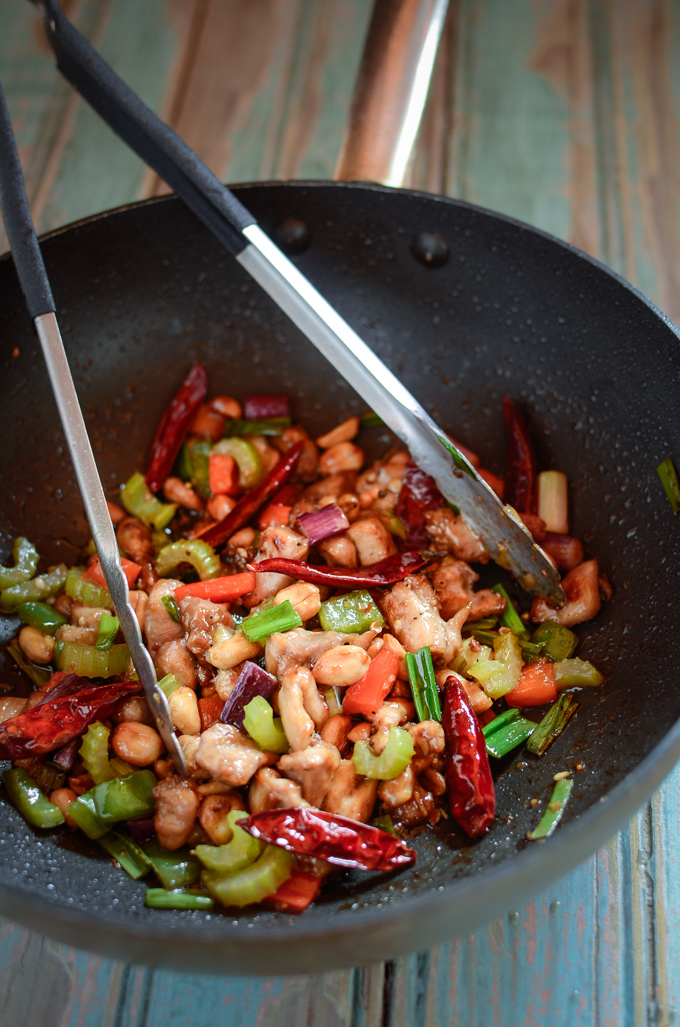 My husband went to Chengdu, China for a business trip and came home with some Sichuan peppercorns and dried chilies.
Chengdu is in Sichuan province in china where the local Chinese cuisine is known for its spiciness, which I love. They use abundant amount of chilies, garlic, and peppercorns.
Sichuan peppercorn is world famous for its unique fragrance and the taste. It is not overly spicy but gives numbing sensation on your tongue. I have always wanted to cook with Sichuan peppercorns and the first dish that came to my mind was this Kung Pao Chicken.
I seasoned the chicken with soy sauce, peppercorn, rice wine, and some corn starch. They will make the chicken more tender and flavorful.
You can't omit the garlic and ginger, and of course the dried chili for the heat!
I fried peanuts to make them more nutty! It also fragrant the oil, which is always better in stir-frying.
Stir-frying the chicken was pleasant. The cornstarch in the marinade makes them slightly crisp. After I fried them, I got rid of the half the oil.
Then, goes chili, garlic, and ginger…
I also added some celery, peppers, and green onion so that I can enjoy this as a meal on its own. We all need to eat more veggies!
Return the chicken and peanuts to socialize with veggies, then pour the sauce over…. It started to thicken immediately due to a strong heat underneath. Lovely~!
Do you see the sheen? I had a pleasant lunch all by myself. I could feel a gentle sensation on my tongue starting to happen soon after a few bites. It didn't bother much… until I grab a cold glass of water and drank… Oh, boy~! I never had water taste so weird.
The numbing sensation only lasted about 4-5 minutes after I finished the meal. The flavor of my Kung Pao chicken was lovely and I hope you can give this a try. You can substitute with plain peppercorn but freshly cracked. I made the same recipe for my kids with plain freshly cracked peppercorn and they loved it. I hope you will, too.
~ Holly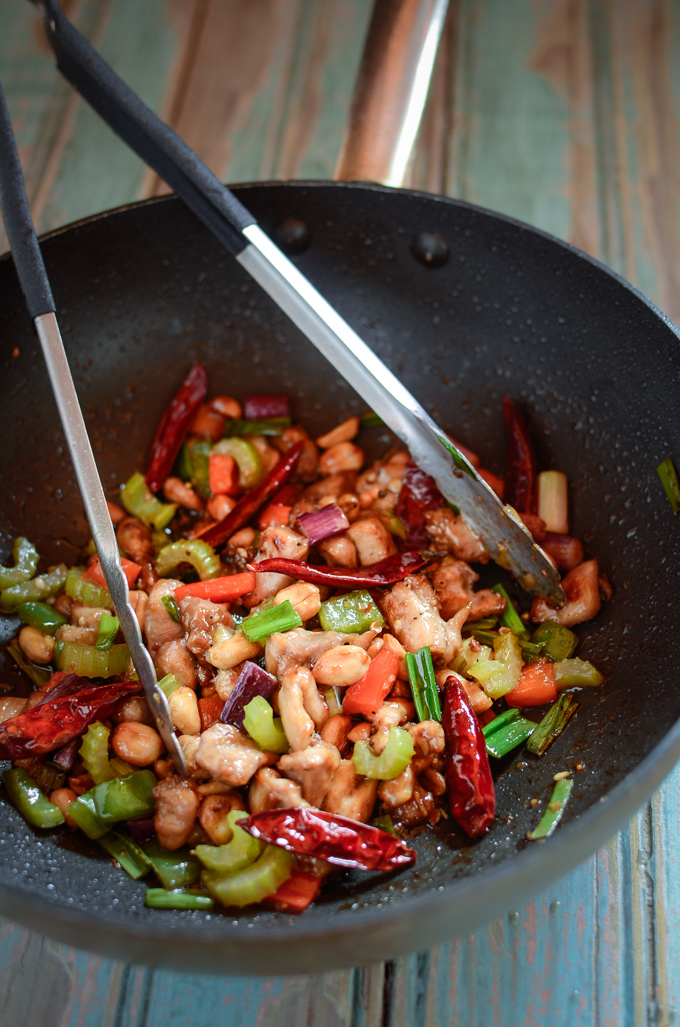 Kung Pao Chicken
2015-09-18 14:21:49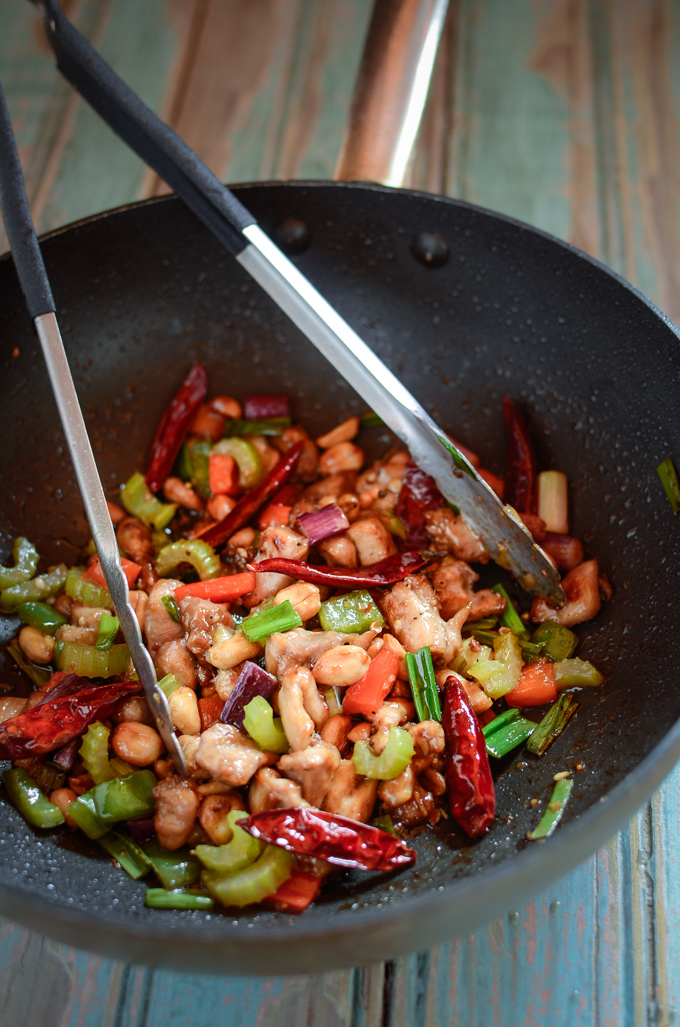 Serves 4
Sichuan style Kung Pao chicken made with Sichuan peppercorn. I added some vegetables to make a complete meal, but you can omit the vegetables if you prefer that way.
Ingredients
1-1/3 lb boneless skinless chicken thigh, diced into small pieces
1 tablespoon soy sauce
1 tablespoon shaoxing rice wine
1/2 teaspoon sesame oil
2 teaspoon corn starch
1 teaspoon sugar
1/2 teaspoon freshly cracked Sichuan or black peppercorn
5 tablespoon oil
6-10 dried chilies
2 garlic cloves, minced
1 teaspoon minced ginger
2 celery chopped
1 green or red pepper, chopped
4 green onion chopped
1/2 cups peanuts
For the sauce
1-1/2 tablespoon soy sauce
1 tablespoon shaoxing rice wine
1-1/2 tablespoon vinegar
3 tablespoon chicken stock
1-1/2 tablespoon honey
1 teaspoon sesame oil
2 teaspoon corn starch
1/2 teaspoon freshly cracked Sichuan or black peppercorn
Instructions
In a bowl, combine chicken, soy sauce, rice wine, sesame oil, corn starch, sugar, and peppercorn. Toss well and set aside for 10 minutes.
In another small bowl, mix all the sauce ingredients and set aside.
Heat oil in a wok over medium heat. Add the peanut and fry them until they are golden. Take them out and set aside.
Raise the heat to high and heat the oil until very hot. Add the chicken and stir-fry until the chicken pieces are fully cooked, about 2 minutes. Remove the chicken from the wok and set side with peanuts.
Discard the oil except 2 tablespoonful remaining in a wok maintain the high heat. Add the dried chili, garlic, and ginger. Stir-fry for 15 seconds. Add the celery, pepper, and green onion. stir-fry for 30-60 seconds.
Return the chicken and peanuts to the wok and pour the sauce over. Stir-fry until the sauce thickens. Serve immediately or hot with rice.
Beyond Kimchee https://www.beyondkimchee.com/