Blackened Salmon Tacos (Korean-Mexican Fusion)
Blackened salmon tacos meet Korean radish salad. This Korean-Mexican fusion tacos have the crunchiness of Korean radish to the taco. Serve with pico de gallo and other toppings of your choice.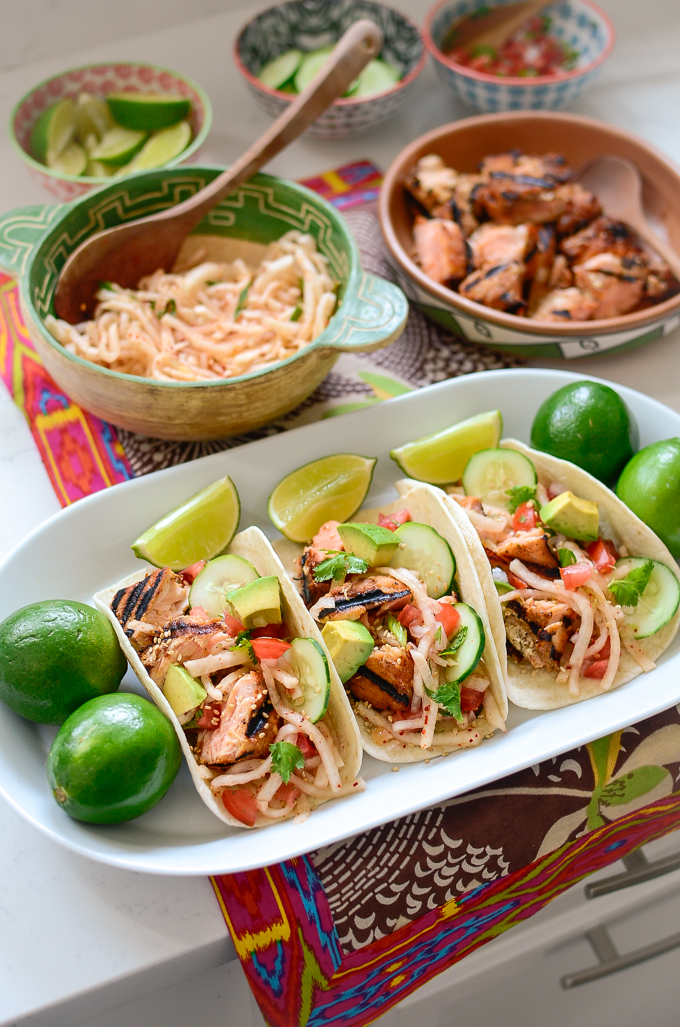 Blackened salmon tacos meet Korean radish salad? You will get a perfect Korean-Mexican fusion style salmon Korean tacos.
I love blackened salmon, so I combined with Korean radish salad in a taco form. The crunchiness of Korean radish adds delightful texture to the tacos.
The gentle heat form the radish salad adds a gentle spicy kick to the taco and works very well. with the blackened salmon. Topped with fresh Pico de Gallo, this salmon Korean radish taco is another win for Korean-Mexican fusion style tacos.
Watch Video Tutorial
WHAT'S IN THE TACOS?
Grilled Salmon – mixture of garlic powder, onion powder, cumin, oregano, paprika, and salt & pepper is rubbed on a salmon filet, then cooked in butter on a skillet until it creates a nice blackened crust.
Korean Radish Salad – Thinly sliced Korean radish is tossed with Korean chili flakes, fish sauce, sugar, toasted sesame seeds, garlic, and vinegar.
Pico de Gallo – fresh tomatoes, onion, jalapeno, cilantro, and lime juice.
KOREAN RADISH SALAD
To complement the lovely Korean salmon tacos, I paired them with Korean radish salad. It is a super simple salad that adds irresistible crunch texture to the taco.
The two go together so nicely. You will love it. My family greatly enjoyed the entire batch of Korean salmon tacos I made. They are not even fish taco lovers but couldn't get enough of this salmon taco. That says something, if you ask me.
CAN I SUBSTITUTE KOREAN RADISH WITH OTHER RADISH?
Korean radish has a slight peppery taste but it also has a sweetness, too. If you can't find it, you can use daikon radish or young red radish instead. Make sure you slice them very thinly to get the right texture.
HOW TO MAKE KOREAN RADISH SALAD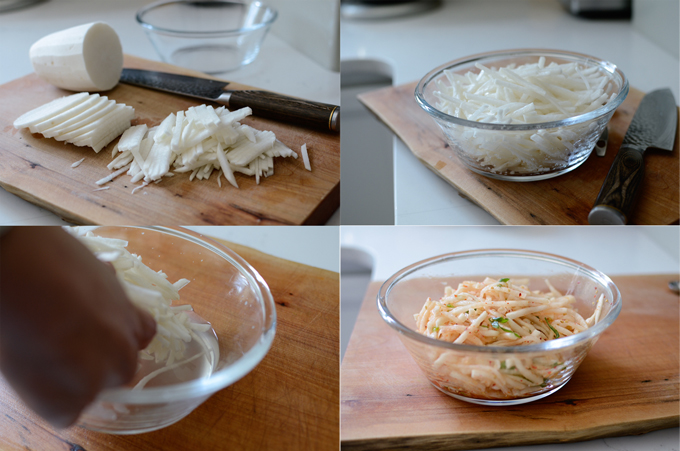 You will need to julienne the radish thinly into matchsticks. This could be the hardest part of this recipe. If you have a good knife skill, it will be a piece of cake; or you can use a mandolin slicer.
Sprinkle some salt and sugar to the radish and let it sit for 10-15 minutes. That will wilt the radish and withdraw a lot of moisture. It also helps the radish to be crunchier without being soggy.
Season the radish with some sugar, fish sauce, Korean chili flakes, garlic, and green onion. The amount of Korean chili flakes is up to your preference of heat level. One teaspoon of Korean chili flakes in this recipe is not hot at all. It adds such a mild heat that even young children can manage.
GRILLED SALMON OR BLACKENED SALMON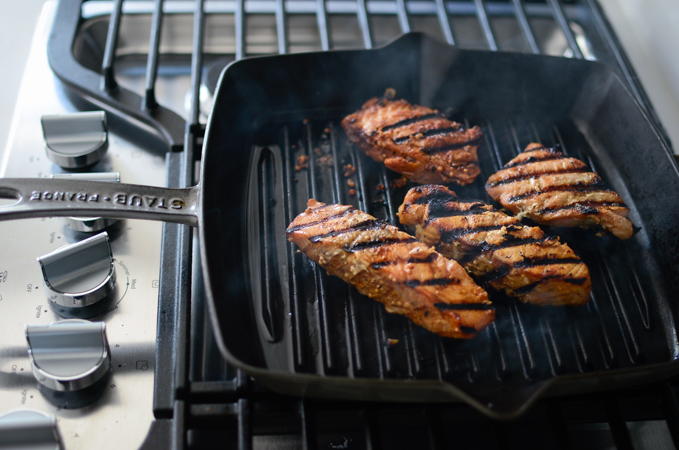 Heat grill, either indoor or outdoor, until very hot. Oil the grill pan with a spray oil. If using outdoor grill, grease the grate with oil.
Season salmon fillet or salmon steak with seasonings. Place them on a grill cook until you get the grill marks. Be careful not to overcook the salmon.
No Grill Pan? No Problem. Use any skillet you have. Heat the skillet over med-low heat until hot. Add a little oil and sear the salmon until you get the slightly blackened surface. Flip to the other side and do the same.
TO MAKE TACOS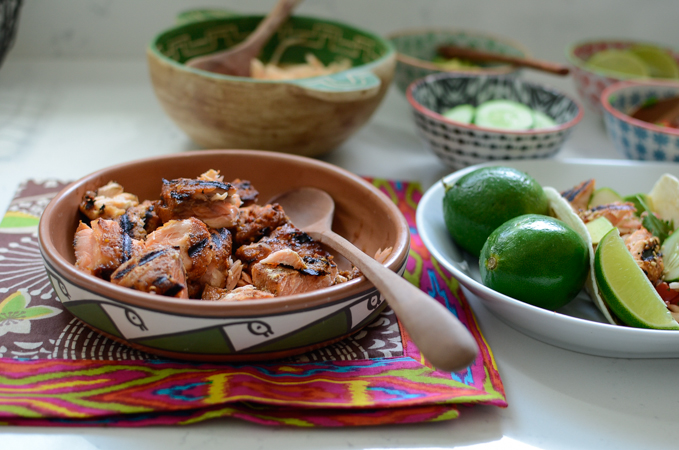 Break the grill salmon into large bite size chunks.
Make pico de gallo with tomato, onion, cilantro, and lime juice. You will see how I made it in my video tutorial.
Prepare other toppings for your tacos; sour cream, cucumber slices, lime wedges, and etc according to your preference.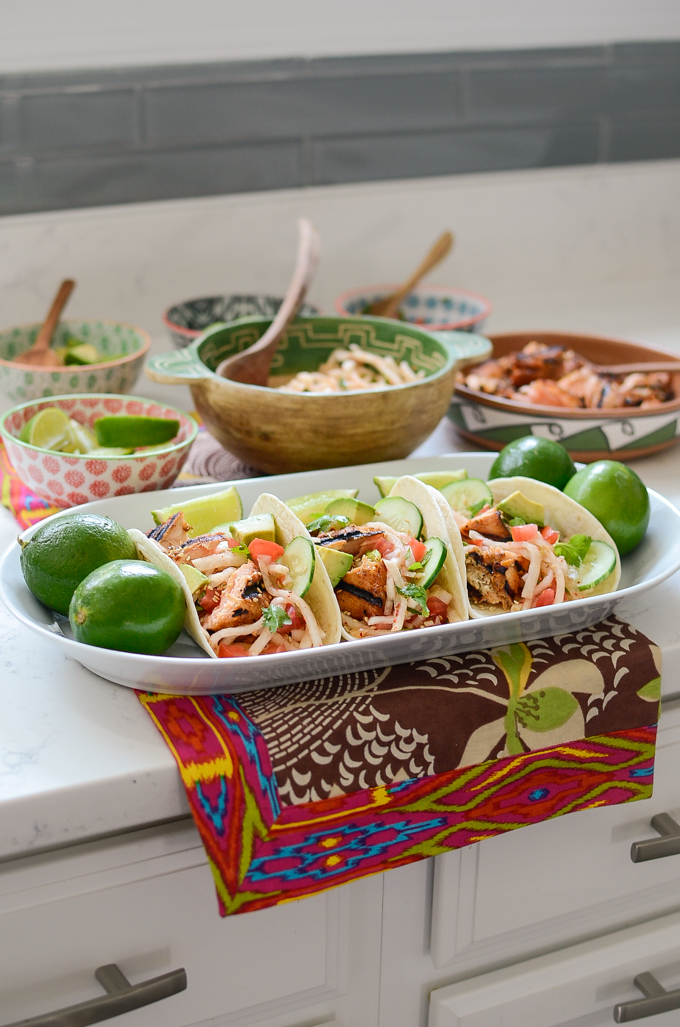 MORE SALMON RECIPES
Check out my seafood recipes for more dinner ideas.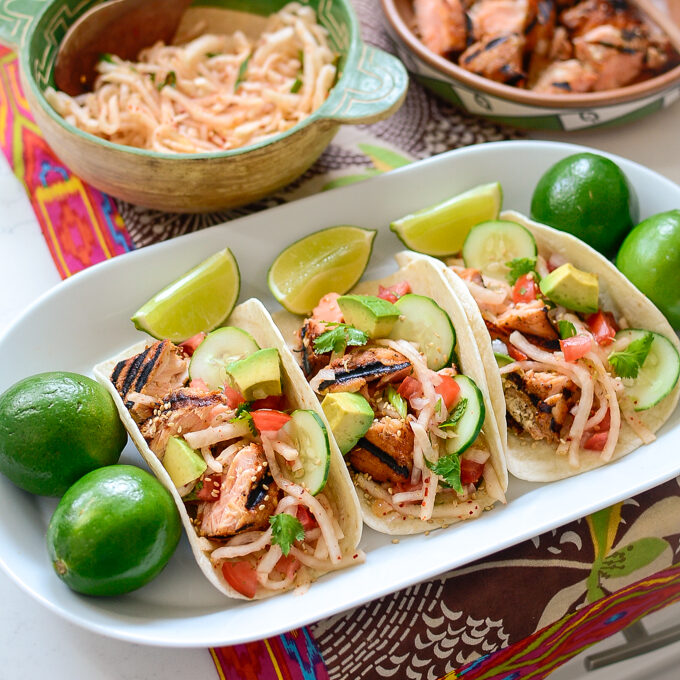 Salmon Korean Radish Tacos (Korean-Mexican Fusion)
Grilled or blackened salmon tacos meet Korean radish salad. This Korean-Mexican fusion tacos have the crunchiness of Korean radish to the tacos.
Recipe Video
Ingredients
For pico de gallo
1 lb tomatoes, seeded and chopped
1/2 small onion, finely chopped
1 jalopeño, seeded and minced
1/2 cup cilantro, chopped
2 tbsp lime juice
salt & pepper, to taste
For salmon taco
1 1/4 lb salmon fillet
1 tsp garlic powder
1 tsp onion powder
1/4 tsp cumin powder
1/4 tsp dried oregano
1 tsp paprika
1 tsp salt
1/2 tsp pepper
1 tbsp oil
sour cream, optional
8-10 flour tortilla
Instructions
For the Korean radish salad
Put radish slices in a mixing bowl and sprinkle with salt. Let it sit for 15 minutes. You will see the moisture extracted from the radish on the bottom of the bowl. Discard the liquid and reserve the radish.

Add Korean chili flakes, garlic, fish sauce, sugar, vinegar, and sesame seeds to the radish; toss well and set aside.
For the pico de gallo
Toss together tomatoes, onion, jalopeño, cilantro, lime juice, salt and pepper in a mixing bowl. Taste and adjust the seasoning according to your preference.
For the salmon
In a small mixing bowl, combine garlic powder, onion powder, cumin, oregano, paprika, salt, & pepper; mix well. Sprinkle the mixture over the salmon but not on the skin side. Gently pat the mixture down to the salmon.

Heat oil in a skillet over medium-low heat. Place salmon skin side up and cook for 4-5 minutes. Reduce the heat to low if needed to not to burn the spice to much. Flip the salmon to the other side and continue to cook for another 4-5 minutes. Do not over cook the salmon. You can also cook the salmon in a grill pan or BBQ grill.

Put salmon on to a cutting board and rest for 1-2 minutes. Using a fork, cut the salmon flesh off the salmon skin into a large bite size. Discard the salmon skin.

To serve; put a few pieces of salmon pieces and Korean radish salad into a tortilla. Top with pico de gallo, and sour cream.
Did you make this recipe?
Tag @beyondkimchee on Instagram. I love to see your masterpiece.
Save
Save