Jolly Pong Shake (Korean Cereal Milkshake)
Jolly pong shake is a delightful cereal milkshake made with Korean puffed wheat cereal known as Jolly Pong. With this easy recipe at your fingertips, you can whip up a creamy and satisfying beverage that will undoubtedly leave you craving more.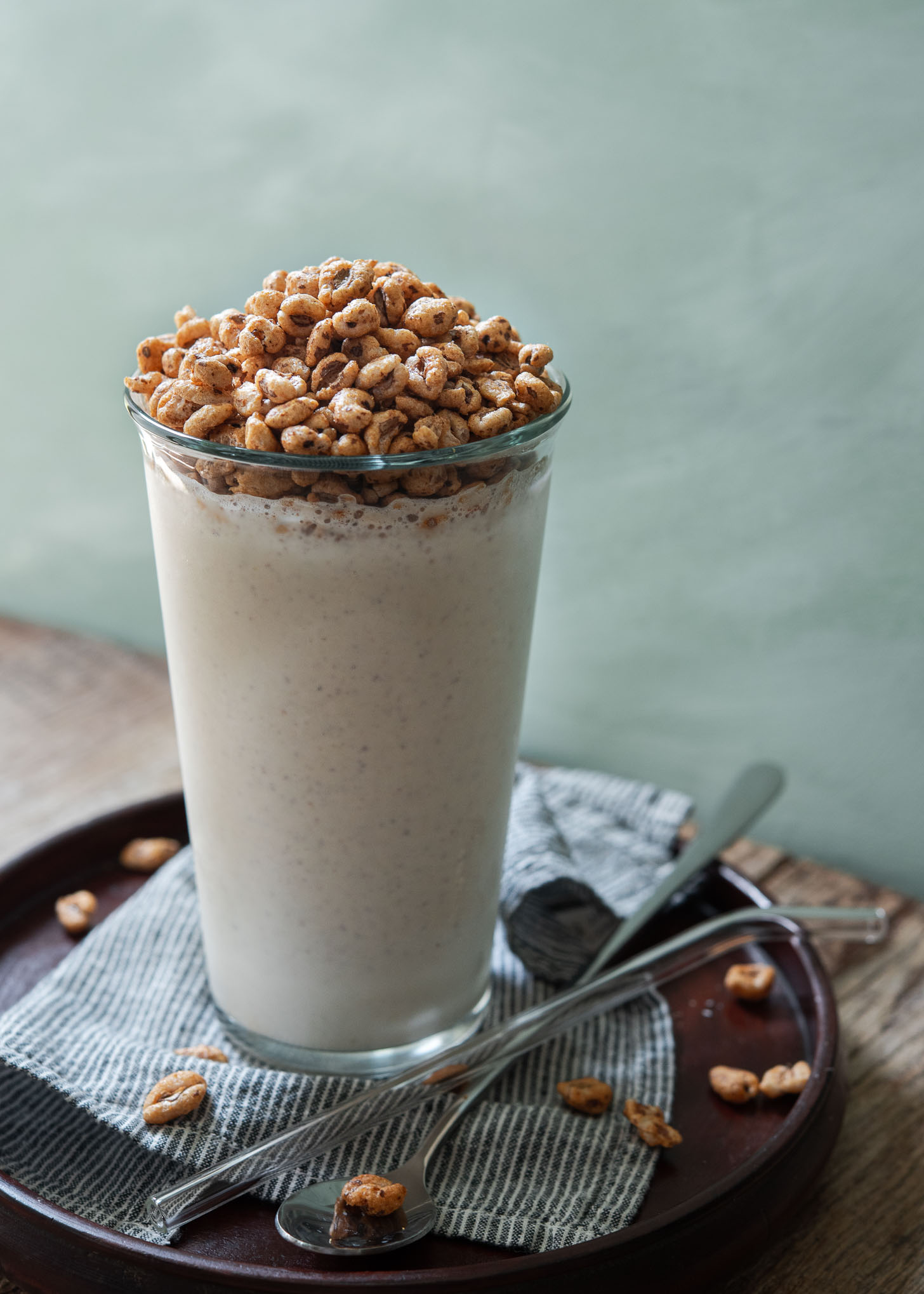 As I walk through the bustling streets of Seoul, I can't help but feel a pang of nostalgia for the days gone by. It's been over 30 years since I left my home country to live overseas, and everything has changed so much since then.
But amidst the hustle and bustle of this vibrant city, there's one thing that remains constant – the love of good food and drink. And every time I visit a Korean tea shop or even a humble hamburger stand, I can't help but notice the jolly pong shake on the menu.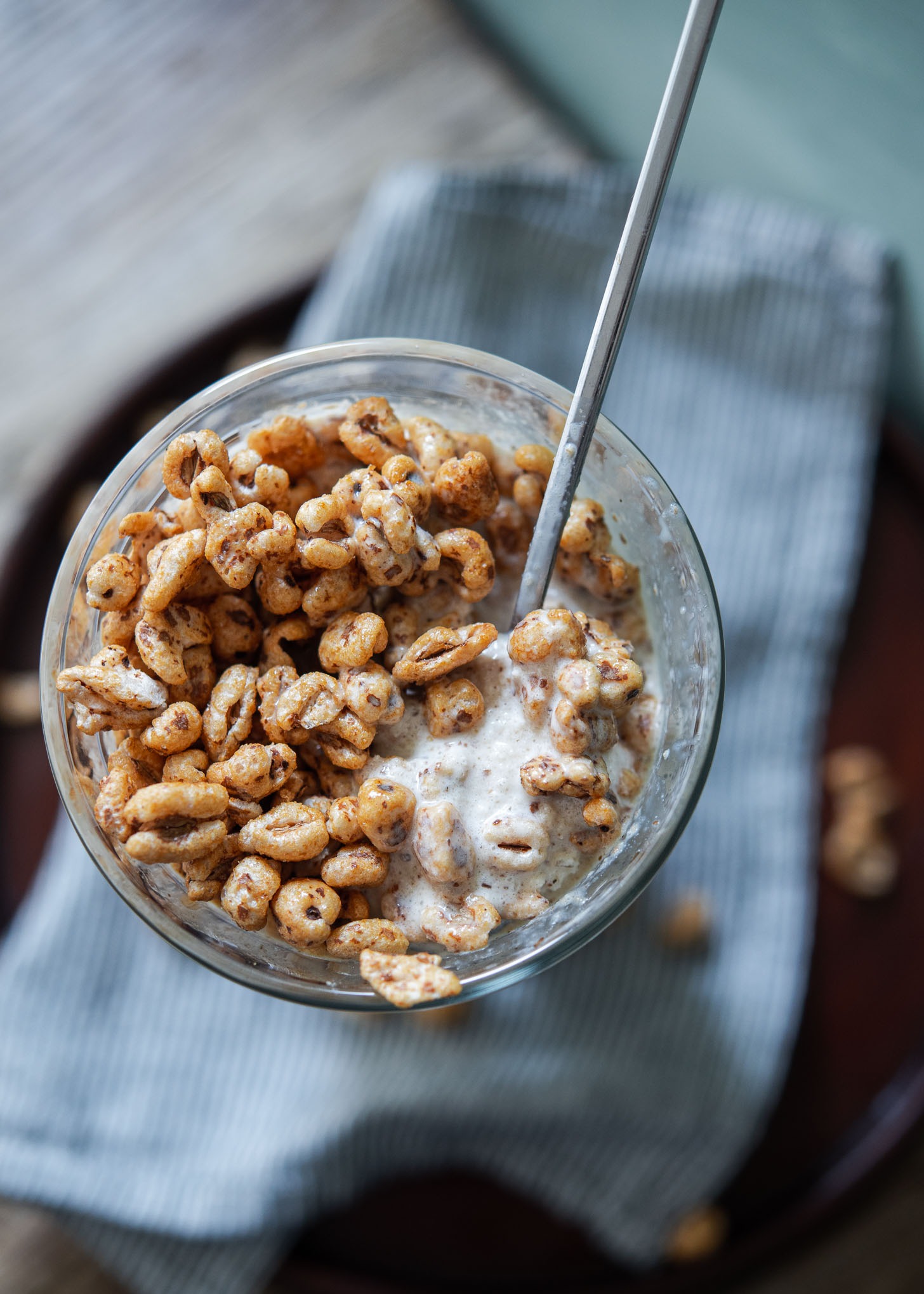 It's funny, because despite having lived in Korea for many years before, I had never heard of this trendy drink until I came back recently. But out of curiosity, I decided to give it a try.
And oh, how glad I am that I did! With its sweet and creamy taste and crunchy texture, the jolly pong shake instantly transported me back to my childhood – Korean banana milk is another one.
It's no wonder that it has become such a hit with Koreans these days – and it warms my heart to see that even the world beyond Korea is starting to take notice.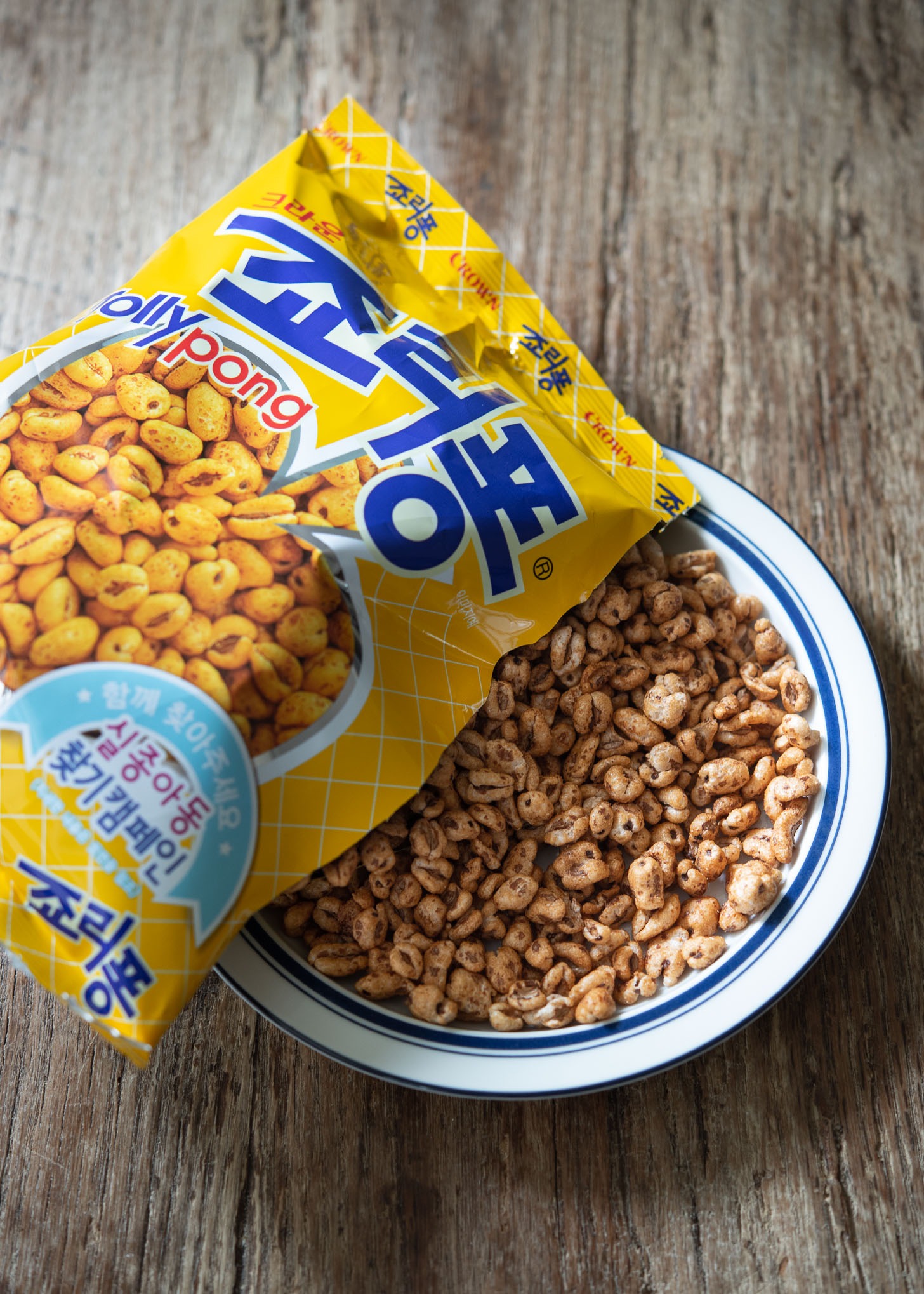 What is Jolly Pong?
Jolly Pong is a delicious Korean snack made with slightly sweetened puffed wheats. This light and airy treat has a hint of caramel flavor.
It's the perfect finger snack for when you're on the go. You can also enjoy as a breakfast cereal when paired with milk.
Jolly Pong Cereal Milkshake
For those who want to take their Jolly Pong experience to the next level, the Jolly Pong shake is a must-try. This creamy and sweet cereal milkshake is made by blending Jolly Pong with vanilla ice cream, milk, and sweeteners like condensed milk or honey.
The result is a perfect combination of smooth and crunchy textures with a heavenly roasted cereal flavor that's surely pleasing.
Jolly pong alternatives
If you would like to try Jolly Pong, you can usually find it in the chip aisle of any Korean grocery store.
If you don't have access to Jolly Pong, there are other sweetened puffed wheat cereals that you can use to make a similar milkshake. One such option is Honey Smacks by Kellogg's.
This cereal is widely available in North America, and will provide a similar texture and sweetness to Jolly Pong. Either way, you're in for a delicious treat!
Make sure not to miss out on the ever-popular Korean strawberry milk for another fantastic drink recipe. And if you're head over heels for trendy Korean food, don't forget to give my recipes for Korean garlic bread and rose tteokbokki a try. Trust me, you'll absolutely adore them!
Recipe Ingredients
Ice cubes: To chill and thicken the shake.
Milk: It gives the shake a rich and creamy texture.
Vanilla ice cream: This adds a smooth and sweet flavor to the shake and helps to thicken it up.
Sweet condensed milk (optional): For those who prefer an extra sweet taste, add condensed milk to provide an extra dose of sweetness.
Jolly Pong: This is the star ingredient of the Jolly Pong Shake. Made of slightly sweetened puffed wheats, it provides a unique crunch and caramel flavor to the shake.

If not available, use any sweetened puffed wheat cereal.
How to make Jolly pong shake
In a blender, combine ice cubes, milk, ice cream, sweet condensed milk, and jolly pong. Blend all the ingredients together on high speed until the mixture is smooth and creamy.
Taste the shake and adjust the sweetness and consistency as needed by adding more sweet condensed milk or whole milk. Or add more Jolly Pong cereal to thicken it.
Pour the shake into glasses and serve immediately, topped with a handful of Jolly Pong cereal as a garnish.
Other Korean drinks to try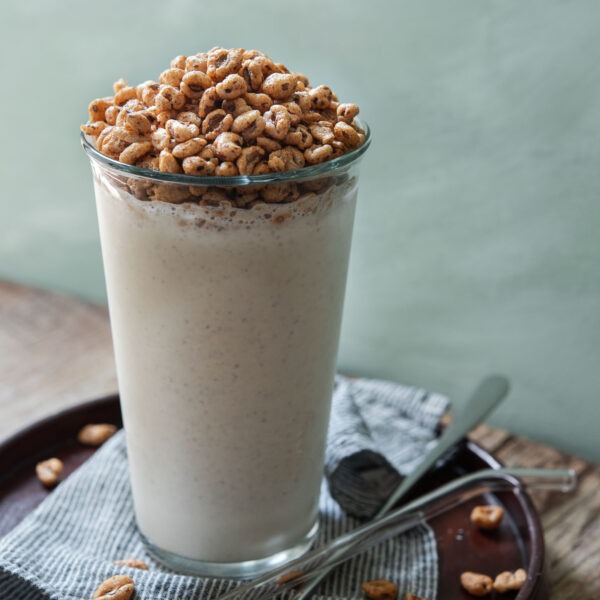 Jolly Pong Shake (Korean Cereal Milkshake)
Jolly Pong shake is a delightful milkshake made with Korean puffed wheat cereal. This easy recipe allows you to create a creamy and satisfying beverage that will leave you craving more.
Ingredients
2/3 cup (160 ml) whole milk
2 tbsp sweetened condensed milk, optional
2 large scoops vanilla ice cream
5-6 ice cubes
1 cup (240 ml) Jolly Pong or other puffed wheat cereal, divided
Instructions
In your blender, combine milk, condensed milk ice cream, ice cubes, and half of the Jolly Pong. Blend until the drink has only small ice pieces remaining, usually around 30 seconds, depending on your blender's power.

To serve, pour the shake into a cup, leaving a quarter cup of space at the top. Sprinkle the remaining Jolly Pong on the top. Enjoy the shake with an extra-wide straw and a spoon.
Calories: 248kcal, Carbohydrates: 42g, Protein: 7g, Fat: 14g, Saturated Fat: 8g, Polyunsaturated Fat: 0.5g, Monounsaturated Fat: 3g, Cholesterol: 45mg, Sodium: 135mg, Potassium: 324mg, Fiber: 1g, Sugar: 33g, Vitamin A: 459IU, Vitamin C: 1mg, Calcium: 239mg, Iron: 0.1mg
Did you make this recipe?
Tag @beyondkimchee on Instagram. I love to see your masterpiece.