Crispy Lemon Chicken
Making Asian crispy lemon chicken is very easya nd simple with Korean lemon syrup. You will get a just right amount of sweet and sour taste of lemon sauce.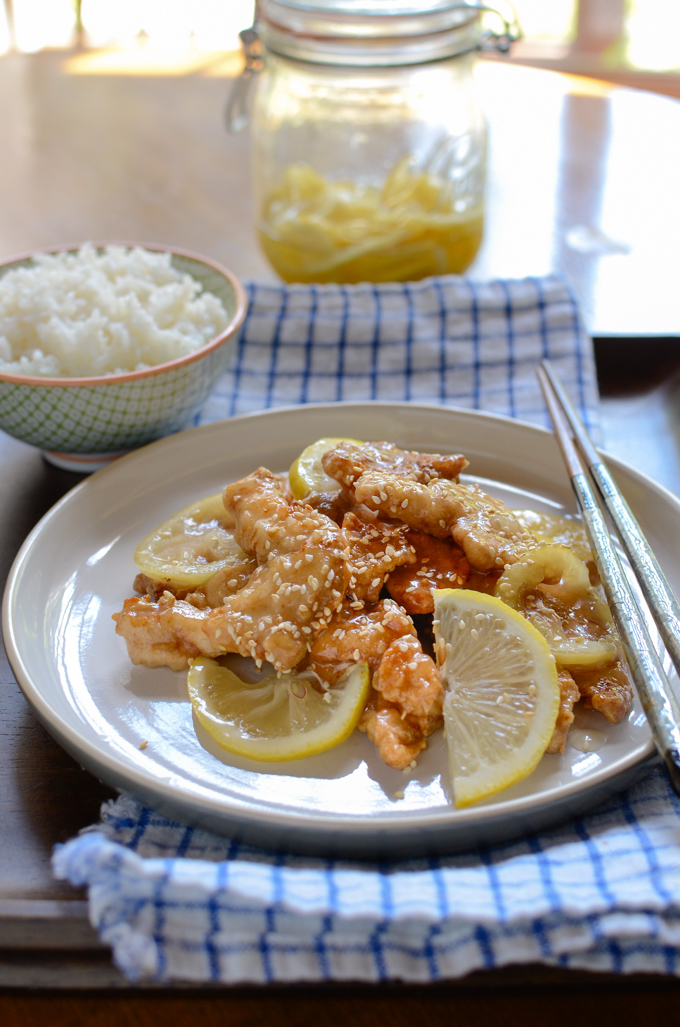 Oh, yes! Crispy lemon chicken…!!! I think anybody would love to have a piece of crispy chicken that is smothered with mildly sweet and tarty lemon glaze. I made my crispy lemon chicken with my Korean lemon syrup that I made a while ago. With the lemon syrup, it literally takes no time to make. The chicken strip is crisp and tender, and the lemon glaze has the just right amount of sweetness and tartness. Just the way I like it.
If you don't have the Korean lemon syrup, you can replace with fresh lemon zest and lemon juice. It will still taste great. Other ingredients you need are cornstarch, chicken stock, egg white, soy sauce, grated ginger, and sesame oil, and sesame seeds. Oh, wait a minute! Did I mention chicken breast?
With these easy to get ingredients, this crispy lemon chicken will make a quick and easy weeknight meal for the family. And did I mention that this can be adapted as gluten-free as long as you use gluten-free soy sauce and chicken stock?
Slice chicken breast thinly, about 1/4-inch thickness.
Beat egg white until very foamy, add the soy sauce, grated ginger, and sesame oil. Marinade the chicken breast pieces in for 10 minutes.
Coat the chicken with the cornstarch mixture.
Fry them in oil until deep golden brown. I did fry mine twice to make them extra crisp.
Mix chicken stock, cornstarch, grated ginger, and the Korean lemon syrup. Taste it and adjust the seasoning.
Heat 1 tablespoon of oil in a skillet over high heat, pour the sauce over, and let it thicken. It will start to bubble immediately and start to thicken soon. I added a few slice of fresh lemon to increase tartness.
Add the chicken strips and toss. That's it!
Sprinkle some toasted sesame seeds to give the look. Take a piece and bite off!
Crispness comes first, then tenderness.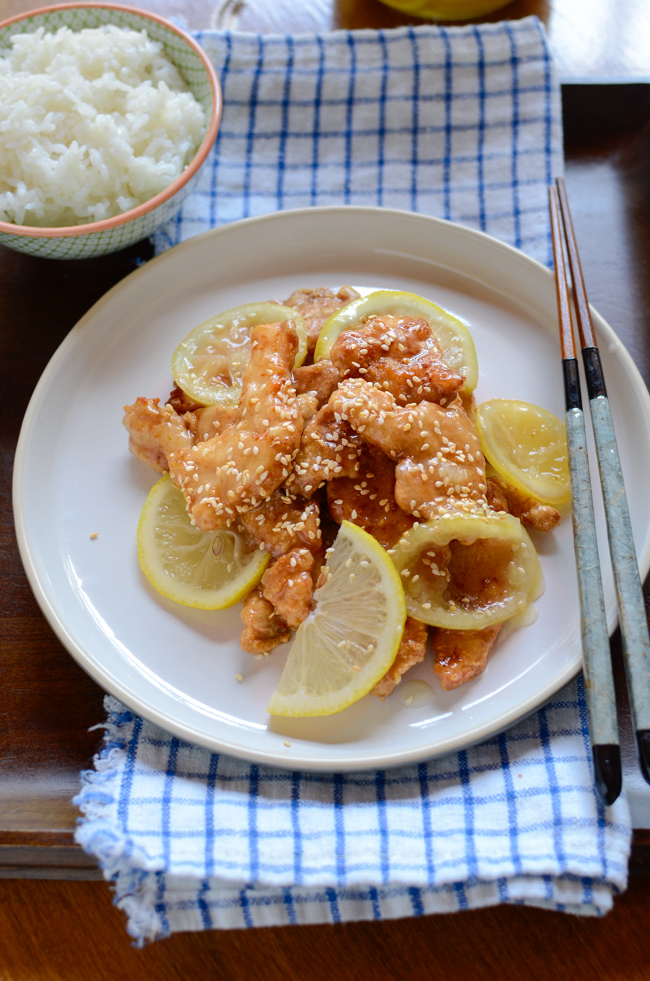 What can I say more? You will love this lemon chicken. 
~ Holly
Crispy Lemon Chicken
Make this Asian style crispy lemon chicken with lemon syrup. Anybody would love the crispy texture and the sweet and lemony taste of this chicken.
Ingredients
For the lemon sauce
2/3 cup chicken stock
4 tbsp Korean lemon syrup , see the note
1 tbsp honey
2 tbsp cornstarch
3-4 fresh lemon slices, optional
1 tbsp oil
For the coating
4 tbsp cornstarch
1/2 tsp baking powder
Instructions
Beat the egg white until very foamy in a mixing bowl, add the soy sauce, ginger, sesame oil, and the chicken breast slices. Mix well and set aside for 10 minutes.

To make the lemon sauce, combine all the ingredients except the oil and sesame seeds. If you prefer more tarty flavor, add the fresh lemon slices to the sauce.

Heat the oil to reach at 175˚C (350˚F). Mix cornstarch with the baking powder in a shallow bowl. Coat the chicken lightly with the cornstarch mixture.

Drop the chicken pieces into a hot oil and fry for 2 minutes. Do this in several batches. Once the entire batches are fried, repeat the frying again to get the crispier coating.

In another skillet, heat 1 tablespoon oil over high heat until very hot. Pour the sauce mixture. It will bubble immediately. Let the sauce to thicken, about 2 minutes.

Add the chicken pieces to the sauce and coat them evenly. Sprinkle with toasted sesame seeds and serve hot with rice.
Notes
If you don't have the Korean lemon syrup, use following for the lemon sauce :
1/2 cup chicken stock + 1 tbsp lemon zest + 3 tbsp lemon juice + 3 tbsp sugar + 1 tbsp honey + 1-1/2 tbsp cornstarch.
Did you make this recipe?
Tag @beyondkimchee on Instagram. I love to see your masterpiece.