Broiled Yellow Croaker, How to Clean Fish
Learn how to clean a fish, getting rid of fish smell on your hand and kitchen tool you used. Enjoy a delicious broiled yellow croaker fish.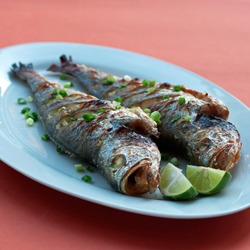 "Mommy, why is this fish's mouth is so wide open?" That was the question of my son, the toothless, asked when he saw these broiled fish on the dinner table. "Well, because he is screaming to tell me that the oven was too hot for him" That was the answer I could come up with. LOL! 😀
I literally grow up eating fish pretty much on the daily bases. My parents loved fish, or anything that grows under the water. It has to be fresh, mostly alive when they buy them.
The other day I went to the local wet market in Wan Chai to look for fresh fish. They call it "wet" because the ground in the market is wet. Make sense!
I like to go there often to see local people's way of living. There is something about market that teaches you the importance of life, the energy, and the diligence. People sell, people buy…, beautiful produce…, hard working locals to get by their daily needs.  Things that you don't feel the same way from the big grocery stores where everything is nicely prepacked and displayed.
I took my camera with me last time to see the local produce through the lense.
Here are some I would like to share with you…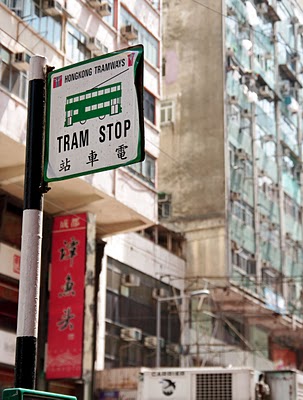 This is the local tram stop at Wan Chai market.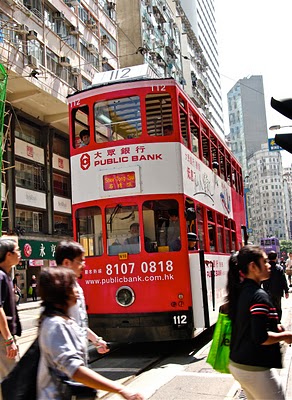 This is the tram.
It only cost HKD$2 (25 cents US) to use it.
One of the market entrance.
 one of the many fish stands.
 A man cleaning fish for his customers.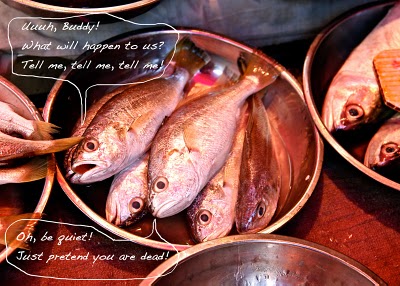 The life of fish!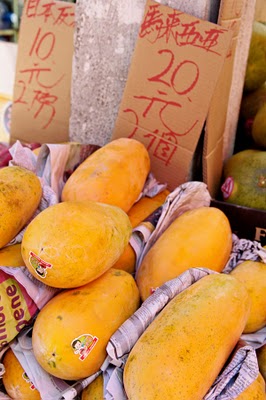 Well ripened papaya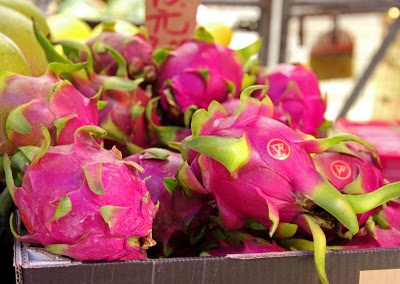 The dragon fruit.
Looks gorgeous outside but not so sweet inside…
Not a big fan of these fruits.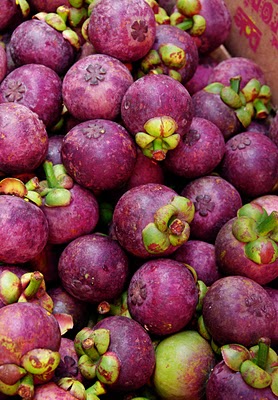 Mangosteen,
one of my favorite tropical fruit.
White flesh inside, very sweet and juicy.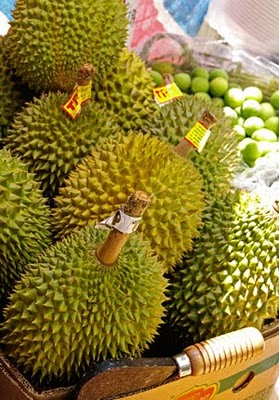 Jackfruit, Durian
Not a big fan, either.
Sponge gourd.
The kindest lady I know in the Wan Chai market.
although I don't speak Chinese, and she doesn't speak English well either,
she always greets me with smile and gives me a bunch of green onion for free
even if I buy just a single zucchini.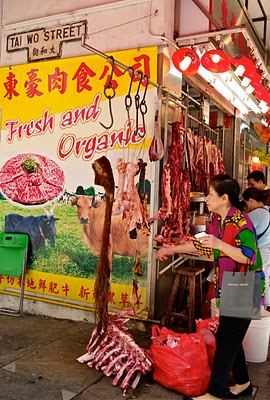 That is ox tail!
and the lady on the right bought it.
I wonder if the butcher removes all the hair out of that tail…
Kinda gross to me….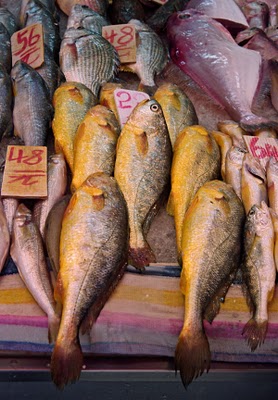 The yellow croaker, the star of today's posting!
One of my favorite fish and my kids just love them.
Now, we will end the tour of the market here. More comes later!
I will share with you how you can enjoy these yellow croaker in a simple broil method.
Pull your sleeves and let's get to work on this fish!
Some people hesitate cooking fish because of the smell.
Yes, if you don't treat the fish well, it will smell up your kitchen pretty bad.
Always look for fresh fish.  That is the first step.
Here are some tips how to choose fresh fish.
1. Look at their eyes. Bright and clear is the one you need to look for.
2. Smell it. Fresh fish is not stinky. It should smell like clean water.
3. Shiny? Yes. Dull? No
4. Look for bright red gills. Old fish will have darker brownish gills.
So you got the fish, the whole fish?
You would think your fish man cleaned all the scales and get rid of inside stuff?
Well, unless he has a crush on you, the chances are NO!
Scales are the one causing the most smell when cooking,
and you need to remove as much as you can.
The fish guys usually remove the body part's scales very well but not around the head.
So, shave his head, please!
Say hello darling!
Remove more scales around the fins as well.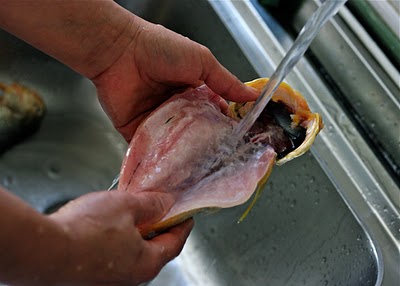 Wash them good.
Cut off the fins.
Why?
They are the ones get erected in the heat and get burned fast.
Besides who eats the fin?
(except the shark's fin…)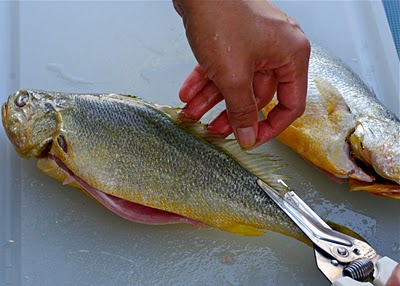 Trim off these fins as well,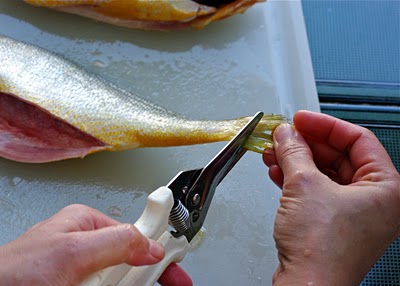 and more…
Well, these guys are all shaved and trimmed, slick!
Get some coarse salt.
Sprinkle salt inside and
out.
Cover with plastic wrap.
Here is what you need to decide.
I would like to eat this fish for dinner that night so I let them chill for about 6 hrs until ready.
The amount of the salt in the recipe is based on that time.
If you don't have much time, increase the amount of salt.
Also, you can freeze these guys for later use.
Just wrap them individually and put them in zip lock bag,
keep them in freezer up to couple of month.
How to thaw? You can use microwave but I prefer this way.
Dunk the entire zip lock bag in the cold water for 20 minutes.
They are as fresh as before!
Ready to broil?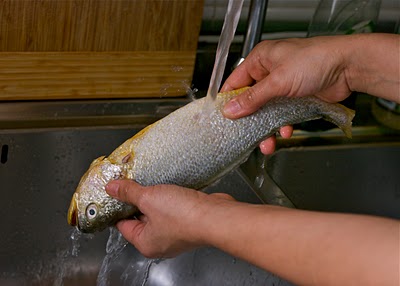 First, Wash the fishes again to remove excess salt. Set aside.
I will show you my secret of broiling fish without the worry of smell during cooking.
These are the peels of fruits, and veges.
Oranges, limes, lemons, apples, pears, onions, ginger, herbs,
any roots or leaves of veges such as celery, you name it.
Even watermelons or cantaloupes peels are good to use.
Do not throw away those peels. Recycle, baby!
Put them in a big zip lock bag and keep them in the freezer.
They are the fish smell busters!
Not only that, they infuse the fish with nice aroma, and keep them moist and flaky.
I even use them when roasting chicken. Wonderful!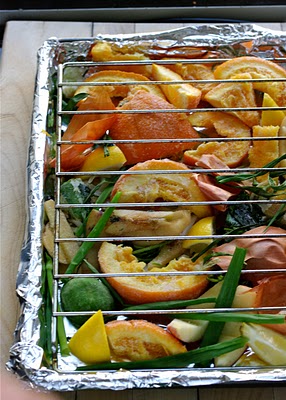 Line a jellyroll pan with foil and spread the peels. Easy clean up!
You need a lot to cover the entire pan.
Place a rack on top of the peels.
Remember to spray the rack with oil spray, otherwise your fish will stick on.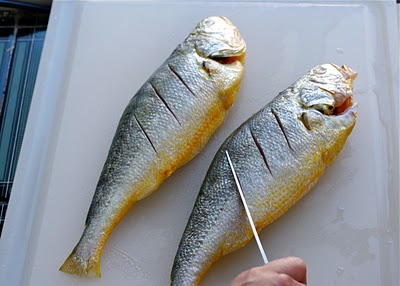 Now, go back to the fishes and give them a few slits on both sides.
This will help the steam to escape and help even cooking.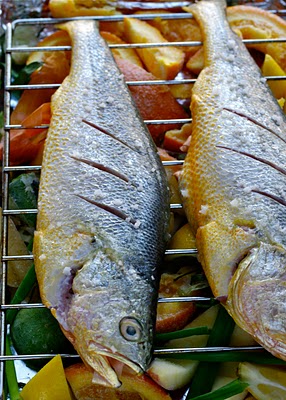 Place the fish on top of rack and sprinkle just a little more salt on top if you like.
If your fish has been cured with salt for a long time you don't need to add more salt.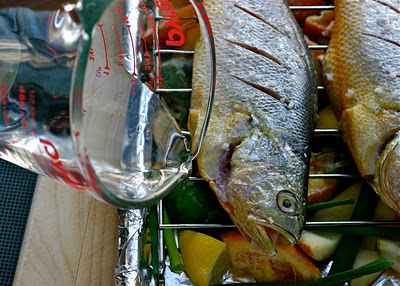 Pour about 1/4C of water in the pan. This will prevent the peels from burning.
Put them in preheated hot oven with broil setting, about 3 inch below the heat.
Broil for 8-10 minutes each side.
Always check during that time to make sure they are not burning.
You might smell just a tiny bit when you open the oven to flip the fish to the other side.
But it should be gone by the time when fish is all done.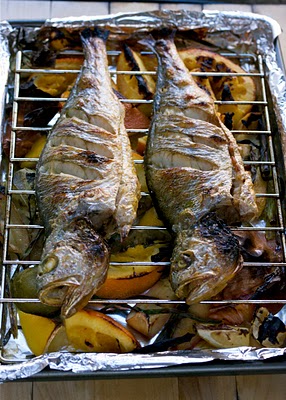 Here is the perfectly broiled fish.
If you broil these guys without the peels,
someone can smell that fishes had visited your home,
But how about the cutting board, knife, or your hands that cleaned these fishes?
Yes, They will get smelly.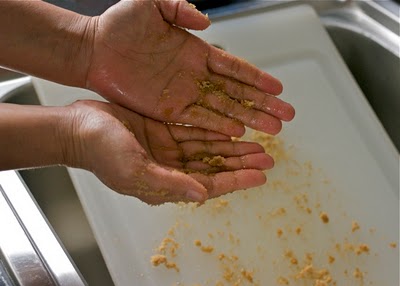 (So lucky to have extra hands here!)
After you clean them with soap,
You can use vinegar or lemon juice.
But I use sugar, white or brown, and rub them.
I don't know how, but somehow it works.
Your hands will feel so smooth, too.
Try it!
I usually serve this fish with Korean soy sauce (gook ganjang).
A tiny bit of dipping is all you need.
Tastes awesome that way!
Fish A : "Dude! that oven was so hot."
                     Fish B : "What did you expect? An air conditioner?"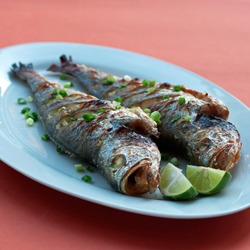 Broiled Yellow Croaker
Learn how to clean fish. Broiled yellow croaker is a simplest way of enjoying the fish
Ingredients
2 whole yellow Croaker, scaled and cleaned
1/4 C coarse salt
Bunch of frozen fruit and vegetable peels, orange, lemon, lime, onion, celery, ginger, etc
1/4 C water
Oil spray
Korean soy sauce for dipping, optional
Instructions
Remove all the scales on the fish including body, around head, behind fins.

Wash them well. Trim off all the fins and sprinkle salt inside and outside of fishes.

Place on the plate and cover with plastic wrap. Let it chill for 6 hours or overnight.

When ready, preheat your oven on broil setting. The rack should be about 3 inch from the heat.

Wash the fish again to remove excess salt. Set aside.

Line a jellyroll pan with foil and spread the frozen fruit and vegetable peels all around. Spray a broil rack or mesh with oil spray and place on top of the peels.

Give a few slits on both side of fish with a knife and place the fish on top of the pan.

Place the pan in the hot oven with broil setting. Broil for 8-10 minutes each sides. Carefully flip in between.

Serve with Korean soy sauce if you wish. Dip bite size fish just a little bit in the sauce.
Serving: 2g
Did you make this recipe?
Tag @beyondkimchee on Instagram. I love to see your masterpiece.