Beef with Ginger and Green Onion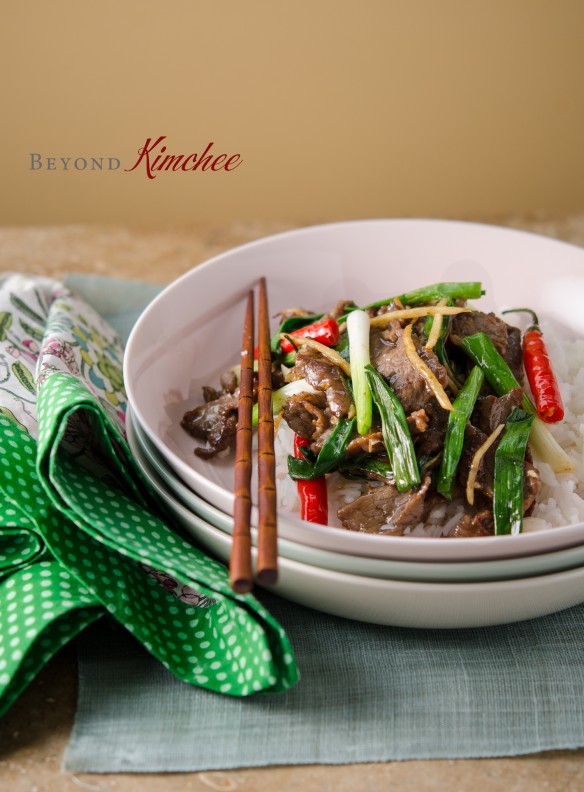 Beef is good! I can't deny it.
When the beef is juicy and tender, that makes your relationship with beef "Hot". And when you can prepare the dish with beef very quickly without much fuss, your relationship becomes even sexy~!
So here is one Asian recipe – "Beef with Ginger and Green onion" – that you can make with a blink of an eye, if I can exaggerate. It is *quick and easy, full of flavor, and good for you* kind of Asian food that you can easily make at home.
Come on beef! Cuddle with me for a few minutes, would ya?
All you need is beef, of course, and green onion, ginger, garlic, and red chili (if you want to add some heat). Sliced the ginger into very thin match sticks.
For the beef, I would use a good tender steak cut such as sirloin or striploin. Cut the beef into thin slices against the grain.
Place the beef in a mixing bowl and add corn starch, soy sauce, and oyster sauce. Toss well together.
Heat oil in your wok or skillet over high heat. Stir-fry the beef until no longer in pink. Transfer them to another plate and set aside.
Add a little more oil in a skillet and fry ginger, garlic and the whole chili (if using)
Return the beef and stir all together to heat up, about 30 seconds. That's all. Your succulent beef with ginger and green onion is ready to be eaten!
I love the the fragrance that ginger add to the dish. It is not overpowering, yet brings just the right amount of heat to the dish.
Do you know that ginger(along with cinnamon) can help to keep your body warm? Not so exciting for the people who sweats a lot during the summer, but if you are a kind of person who feels cold easily, eat lots of ginger. It is good for you.
Beef with Ginger and Green Onion
Ingredients
3/4 lb beef strip-loin or sirloin steak, thinly sliced
2 teaspoon corn starch
1 teaspoon sugar
1 tablespoon sweet rice wine (mirim)
2 tablespoon soy sauce
1 tablespoon oyster sauce
1 teaspoon sesame oil
2 tablespoon grape seed oil
2 tablespoon or 1.5" ginger piece, sliced into thin matchsticks
2 garlic cloves finely, chopped
2-3 red chili, broken in half (optional)
1 bunch green onion, sliced
Instructions
Place beef in a bowl and add the corn starch, rice wine, soy sauce, oyster sauce, and sesame oil. Toss well to combine.

Heat 1 tablespoon of oil in a wok or skillet over high heat, add the beef and stir-fry until the beef is no longer in pink. Transfer the beef to a plate.

Heat the rest of the oil in a wok, add the ginger and garlic, stir fry until fragrant, about 30-45 seconds.

Add the green onion and beef to the wok and toss together to heat through.

Serve hot over steamed rice.
Did you make this recipe?
Tag @beyondkimchee on Instagram. I love to see your masterpiece.