Apple Coleslaw
It's October! Yeah! I just love fall season, even the smell of it. The pies, the hot ciders, the bread, and even my kimchi in the fridge. But here I present apple coleslaw recipe.
I picked tons of apples in the local orchard last weekend, I've been eating apples at least one everyday. Koreans believe eating an apple a day will make you look radiant(?), so someday I hope my face will be radiant like a laser beam… I better start the conquest on my apples.
So, this apple coleslaw salad was what I made to compliment my Tonkatsu, the pork cutlet.
Are there anyone who doesn't like apples? If so, you won't get the laser beam face… ☺
Well, if you don't like apples, you won't notice that much in this coleslaw. If you love apples, you definitely can tell the difference.


Wonderfully compliment any BBQ dish, I love the simple yet full of flavor of this apple coleslaw. It is better to chill this slaw for 1 hr so the flavors can incorporate each other. But don't leave too long, it will get watery and soggy.
How To Make Apple Coleslaw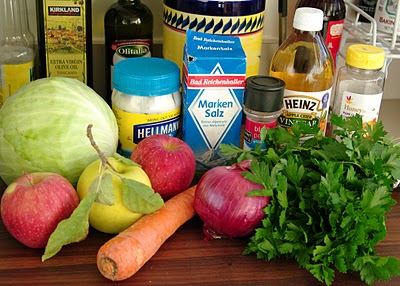 Here are what we need; cabbage, apples, carrot, red onion, parsley, mayonnaise, cider vinegar, honey, and salt + pepper to taste. Am I missing anything? So far so good. We will see…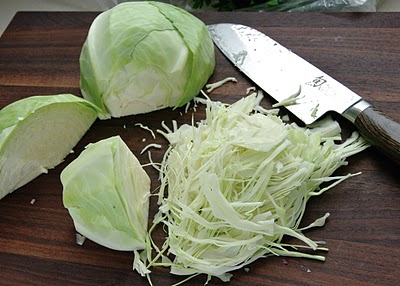 Slice the cabbage thinly.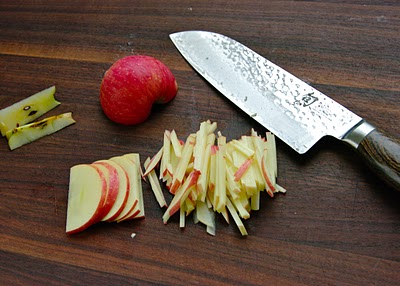 Julienne your apples.
I used golden delicious and Jonathan.
And your carrot, too. I like my carrots to be very thin.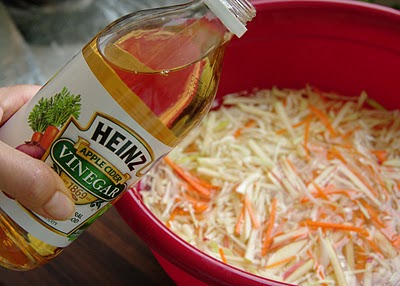 Put them in the water and add 1 tsp of vinegar to them. Keeps the apples from oxidizing and other veges crisp. Soak them in the water for about 10 minutes.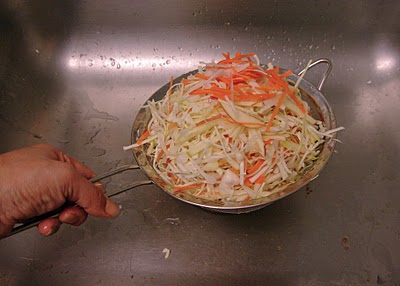 Drain them well. No need to rinse.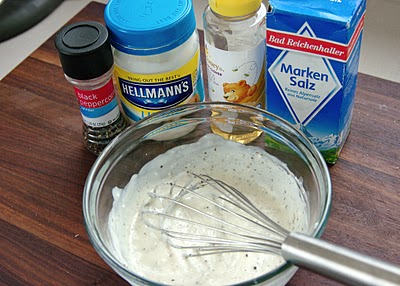 Make dressing by combining the ingredients above. Dang! I missed the apple cider vinegar on the photo. I am so clumsy. Don't forget to add vinegar to the dressing.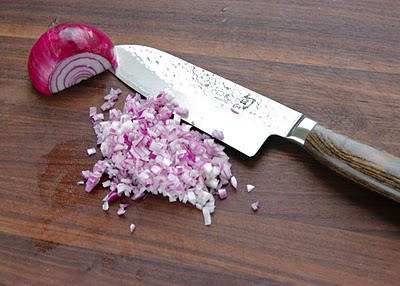 Chop red onion,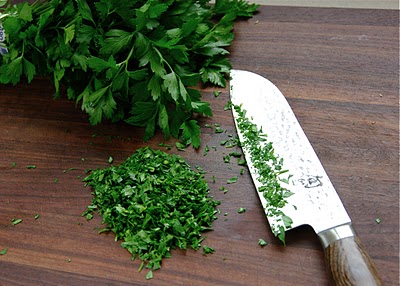 and parsley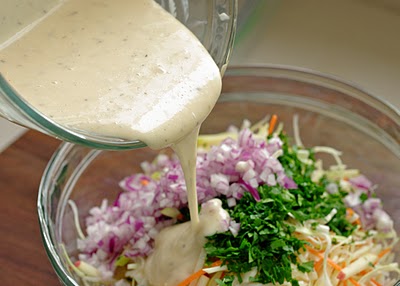 Put all the ingredients in a bowl and pour the dressing over.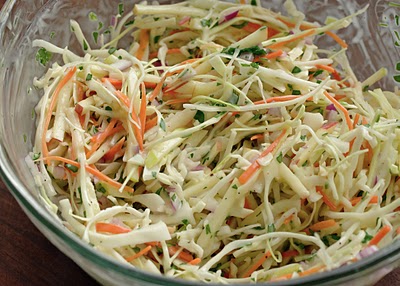 Toss well.
You can add some roasted sesame seeds if you like. Adds nice nutty flavor. Done! One recipe to go for my apples!
Suddenly the song I use to hear in the radio in Korea all the time comes to my mind.
You are the sunshine of my life
That's why I'll always be around,
You are the apple of my eye,
Forever you'll stay in my heart
I feel like this is the beginning,
Though I've loved you for a million years,
And if I thought our love was ending,
I'd find myself drowning in my own tears
Wo… wo… wo… wo… wo…
Eat your apples today and be radiant!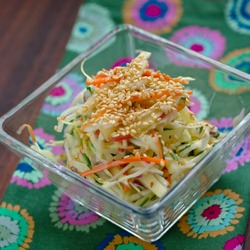 Apple Coleslaw
Apple coleslaw is a simple salad with apple, cabbage, carrot, onion. Gently sweet and crunchy, a perfect compnaion to any BBQ meal.
Ingredients
1/2 small cabbage, shredded thinly
2 apples, julienne
1 carrot, thinly julienne
1 tsp vinegar
1/2 red onion, chopped
1/4 C chopped parsley
1 T roasted sesame seeds, optional
Dressing
1/2 C mayonnaise
2 T apple cider vinegar
3 T honey
1 tsp salt
1/2 tsp pepper
Instructions
Place cabbages, apples, carrots in a bowl with cold water. Add 1 tsp of vinegar and let them soak for 10 minutes. Drain and place them in a mixing bowl. Add red onion and parsley.

In a small bowl whisk mayonnaise, cider vinegar, honey, salt and pepper.

Drizzle the dressing over the slaw and toss well. Sprinkle sesame seeds if you wish. Chill 1 hr before serving.
Serving: 4g
Did you make this recipe?
Tag @beyondkimchee on Instagram. I love to see your masterpiece.