Beef Steak Bibimbap With Spinach
Making traditional Korean bibimbap is time consuming. Make this delicious beef steak bibimbap with spinach under 30 minutes. Tender steak is seared then mixed with rice and spinach. It's a great one skillet dinner (or one pot meal).
I had some leftover beef steak and decide to use it up on a Korean recipe. A delicious steak bibimbap with spinach recipe is created. This steak and spinach bibimbap is so much easier and quicker to make than the traditional bibimbap that most people know.
You will like the simplicity while you are making this recipe. It makes a great one skillet dinner. Once you taste it, you will fall in love with it. You will want to make it over and over.
It seems that I tend to eat steak quite often these days. Can't deny that I currently live in a beef loving country.
Anyway, I am not sure if I can call this a recipe, because it's so simple. My kids and I devoured the entire skillet of this lovely steak bibimbap within 5 minutes. This is one of the simple rice dishes that you will enjoy in a heated skillet – in Korean style.
What if you don't like spinach?
Use whatever vegetable you like. Zucchini or watercress would be my second choice.
How to make Steak Bibimbap with Spinach
Step 2: Make chili paste sauce first.
Let's make the sauce to top up the bibimbap. Fry some minced garlic in oil.
Add gochujang (Korean chili paste) and other sauce ingredients. Bring it to boil and simmer for 2-3 minutes or until the sauce thickens.
The sauce is done. You can use this sauce for any type of Korean bibimbap. So good!
Step 2: Season steak and sear
A well seasoned cast iron skillet comes in handy for this recipe. Cook your steak according to your taste. I only seasoned mine with salt and pepper, and cooked it to medium.
You can use any cut of tender beef, such as tenderloin, ribeye or striploin. Just make sure to not to overcook them.
When the steak is done to your desired doneness, remove from the skillet and let it rest while you are cooking spinach.
Step 3: Toss spinach
Saute spinach with some salt in a little bit of oil, then transfer to a plate; set aside. (You can also use leftover Korean spinach side dish instead of this step if you like.)
Note: If you don't like the long strands of spinach chocking your throat, chop the spinach up before you cook!
Cut the beef into thin slices.
Step 4: Mix steak, spinach, rice, sauce, and cook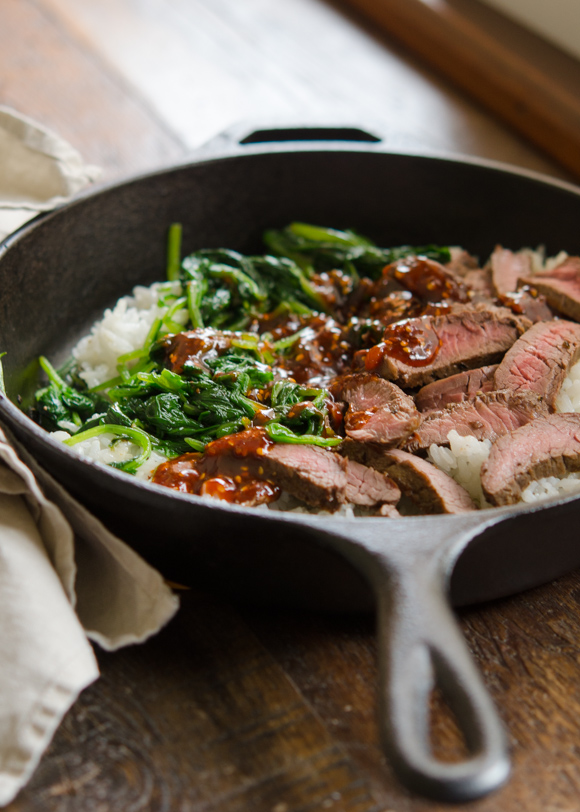 Heat the skillet again over medium heat. Place rice, beef, and spinach in a skillet. Drizzle the sauce – however much you desire – and let is sizzle for 1 minute.
Start mixing altogether until everything mingles and is coated with sauce. It should take about 1-2 minute. You will hear the delicious sizzling sound coming out of the skillet.
Done! Drizzle sesame oil and sprinkle toasted sesame seeds to the bibimbap.
Dig in while it's sizzling hot! You've gotta love it! My kids and I didn't even use individual rice bowls. We just ate out of skillet all together. That's the Korean way of family bonding. We love each other so much that we don't mind our spoons touching.
More Rice Dishes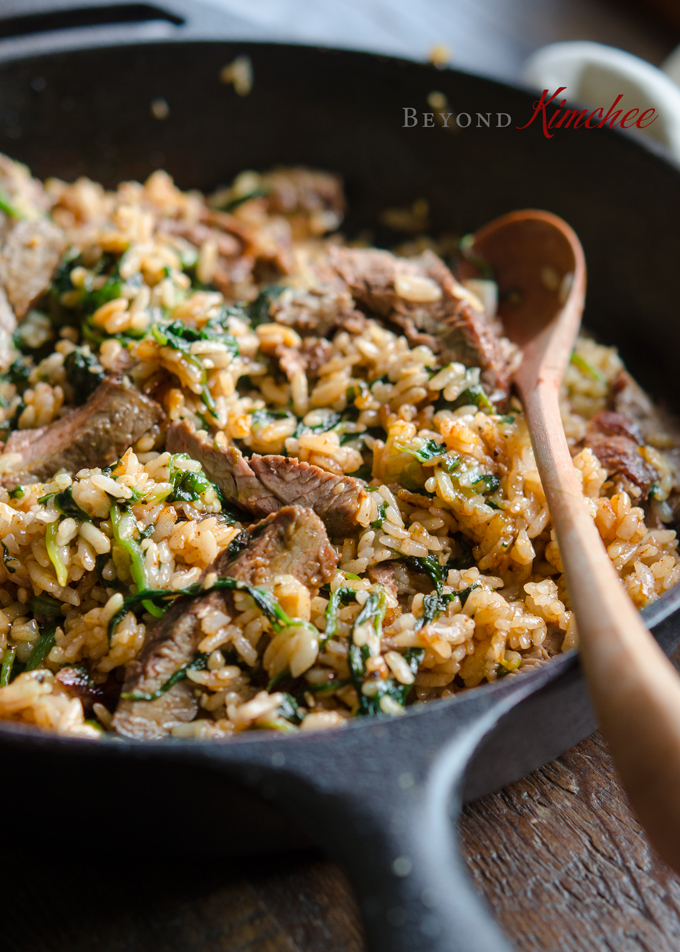 Beef Steak Bibimbap with Spinach
Make this delicious steak bibimbap with spinach under 30 minutes. Tender steak is seared then mixed with rice and spinach. It's a great one skillet dinner (or one pot meal).
Ingredients
1 1/2 lb beef tenderloin, ribeye, or striploin steak
dashes salt and pepper
1 bunch spinach, cleaned and roughly chopped if desired.
1 1/2 tbsp oil, divided
3-4 cup cooked rice
Instructions
To make the chili paste sauce
Heat 1 tablespoon of oil in a small skillet and saute the garlic until fragrant.

Add the rest of the sauce ingredients and mix well. Bring to a full boil over medium heat and let it thicken a little, about 1 minute.

Remove from the heat and set aside. The sauce will thicken more as it cools.
To make the steak bibimbap
Season the steak with salt and pepper. Grill the steak on a cast iron skillet over medium high heat until to your desired doneness. Remove from the skillet and set aside to rest.

Add the remaining 1/2 tablespoon of oil in a skillet, saute the spinach with a little bit of salt until wilted. Remove the spinach from skillet and set aside. Rest the steak for 5-10 minutes. Cut into thin strips.

Bring the skillet over medium heat again. Spread rice evenly in a skillet, and top with beef slices and the spinach. Drizzle the sauce, about 3-4 tablespoon.

Let the whole thing sizzle for 1 minute. Start tossing together to coat everything with the sauce and cook for another 1 minute. Taste and add more sauce if needed.

When everything is all mixed, remove the skillet from the heat. Drizzle a little more sesame oil and sesame seeds as you desire. Serve immediately.
Did you make this recipe?
Tag @beyondkimchee on Instagram. I love to see your masterpiece.