Kimchi Tofu Dumplings
Kimchi tofu dumplings (kimchi mandu) are popular Korean Lunar New Year tradition. They are filled with kimchi, tofu, pork and chives
If you come to my house, you will find at least one or two packages of frozen kimchi tofu dumplings stored in my freezer any time of the year. Usually I purchase them from the grocery stores.
But during the New Year, I like to make home-made kimchi tofu dumplings, a type of Mandu, with my family. It is a fun activity that you can do with anyone – young or old, and you can store them in the freezer for later use if you can't finish them all at once.
Obviously, Koreans love dumplings. We steam them, pan-fry them, deep-fry them, boil them, and throw them into soups and stews. That is to say, some even juggle with them (?). What can I say more?
Here is Kimchi Tofu Dumplings recipe that use old fermented kimchi and tofu mixed with pork in the dumplings. You can omit the pork if you want to go all vegetarian. These dumplings are quite easy to make. So, go grab a few dumpling wrappers at the store and let the party begin…!
How To Make Mandu Filling
Here are the main ingredients you will need. Kimchi (very old one), tofu, ground pork, Asian chives, sweet potato noodles (aka dangmyun).
This is called "dangmyun", the sweet potato noodles. Any Korean groceries should have it. You can substitute with rice vermicelli if you don't have time to search for it. Throw them in the boiling water and cook for 7-8 minutes.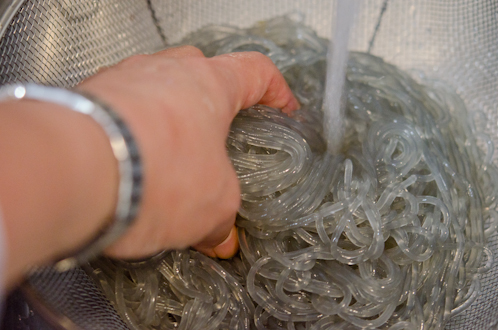 Rinse them under cold water, and drain well.
And chop them into small pieces, of course. Set aside.
Chop your chives, too. You can substitute with green onion if you wish.
Squeeze out some moisture from the kimchi and chop them into small pieces as well. ( I rinsed my kimchi briefly under the water to cut down some chili factor for my kids)
Put your tofu on the fine cotton cloth.
And squeeze him to death… This will remove water from the tofu.
And chop finely. Set aside.
In a big mixing bowl, combine ground pork with garlic, salt and pepper, rice wine and mix well.
Bring all the chopped ingredients into the bowl with pork and start tossing and kneading. Season with more salt and pepper.
I forgot to take a picture but you will need to add one beaten egg to bind all the ingredients. Now the filling is ready to use.
Grab a half sheet pan or large platter, and sprinkle with some cornstarch.
Dumpling Wrappers
Open up your dumpling wrappers…
Mine is about 3″ in diameters. You can use any size you like and adjust filling amount on each dumpling to fit in.
Make sure you cover the wrappers with damp cloth so they don't get dry out. Now, It is time to call your kiddos, husband, or whoever you live with.
Make sure they wash their hands squeaky clean…
How To Shape Korean Dumplings
Put about 1 1/2 teaspoonful of filling on the wrapper and wet the edge with water. Use your finger just like my 8 yr old boy did.
Fold the wrapper in half carefully pushing down the filling.
Pinch the edge together to seal. You have the half-moon shape here.
I don't do fancy fluted edges or anything like that. I like things simple and fast. This shape is good for pan-frying.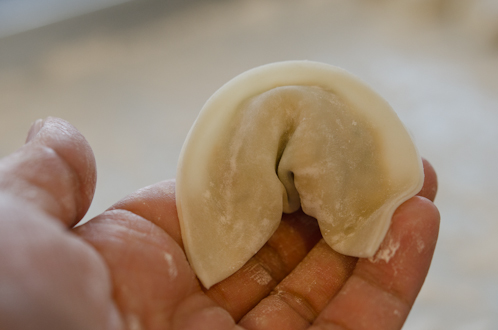 If you want to go for a round moon shape, carefully bend the both corners to meet at the center.
and bring the corners to over wrap a little, dab with water, and pinch tightly together to seal.
Voila! You got the full moon! This shape is good for steaming and boiling.
Have Fun With Young Children
Let's see how my kiddos are doing.
You know, kids are funny in terms of making food. They don't go by manual or instruction. They just want to make things their way, Period!
We have a quite of dumpling collections here. Let them be creative. These Korean dumplings will end up entering to their stomach anyway…
If you want yours to look at their best, place them on a sheet in a single layer. You can freeze as is for later use. How to cook dumplings?
How To Pan-Fry Kimchi Tofu Dumplings
If you like pan-fried dumpling, simply fry in some oil until golden brown on both sides, then…
Drizzle with a little water or chicken stock…
Which will create steam… Quickly cover with a lid and cook for another 1-2 minutes. That way it will cook thoroughly without over browning them.
How To Boil Kimchi Tofu Dumplings
To cook your dumpling in boiling method? You just need to know how to boil the water. Throw them in the boiling water, cook for 3-4 minutes. When they are floating on top, they are done.
Take them out and EAT. Simple soy sauce + vinegar dipping sauce is always nice to serve with.
Dumpling wrappers — $5
Dumpling filling, total — about $10
Time spent with your loved ones to make them — priceless
Everything else? Of course, there is a VISA card. Enjoy!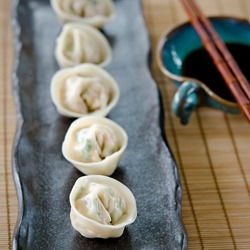 Kimchi Tofu Dumplings (Mandu)
Korean dumplings(Mandu) are filled with kimchi tofu, and pork. This one is one of the most popular Korean dumplings
Ingredients
100 pieces round dumpling wrappers, about 3″ in diameter
3 1/2 oz 100g Korean sweet potato noodles (aka dangmyeon)
1 lb fermented kimchi, finely chopped
12 oz firm tofu
1 small bunch, about 3 oz Asian chives or 1 bunch green onion, finely chopped
2/3 lb ground pork
2 cloves garlic, finely chopped
1 Tbsp sweet rice wine (mirim)
1 egg, slightly beaten
salt and pepper to taste
Instructions
Cook the sweet potato noodles according to the package direction. Rinse the noodles, drain well and chop them into small pieces. Set aside

In a large mixing bowl combine the pork, garlic, rice wine, season with salt and pepper, and mix well. Set aside.

Place tofu on a fine cotton cloth and squeeze it to remove water from the tofu. Mash the tofu if needed.

Add the noodle, kimchi, tofu, chives, and egg to the bowl with pork mixture and mix well. Season the filling with salt and pepper.

To make half moon shape; Place about 1 1/2 teaspoonful of filling on the wrapper. Dab some water on the edge of wrapper using your finger and fold in half. Pinch the edge to seal tightly.

To make full moon shape; from the half moon, bring the bother ends to the center and over wrap the ends a little, dab the ends with water and seal tightly.

Half moon shape is good for pan-frying and full moon shape is good for boiling or steaming.

Note: Make sure you keep the wrappers covered with damp cloth to prevent them from drying out.
Did you make this recipe?
Tag @beyondkimchee on Instagram. I love to see your masterpiece.