Mexican Style Chicken Soup
The Mexican style chicken soup is made with homemade chicken stock, corn, collard green, and other flavor packed toppings.
Okay, It is November 8th and I am very happy to announce the winner of my first giveaway. It is Rebecca from Indecisive baker. Congratulations, Rebecca! and thanks to all of you who enter. I wish I could choose all of you as a winner…
It is quite cold outside these days. I hear my piano man coughing often. He has been sick for a few days with cold. Life is busy with lots things happening everyday and I felt bad that I didn't pay him much attention when he got sick.
For being a such a good wife (?) I decide to make him some good soup from scratch.When you think of making a soup for your loved ones, what ingredients comes to your mind first?
For me, it is this guy…
The headless whole chicken! Finally…
Having lived in Hong Kong for 3 years, where many chickens came with head and feet as a whole set, I am so happy to see the headless chicken.
Making chicken soup from scratch is not difficult but takes some time. So make the chicken stock ahead of time. Then, you can put the soup together 30 minutes before serving.
To make homemade chicken stock
You will need a whole chicken, celery, garlic, leak (or onion), and the whole peppercorn.
Clean your chicken inside out first. Let him bath in a big pot of water with other ingredients. Boil and simmer for 1-1 1/2 hour.
When his bath time is over, you will see his legs are nearly falling off.
Take him out and let him cool off.
Drain the stock, reserving the liquid. Discard all the other stuff.
You will see a layer of fat floating on top. I don't think you want that. I usually let the stock to cool down and put it in the fridge
Shred your chicken into bite size. I keep them in the fridge until ready to use.
After a few hours later the fat layer has been hardened in the fridge. It scoops off easily with a spoon.
Here is the beautiful homemade chicken stock. Now, let's get down to business.
How To Make Mexican Style Chicken Soup
These are what I used to make the soup; frozen corn nibblers, frozen collard greens, onion, carrots, garlic, tomatoes, limes, cilantro, and of course, the chicken pieces.
Slice, dice, chop the vegetables.
In a pot with a little bit of olive oil over medium heat, saute onion, garlic, and carrot for 2 minutes. Add stock and let them boil and reduce the heat to medium-low. Add corn.
chicken,
and collard green to the pot. Simmer until all the vegetables are tender to taste, about 10-15 minutes. Add some salt and pepper (Remember the stock had no salt in it).
You soup is almost ready to eat. But at this stage, it is tad boring without any spice. So I like to add my personal touch.
I like to add fresh toppings on my soup. Chop some tomatoes and cilantro,
Cut some limes, and green chili or whatever chili you have.
I put them in a serving platter so people can add what they like.
You can add fresh avocado, chili flakes, green onions, etc on the soup.
Spice up with some cumin or nutmeg, or fresh herbs if you wish. Be creative with flavor.
You can serve with a crusty bread but in my house… I serve on top of hot rice, just a little bit.
Pour the soup over rice. Garnish with whatever topping you like. This is hearty and 100% home-made. Just what your body needs.
Need a chicken soup for your soul? I have one for you.
"What we do for ourselves dies with us. What we do for others and the world remains, and is immortal" by Albert pine
Make a batch of chicken soup this week, and share with someone you care.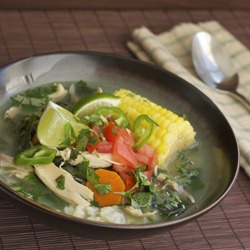 Mexican Style Chicken Soup
The Mexican style chicken soup is made with homemade chicken stock, corn, collard green, and other flavor packed toppings.
Ingredients
For chicken stock
3 1/2-4 lb whole chicken cleaned
1 large leek or 1 large onion cut up
2-3 celery cut up
1 head garlic break apart
1 Tbsp whole peppercorn
10 C water
For soup
2 Tbsp olive oil
1 small onion chopped
1 carrot sliced
2 garlic cloves chopped
6-8 frozen corn nibbler
3/4 lb frozen chopped collard green
reserved shredded chicken pieces
salt and pepper to season
4 C hot rice
For toppings (choose from)
Tomato, cilantro, green or red chili, chili flakes, lime, green onion, avocado, cumin, nutmeg, parsley, dill, oregano, etc.
Instructions
To make stock, combine all ingredients in a big pot over high heat. Add water, cover the lid, and let it boil. Reduce the heat to low, and simmer for at least 1 hr until the chicken legs are falling off from the body. Take the chicken out, let it rest. Shred chicken into bite size. Drain the stock in a mesh to reserve, and discard all the vegetables. Let the stock to cool down and chill for couple of hours. You can easily remove the fat floating on top with a spoon when chilled.

To make the soup, saute onion, garlic, and carrot with olive oil in a big pot for 2 minutes over medium high heat. Add the chicken stock, let it boil and reduce he heat to medium-low. Add corn, chicken and collard green. Let it boil first and reduce the heat to low, cover the lid and simmer for another 10-15 minutes until all the vegetables are tender. Season with some salt and pepper.

To serve, place some hot cooked rice (about 1/2 cup or less for each serving) in a serving bowl, pour the hot soup over rice. Top with some tomatoes, cilantro, lime wedge, chili, fresh herbs etc. Serve immediately.
Did you make this recipe?
Tag @beyondkimchee on Instagram. I love to see your masterpiece.