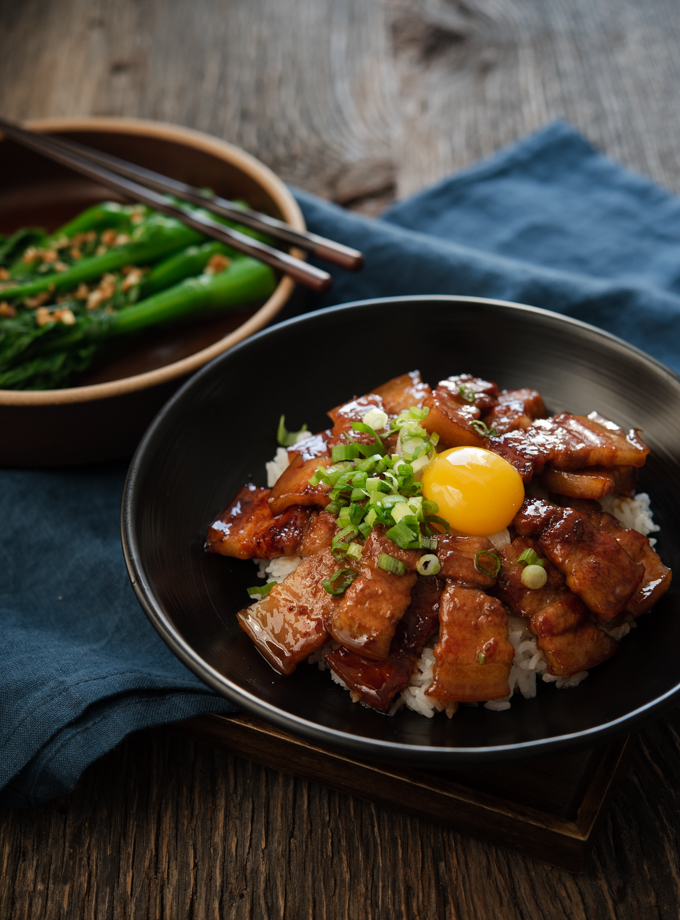 If you are looking for an idea for pork belly dishes, here is a beautiful Butadon pork belly recipe.
Although pork belly is widely eaten in the Eastern Asia, I used to not like the pork belly that much and didn't bothered to use it in creating a recipe. Time flows and your taste changes. I began to appreciate the flavor and the texture of pork belly. I am looking forward to make more dishes with pork belly now.
Butadon, the Japanese Pork Bowl
Butadon is Japanese pork and rice bowl. Thinly sliced pork butt is most commonly used in Butadon dishes. The pork slices pan fried, then coated with the delicious teriyaki sauce. Pork belly makes great Butadon as well. You will love the crisp outside yet soft meaty texture inside. Some likes to add sliced onions to the pork during the cooking. I like mince separate.
It is so nice to serve Butadon bowl with an poached egg on top, although I used just a fresh egg yolk on mine to make my life easier. You can serve as is, that would be the one dish meal itself. Or serve with deep green vegetable on the side, and you've got a lovely combo meal to indulge.