How to Make Korean Doenjang Jjigae Stock
If you enjoy Korean soybean paste stew often, consider making doenjang jjigae stock in advance. The stock will last up to 2 weeks and you can have the stew ready in 5 minutes every time.
Korean doenjang jjigae (soybean paste stew) is perhaps the most beloved stew in Korea. We eat doenjang jjigae at least once or twice a week. There are several different versions to enjoy this comforting stew. The classic version of doenjang Jjigae is made with the anchovy stock, which helps to create the deep flavor in the stew.
Why You Should Make Doenjang Jjiage Stock?
If you like the stew very much and wouldn't mind to make very often every week, it would be a good idea to make the doenjang jjigae stock in advance.
The stock will last in the fridge for a few weeks and it will be very handy for you. You don't need to make the anchovy broth each time to make the stew. All you need to add is some chopped vegetables and tofu into the stock and you will enjoy freshly made doenjang jjigae in no time each time.
Ingredients Doenjang Jjigae Stock
In order to make the flavorful jigae stock, you will need three components.
Doenjang paste (of course)
Rice starch water
Dried seafood and other stock vegetables
What is Doenjang Paste?
Doenjang is Korean style fermented soybean paste entirely made with soybeans and salt brine. Korean soy sauce for soup comes from the liquid in the fermenting process. Doenjang paste has a robust flavor with a strong fragrance. It is widely used in many Korean soups ands stews. You can also eat raw doenjang as a dipping sauce for vegetables.  
Korean doenjang paste is commonly used for making doenjang jjigae (Korean soybean paste stew) but it is also used to create a variety of dishes, including ssoybean paste glazed salmon and squid and shrimp stir-fry.
What is rice starch water?
Rice starch water (rice water) is basically water that contains the rice starch. Make sure to collect the 2nd rinsed water from the rice. The amount in the recipe will help you make 3-4 doenjang jjigae with 3-4 servings each time.
Which dried seafood do you need?
I recommend to use large dried anchovies. Make sure to remove their heads and guts. I also like to add dried pollock (shredded form) in the stock. If you can't find it, use additional anchovies to replace.
Dried sea kelp is another wonderful flavor booster as well. They are easily found in any Asian market.
Radish and leek are also great to add in to the stock.
How to make Korean Soybean Paste Stew Stock
Combine the rice starch water with all the dried seafood and vegetables. Bring them to boil and simmer over low heat for 20 minutes. Make sure to remove the sea kelp after 5 minutes of simmering time.
Strain and discard all the seafood and the vegetables.
Add the doenjang paste by smearing against slotted spoon or wooden spoon. Mix with the stock. You don't nee to boil the stock again. Cool the stock and store in the fridge. It will last up to two weeks.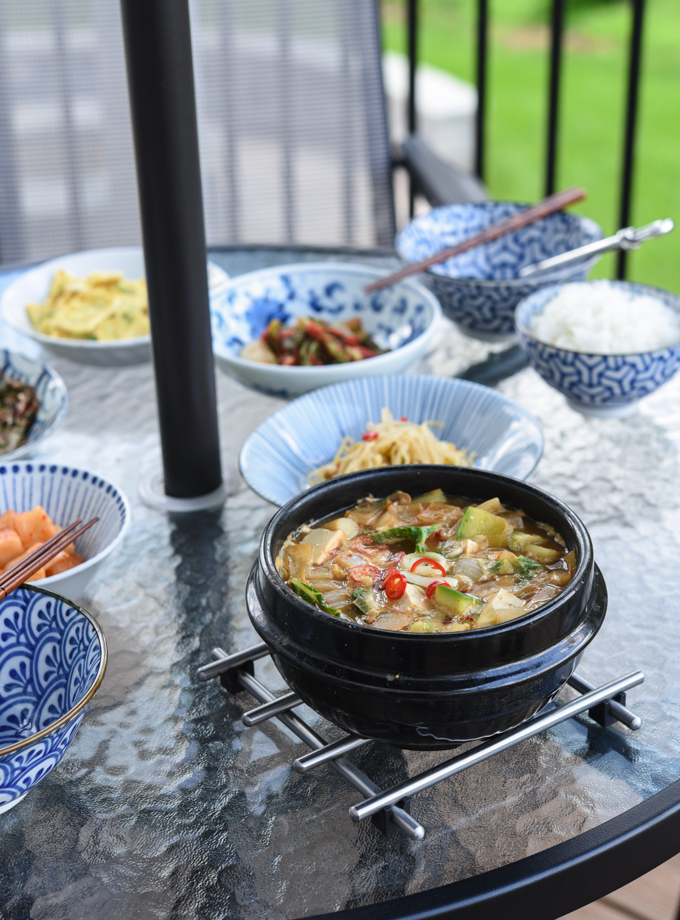 How to use this stock to make Doenjang Jjigae
With this ready to go doenjang jjigae stock, all you need to do is;
Boil up a desired amount of stock in a soup pot.
Add some sliced onion, zucchini and tofu. Mushrooms are great, too. Fresh chili will add a nice spicy kick to the stew.
Simmer for 4-5 minutes and you will have a delicious pot of stew ready to serve. Serve with rice
You can change the flavor by adding a few slices of beef or seafood depends on your mood. Isn't that clever?
How to make Doenjang Jjigae Stock
Consider making doenjang jjigae stock if enjoy Korean soybean paste stew often. It will last up to 2 weeks and makes stew quickly every time. Makes 6 cups stock
Instructions
Put all the ingredients in a pot and bring to a gentle boil. Discard the sea kelp. Reduce the heat to low and simmer for 15 minutes.

Strain the seafood and the radish, and reserve the stock.

Smear the soybean paste into the stock using a slotted spoon. Stir well to incorporate.

Let the stock to cool and pour in a container or glass jar. It will keep in the refrigerator up to 2 weeks.
Did you make this recipe?
Tag @beyondkimchee on Instagram. I love to see your masterpiece.