Is the weather outside chilling? How about a nice warm bowl of Korean stew?
I have posted numerous Korean stew recipes over the few years and most of them were well loved by many of my blog readers. So here are the top 6 Korean stews that are most popular in my blog. If you are craving for something with full of flavor and spicy, look no further. Most of them are easy to make and they will keep you warm in this cold weather. And you cook something like this? Who knows? It might even make you look hot!
Click the images or titles, you will be directed to the recipe post with step by step tutorials!
1. Yukgaejang, 육개장 (Spicy Beef and Vegetable Stew)
Shredded braised beef simmered with fern, oyster mushroom, mung bean sprouts, and leek in a spicy broth. One of the must eat Korean beef stew. It takes some time to prepare, but you are making a whole batch and the leftovers are even better the next day.
2. Sogogi Doenjang Jjigae, 소고기 된장찌개 (Beef Soy Bean Paste Stew)
The Classic Korean Stew! Doenjang Jjigae is #1 comfort stew in Korea. The robust pungent flavor of soy bean paste brings such a nostalgia to most Koreans. If you are a true Korean food lover, you can't dislike this stew.
3. Kkongchi Kimchi Jjigae, 꽁치 김치찌개 (Mackerel Pike Kimchi Stew)
If you have a batch of extremely fermented sour cabbage kimchi, you can easily turn into delectable kimchi stew. This kimchi stew recipe is made with canned mackerel pike and it is delicious. Make sure you have a plenty of rice to finish!
4. Dakdori-tang, 닭도리탕 (Spicy Chicken Stew)
One of the most popular Korean chicken stew dish. The chicken is simmered with onion, potato and carrot in a spicy delectable sauce. One you taste it, you will be hooked.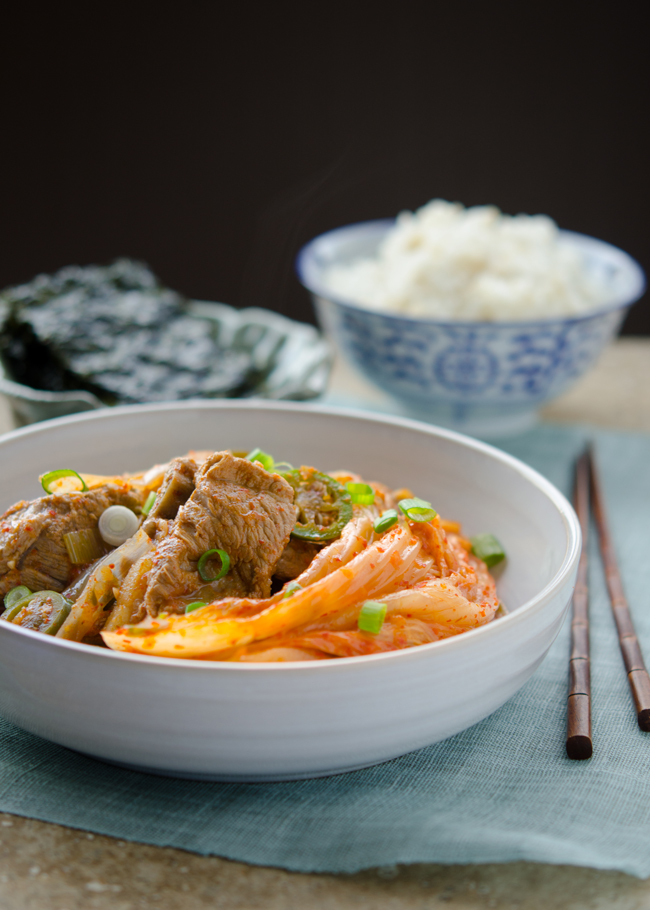 5. Dueji-galbi Kimchi Jjim, 돼지갈비 김치찜 (Braised Pork and Kimchi)
You will need very fermented cabbage kimchi to make this stew. Pork ribs are braised with a whole piece of kimchi for 2 hours. The result? Outrageous!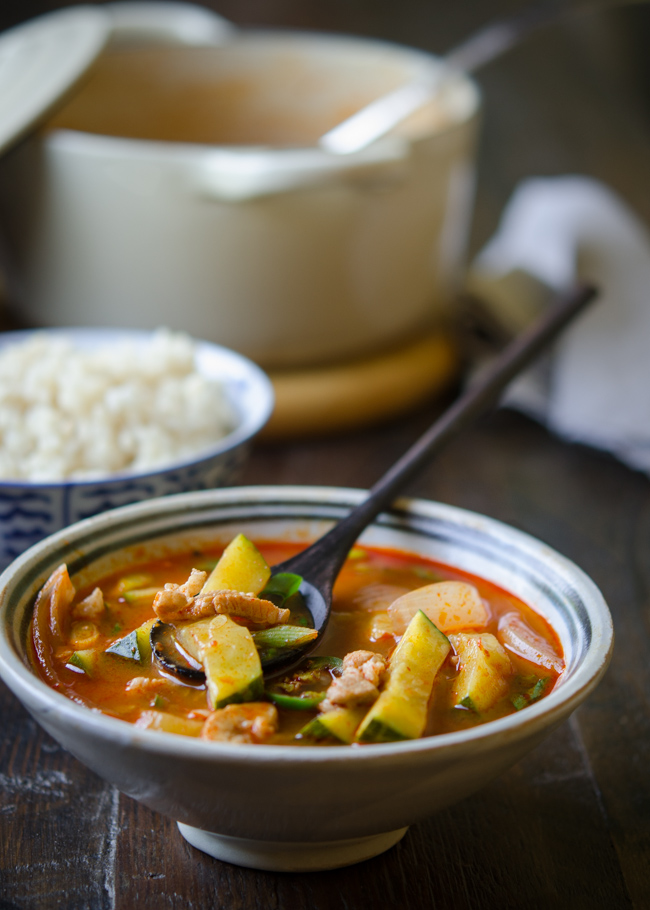 6. Doejigogi Hobak jjigae, 돼지고기 호박찌개 (Spicy Pork and Zucchini Stew)
Very simple and easy to make stew with pork and zucchini. When you have abundant zucchini, this will make a great meal with some rice.
Hope you enjoy all these great Korean stews that I simmered with love in my kitchen. Have a happy new year, everyone!
~ Holly