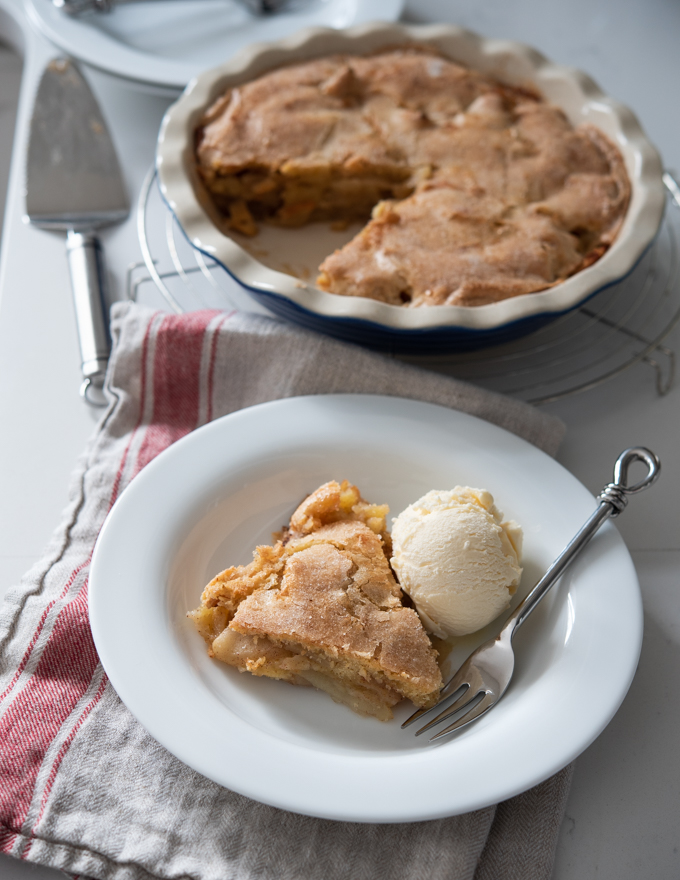 If you like an homemade apple pie but doesn't like all the work you have to do to make the homemade pie crust, this easy no-crust apple pie recipe is the best solution for you. Apple pie is one of my favorite winter dessert. but unfortunately, I don't get to make that often due to the hassles of making a pie crust. I provably make an apple pie once a year for the Thanksgiving feast. Apple pie is such a comfort dessert, I should make it more often. Of curse, I can use the store-bought remade pie crust, but you can't beat the taste of homemade crust.
This recipe for no-crust apple pie is super easy and quick. You only need about 10-15 minutes of time to assemble the pie before you put it in the hot oven to bake up. All you need to do is to peel and dice the apples, and whip up a very simple batter to top the mounds of apple slices, and that will mimic the crust. You don't have to roll out the crust anymore. The batter will turn into flaky soft crust that has a texture of between a pie crust and cookie.
I like how the brown butter adds a nice aroma to the crust. Serve this pie warm with a scoop of vanilla ice-cream. You will be in heaven!
…